Lauren Miller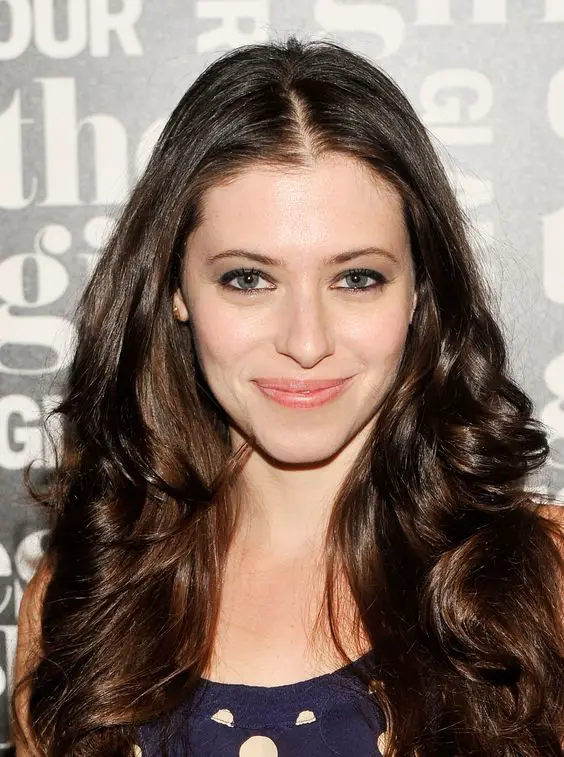 Learn top facts about actress Lauren Miller and see her best photo. Find out what you don't know about her and watch her interview. Then share all that celebrity awesomeness with your friends and family.
10 Top Lauren Miller Facts
1. Lauren Miller did not know who her husband was when they started dating.
2. She considers her husband Seth Rogen to be one of her primary creative inspirations. She admires his work ethic and says he is one of the hardest working actors in Hollywood.
3. Seth Rogen proposed to her while she was topless.
4. Her mother was diagnosed with Alzheimer's disease when Lauren was 22 years old.
5. Lauren has taken on minor roles or worked as extra in several of her husband's movies including Superbad and Zack and Miri Make a Porno.
6. She is an alumni of Florida State University.
7. She co-wrote a movie about sex phone operators with a friend.
8. Lauren Miller dated Seth Rogen for seven years before getting married.
9. She found comfort from her fans and their stories of dealing with Alzheimer's disease after her mom died.
10. Lauren Miller and her husband Seth Rogen founded Hilarity for Charity to raise money and awareness for Alzheimer's disease. Check out a picture of Lauren Miller and her husband at 2nd Annual Hilarity for Charity Event: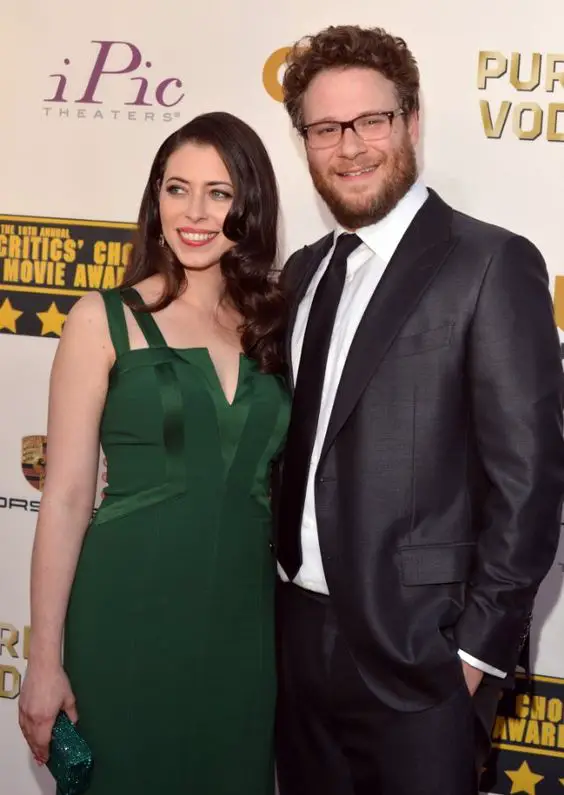 Video With Lauren Miller Interview
Life Before Marriage
Lauren Anne Miller was born on July 24, 1982 in Lakeland, Florida. Her parents are Adele Miller and Scott Miller. She has a brother named Danny. She is Jewish. Miller graduated from the Lois Cowles Harrison Center for the Visual and Performing Arts, a magnet high school located in Lakeland, Florida.
After high school, she attended The Film School at Florida State University and graduated with a bachelor's degree. While in college, she met Katie Anne Naylon. She and Naylon later wrote a movie called For a Good Time, Call….
Lauren Miller Wedding To Seth Rogen
Main Article About Seth Rogen: 7 Totally Crazy Seth Rogen Facts You'D Think We Made Up
She became Lauren Miller Rogen in October 2011 in Sonoma, California. She and Seth Rogen tied the knot after dating for seven years and being engaged for one year.
Wedding guests included Rogen's good friend and director Judd Apatow as well as fellow Frat Pack actors Paul Rudd, Leslie Mann, and Craig Robinson. Adam Sandler and Jonah Hill were also in attendance.
Not only famous people were in attendance at that wedding. Another person in attendance was a lesser-known actor David Krumholtz. You may know him from the CBS drama series Numbers.
After the wedding, the couple departed for the reception in a vintage white convertible. You can see that and other cool moments from their wedding below: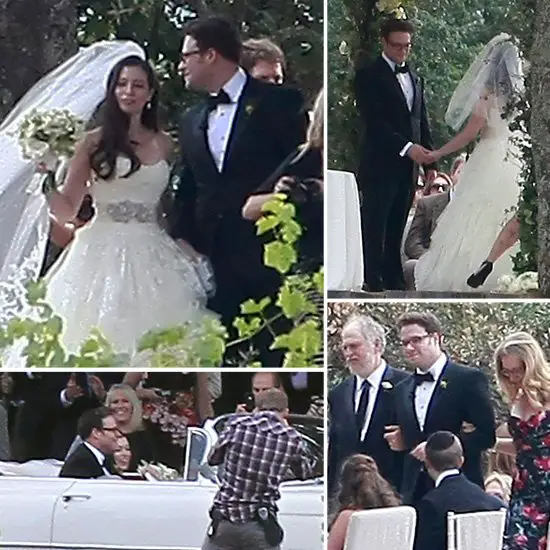 If you want to hear Lauren Miller share a memory of her wedding day, check out the video below:
Life After Marriage
Since her marriage to Rogen, Miller has dedicated much of her personal time to raising money and awareness for Alzheimer's disease. Her mother died shortly after being diagnosed with the illness. She considers the months following her mother's death as one of the darkest times of her life.
To help her overcome her grief, she co-founded the organization Hilarity for Charity. She founded the charity group with her husband. The group hosts events that are attended by some of the top names in comedy today. The comedy shows raise money that is donated to groups dedicated to finding a cure for Alzheimer's disease.
Lauren Miller also focuses time raising awareness about the plight of caregivers to Alzheimer's patients. She gives interviews to media to educate the public about how difficult it is to care for someone with this condition. Lauren has found that 60 percent of Alzheimer's caregivers are women. She has a particular interest in this campaign because of her own experiences taking care of her mother after her mother's diagnosis.
Lauren Miller Movies And TV Shows
Miller's career in films and movies began in 2003. Her 14-year career in the entertainment industry has garnered her a net worth of $2 million. From 2003 to 2005, she worked primarily as a writer, director, and producer on short films. Her first major acting role came when she took a minor role in her husband's movie Superbad.
She also has worked extensively in television. She had a recurring role on the TV series Ben & Kate. This TV show became a fan favorite as it followed the adventures of a brother and sister building a relationship with each other as adults. Ben is a single father and realizes that he needs his sister Kate's help to raise his daughter. The show is both humorous and touching at the same time.
Miller also appeared as the character Judy on the long-running TV show Grey's Anatomy. Grey's Anatomy has been airing on the ABC network since 2005. It follows the individual stories of a group of interns, doctors, and nurses as they work together in a busy urban hospital. The show has won numerous awards and continues to be a central part of ABC's lineup.
Miller's newest role comes in the animated live action film Sausage Party. She takes a voice over role alongside her husband. Together, they voice two characters, a hot dog and a tampon, who wonder what life is like outside of the grocery store. The movie debuted in March 2016 and earned more than $140 million at the box office.
Celebrities Lauren Miller Worked With
Lauren Miller has worked alongside some of the biggest comedic names in Hollywood. Her guest and extra roles allowed her to work in films with actors like Jonah Hill and Paul Rudd. She also worked under the direction of Judd Apatow.
She has also worked with actresses like Elizabeth Banks. Banks is known for her work in movies like Pitch Perfect. Banks also works as a director and producer on movies. Miller worked with Banks on the movie Zach and Miri Make a Porno. Banks gave Miller sex toys bejeweled with rhinestones and other decorations to use in the movie. Miller credits Banks with helping to make the movie more comedic and memorable with these props.
Furthermore, she worked with her friend Katie Ann Naylon. Miller and Naylon wrote the movie For a Good Time, Call…. The two women were roommates in college. She said in an interview that Naylon considered her to be the duo's straight man while Naylon was the funnier of the two.
Finally, she worked with actress Ari Graynor in For a Good Time, Call…. She credits Graynor with helping to make the threesome sex scene in the movie easier to film and says that she has a good relationship with her fellow actress.
Wondering how happy Lauren Miller and Seth Rogen are right now? Well, we guess that they are just as happy as they are in the photo below. If you agree with us, share this awesome photo of Lauren and Seth to Pinterest: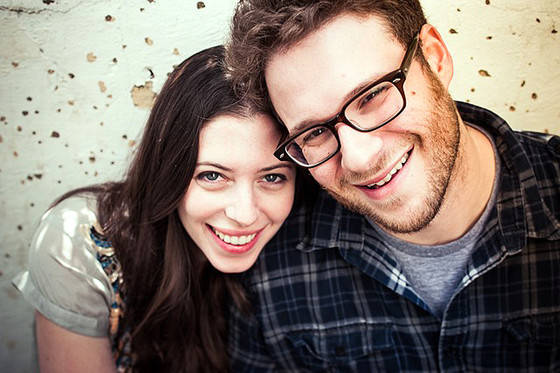 3 Amazing Celebrities
Check out 3 totally awesome articles which reveal little-known facts about intriguing lives of these amazing celebrities who were once members of Nirvana rock band:
1) 7 Crazy Kurt Cobain Facts You'D Think We Made Up And His Suicide Note
2) 7 Unreal Facts About Dave Grohl & His Music Groups You'D Never Believe
3) 5 Unreal Facts About Nirvana's Krist Novoselic You'D Never Believe
3 Amazing Hollywood Actors You Really Need To Know
1) Love Judd Apatow movies like Knocked Up? Then you definitely know a Canadian-American actor and comedian Seth Rogen. So check out our article 7 Totally Crazy Seth Rogen Facts You'D Think We Made Up
2) You may not know the next actor in our list. But he is one of only eight Asian American actors to be nominated for an Academy Award in an acting category. So check out Top 10 Mako Iwamatsu Facts You Really Need To Know
3) You may not know this actor either if you don't watch TV. However, if you watch TV, you probably know him from 90210 TV series. The actor we are taking about is Matt Lanter.