Actress Aimee Teegarden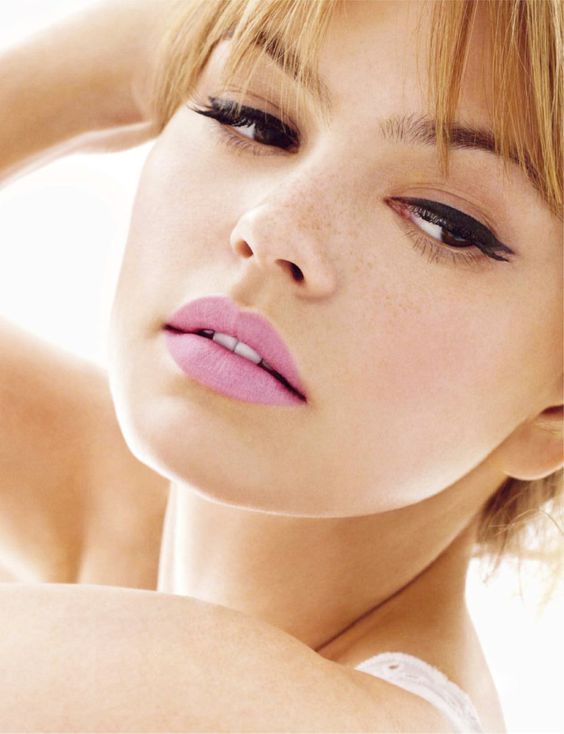 Enjoy top 50 facts about actress Aimee Teegarden. Find out what you don't know about her. Then watch her Chelsea Lately interview.
Aimee Teegarden Early Life And Career
1. Aimee Richelle Teegarden was born in California on October 10, 1989.
2. She was raised in Downey, California, a Los Angeles suburb that boasts being the hometown of the Carpenters and having the world's oldest operating McDonald's.
3. Aimee Teegarden is guarded about her family life, but it is known that she has one younger sister.
4. She wanted to act as young as four years old, but her mother refused. Eventually, mom allowed her to take some classes, which immediately led to her scoring a walk-on role on Cold Case.
5. Teegarden graduated high school through homeschooling and independent study at just 16 years old.
6. Prior to acting, she modeled in national campaigns for Alltel, Hollister, Old Navy, Tommy Hilfiger, and YMA jeans.
7. She was a member of Job's Daughters International, a Masonic organization, and is a Past Honored Queen of Bethel No. 244 in Downey, California. In 2008 she was awarded "Honorary International Sweetheart of DeMolay International."
8. As a teenager, she considered Julia Roberts and Sandra Bullock to be her heroes.
9. Despite spending her teen years working on scripted dramas, Teegarden's favorite show during the time was California-reality show The O.C..
10. She was the only actual teenager cast in Friday Night Lights. Costars Zach Gilford, Taylor Kitsch, and Minka Kelly were all in their 20s. Another one of Aimee's costars played the mother of one of the main characters and toured Africa with Taylor Kitsch. The name of this notable actress is Connie Britton.
11. She says she "never did the teenage rebellion thing" and learned most of what she knew about partying from scripts.
12. Her first kiss was on set.
13. Teegarden had never been to Texas when she began shooting there and thought Austin would be full of cowboys and tumbleweeds.
14. Her childhood nickname was "Bumblebee."
15. While working on Friday Night Lights, Teegarden took an after-work job at the local Hollister. When people asked if she was Aimee Teegarden, she'd reply, "I get that all the time!" Pass this fact to your friends on social media. Share this page.
Video With Aimee Teegarden Chelsea Lately Interview
Aimee Teegarden Adulthood And Personal Life
16. Teegarden's character Julie Taylor on Friday Night Lights was an outspoken vegetarian; real-life Teegarden is a long-time vegan.
17. After an athletic upbringing, she remains physically active, especially loving running.
18. In 2016, she ran the Spartan Races with former costars Zach Gilford, Taylor Kitsch, and Minka Kelly. Check out this cute photo of Aimee Teegarden and Zach Gilford and share it to Pinterest: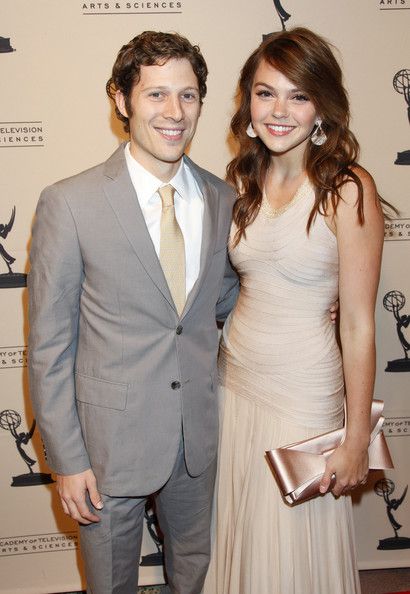 19. She has a Yorkshire Terrier named Gizmo, after Gremlins.
20. In interviews, Teegarden has said her whole family were Star Wars and Firefly fans, so she felt at home at Comicon.
21. She served as a judge for the 2007 Miss Teen USA where she famously questioned Caite Upton about American students' failure to correctly identify the United States on a map. Upton's reply went down in history as one of the most bewildering beauty queen answers ever.
22. Ever the activist, Teegarden has leveraged her beauty and celebrity to support PETA's anti-fur campaign.
23. She is a passionate surfer, which led to a strong commitment to ocean conservation. So she is a frequent and visible supporter of Oceana, an international ocean conservation and advocacy organization.
24. Aimee Teegarden has been rumored to have been romantically linked to former costars Zach Gilford and Grey Damon. However, the actress has always remained mysterious about her love life. She does, however, say she "never" dates actors.
25. Teegarden contributes her scandal-free life to her solid, "average" upbringing.
26. Most people don't recognize the actress from her teen roles, a fact which makes Teegarden happy as she branches out in her adult roles.
27. Teegarden loves to cook and share vegan recipes with her friends and fans.
28. Teegarden has a home on the beach in Venice, California.
29. When asked what she's looking for in love, Teegarden has replied that a man needs to have "a job and health insurance."
Aimee Teegarden Movies And TV Shows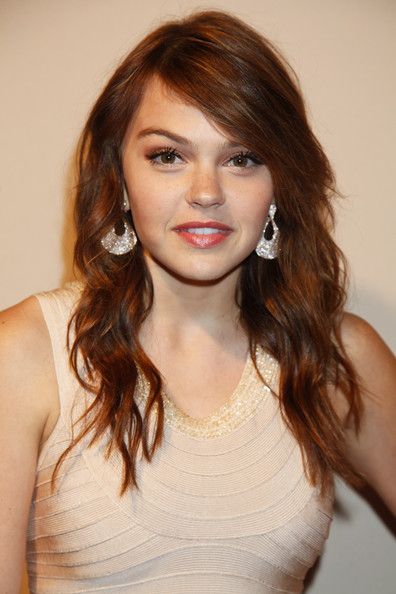 30. Teegarden's first TV roles were as walk-ons for Cold Case (2003) and Hannah Montana (2006).
31. Her first main role, and arguably most well-known, was on Friday Night Lights. In that role, she costarred with Zach Gilford, Minka Kelly, and Taylor Kitsch from 2006 to 2011.
32. Teegarden continued to appear in a number of minor teen television roles from 2007 to 2010.
33. Some of the series in which she appeared as a guest star include Ned's Declassified School Survival Guide, CSI: Miami, and Legend of the Seeker.
34. In 2009, Aimee Teegarden played the well-received and key recurring role of Rhonda Kimble on 90210.
35. She was cast for a main role in the 2012 CW show The Selection. The pilot was ultimately not picked up.
36. In 2014, the then 25-year-old Teegarden reprised a teen role in the sci-fi hit Star-Crossed. She played Emery Whitehill across from Roman, played by Matt Lanter. Aimee Teegarden and Matt Lanter first met on the set of 90210, and you can see them in the photo below: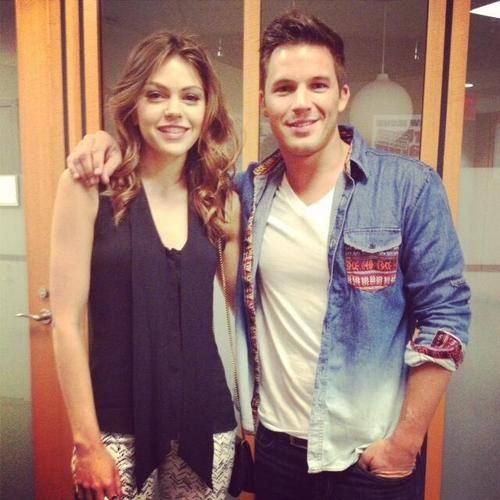 37. In 2016, Teegarden spoofed her former role by appearing as the football-player-loving Nikki on two episodes of the Netflix comedy The Ranch.
38. The actress began starring in the much more grown-up role of Ella Benjamin on the ABC drama Notorious in 2016.
39. Teegarden's first film role was in the 2005 short Sailing for Madagascar. The short film dealt with racial tensions in WWII America.
40. Shortly after, the actress also appeared in the 2009 home releases Call of the Wild and The Perfect Age of Rock N Roll.
41. She appeared in 2011's Disney film Prom alongside such rising young actors as Thomas McDonell, Danielle Campbell, and Cameron Monaghan.
Other Fascinating Facts About Aimee Teegarden
42. Aimee Teegarden was in several "teen scream" horror movies, including For Sale By Owner, Scream 4, and Beneath the Darkness.
43. In 2017, she returned to horror with her role of Skye in Rings. Her character is killed by cult-status Samara.
44. Teegarden has said that what she loves most about horror is the fan-base.
45. Teegarden has been a producer on several films, including Beautiful Wave and Bakery in Brooklyn.
46. The actress has also appeared in several music videos for bands such as Hinder, Metro Station, Neon Trees, and Demi Lovato.
47. Teegarden was nominated for Best Performance at the 2007 Young Artist Awards as a result of her work on Friday Night Lights.
48. In 2011, she won the TV Actress of the Year Award at the Young Hollywood Awards.
49. She was twice nominated for the Ensemble Cast Award by the Golden Derby TV Awards.
50. Though she is a TV actress, she does not watch TV. Instead, she says, she watches DVDs.
Our Favorite Photo Of Aimee Teegarden

This is our favorite photo of Aimee Teegarden. Share this photo to Pinterest if you like it.


2 Amazing Hollywood Actors You Really Need To Know
1) Love Judd Apatow movies like Knocked Up? Then you definitely know a Canadian-American actor and comedian Seth Rogen. So check out our article 7 Totally Crazy Seth Rogen Facts You'D Think We Made Up
2) You may not know the next actor in our list. But he is one of only eight Asian American actors to be nominated for an Academy Award in an acting category. So check out Top 10 Mako Iwamatsu Facts You Really Need To Know