Mako Iwamatsu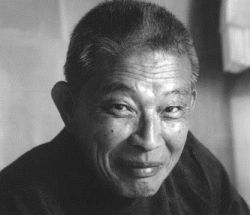 Learn top 10 Mako Iwamatsu facts and read his full biography. Find out what you don't know about this Asian American actor.
Top 10 Mako Iwamatsu Facts
1. Mako Iwamatsu emigrated to the U.S. in 1949. He became a U.S. citizen in 1956 after serving in the military.
2. His father Atsushi Iwamatsu was a famous Japenese children's illustrator. He illustrated books like Crow Boy and Umbrella.
3. Iwamatsu is considered to be one of the pioneers of the Los Angeles Asian American theater.
4. He was considered for the role Mr. Miyagi in the 1984 film Karate Kid. He turned it down because he was already filming the movie Conan the Destroyer.
5. He said about moving to America, "I came to America to become an architect. And somewhere along the line while I was still in school, I was lured into theater, and that's how I became interested in theater. My first play was something called 'A Banquet for the Moon.' It was a weird play."
6. As of 2017, he is one of only eight Asian American actors to be nominated for an Academy Award in an acting category.
7. His family did not have a TV or listen to much radio when he was a child. He entertained himself with drawing and reading.
8. His final role was playing Mister Splinter in the 2007 movie TMNT. The movie is dedicated to his memory.
9. Mako Iwamatsu frequently acted alongside action film stars Chuck Norris and Steve McQueen.
10. He acknowledged that it was difficult to avoid typecasting for Asian actors. He wanted to show that Asian actors could be cast as more than waiters, martial artists, villains, launderers, and other stereotypical roles.
Video With Mako Iwamatsu's Signature Voice Work
The guy who created this video decided to switch the voices of two characters that Mako Iwamatsu played in Samurai Jack. As he puts it: "Iroh saying something Aku says, and Aku saying something Iroh says. The result is hilarious." If you're not familiar with this show, this means that the good guy sounds like a bad guy and the bad guy sounds like a good guy. So check it out:
Life Before Recognition
Mako Iwamatsu was born in Kobe, Japan in 1933. His mother and father left Japan in 1941. It is said that they left the country to study art in America. Other reports say that they were political dissidents and forced to flee Japan.
Mako's parents left him in Japan in the care of his grandmother. During his childhood, Mako spent a great deal of time reading and drawing. He credits these activities with keeping him entertained during the war.
He lived with his grandmother until 1949 when he emigrated to the U.S. to join his parents. His parents were working for the Office of War Information at the time. Mako enlisted in the military shortly after arriving in America. He became a naturalized citizen in 1956.
After his military service, he considered becoming an architect. He changed his mind and decided to become an actor after appearing in shows put on for military personnel. He attended the Pasadena Community Playhouse to learn how to act.
Acting Breakthrough Of Mako Iwamatsu
Some of the first Mako movies and TV shows are from 1959. Mako Iwamatsu appeared in several uncredited roles until 1966. In that year, he accepted two notable movie roles. Second of them brought him recognition.
First of these roles was a character Kenji in the movie The Ugly Dachsund.
Second of these roles was a character Po-han in the movie The Sand Pebbles. This role brought him Academy Award nomination for Best Supporting Actor and Golden Globe Award nomination for Best Supporting Actor.
Though he did not win either of these awards, these nominations brought him recognition and helped him get a Star on the Walk of Fame in 1994. You can see Mako Iwamatsu accepting a Star on the Walk of Fame in the picture below:
In addition to recognition, the role of Po-han helped Mako Iwamatsu break through the Hollywood stereotyping of Asian American actors. Prior to this role, he admitted to feeling frustrated about the lack of good roles for Asian American actors. He would continue to fight Hollywood stereotyping of Asian American actors until his death in 2007.
Life After Recognition
Mako Iwamatsu went on to enjoy a successful career after his breakthrough role as Po-han. During these years as a Hollywood actor, he married Japanese-American actress Shizuko Hoshi with whom he had two daughters. Both of his daughters, Mimosa and Sala, are actresses.
He became an outspoken advocate for Asian American actors in Hollywood. He regularly talked about how difficult it was for Asian American actors and actresses to find roles that cast them in anything but stereotypical roles like dry cleaners, gardeners, martial artists, and villains.
Furthermore, he is quoted as saying before his death: "No matter what happens, we couldn't let people say Asian American actors can't act."
Despite his fame, he faced stereotyping from movie industry insiders. So he would often become frustrated after film directors would admit to knowing him from a stereotypical Asian American role in a TV show McHale's Navy.
Mako Iwamatsu continued to act until a few months before his death. He died on July 21st, 2006 because of esophageal cancer. His final movie TMNT was released in 2007 and dedicated to his memory.
This great actor is survived by his wife, two daughters, and three granddaughters. He has a star located at 7095 Hollywood Boulevard on the Hollywood Walk of Fame.
The makers of the TV show The Legend of Korra paid tribute to him by naming the series character Mako after him. The Mako voice actor The Legend of Korra directors chose to voice this character is David Faustino, a cast member of the FOX sitcom Married…With Children.
Mako Iwamatsu Movies And TV Shows
Mako Iwamatsu's acting career lasted 47 years from 1959 until 2006. During that time, he appeared in some of Hollywood's biggest movies.
He starred as Akiro the Wizard in the 1980s Conan the Barbarian movies. You can see Mako Iwamatsu playing the character Akiro the Wizard in the picture below:

Conan the Barbarian, released in 1982, quickly became a fan favorite and received accolades from movie reviewers like Roger Ebert. Ebert called the movie a perfect fantasy for adolescents.
Iwamatsu also took on a number of TV roles, most notably voicing the character Uncle Iroh in the animated series Avatar: The Last Airbender. He voiced this character from 2005 until 2006.
The role of Iroh was taken over by voice actor Greg Baldwin after Iwamatsu's death. His work on Avatar helped the series become a favorite of children and adults alike. The show has won numerous awards including the Nickelodeon Kids' Choice Award for Fave Toon and the Genesis Award for Outstanding Children's Programming.
His final role came as the character Mister Splinter in the movie TMNT. He completed work on that film in 2006 before he died. The movie was not released until 2007, however.
He also starred posthumously in the movie Rise: Blood Hunter. His appearance as the character Poe was his last live action role in a film.
The Sand Pebbles – Po-han
Mako Iwamatsu is best known for playing the character Po-han in the 1966 movie The Sand Pebbles.
The movie follows the tale of a Navy machinist on a gunboat called the USS San Pablo. Iwamatsu's character Po-han is a coolie on the gunboat and becomes friends with the character Holman, played by Steve McQueen. Holman shelters Po-han from the hostility of fellow shipmates and also rescues him from torture at the hands of the Chinese.
The movie was a critical success and made $30 million at the box office. Mako Iwamatsu was nominated for both a Golden Globe and Academy Award the next year.
Samurai Jack – Aku
From 2001 until 2004, Mako Iwamatsu voiced the animated character Aku in the Cartoon Network show Samurai Jack. This character often fights the protagonist Samurai Jack. You can see Aku about to attack Samurai Jack in the picture below: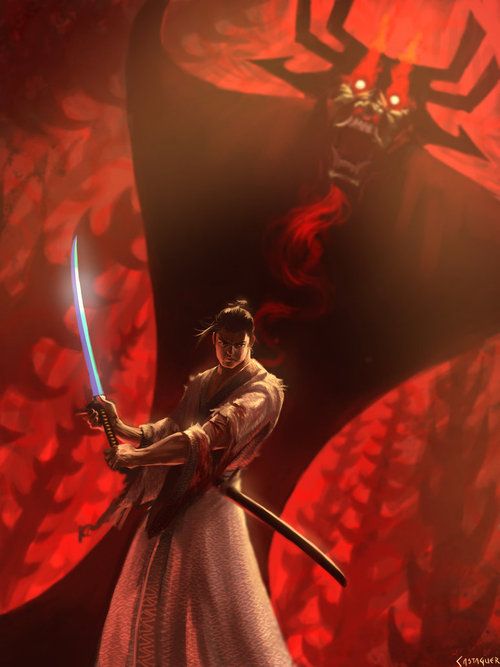 Aku is a supernatural entity formed from a dark cloud. As a cloud, he battled mythical gods Ra, Odin, and Vishnu. The gods failed to kill him completely. A small piece of him formed into an asteroid before crashing into Earth and killing the dinosaurs.
He takes many appearances. However, he most often appears as a dark figure with flaming eyebrows. He cannot be killed with conventional attacks. He is susceptible to the magical effects of Samurai Jack's sword. Aku and Jack battle each other frequently during the series. Jack never totally defeats Aku. Aku always ends each battle with the solemn promise to defeat Jack the next time.
Mako Iwamatsu appeared in the series as Aku until 2004. His role was taken over by Greg Baldwin.
Celebrities Mako Iwamatsu Worked With
Mako Iwamatsu worked regularly alongside iconic live action Hollywood stars like Arnold Schwarzenegger, Chuck Norris, and Steve McQueen. He co-starred twice with former Mr. Universe Arnold Schwarzenegger in Conan the Barbarian and Conan the Destroyer in 1982 and 1984 respectively.
He also starred in the 1981 live action movie An Eye for an Eye with martial artist and actor Chuck Norris. He played the role of James Chan, the father of a TV news reporter Linda Chan, played by actress Rosalind Chao, who is killed after exposing a drug gang.
As famous as he was for his movie roles, Iwamatsu also starred in a number of Broadway plays. After helping to form the theater company East West Players, he acted alongside renowned stage actor Jerry Orbach in the Broadway play Pacific Overtures. He recalls Orbach hollering outside of his bedroom window after the duo lost the Tony Award to another production, the revival of My Fair Lady.
However, he is best known for starring with Steve McQueen in The Sand Pebbles. It is his role as Po-han, the sidekick of McQueen's Holman, that brought him to mainstream notice and helped him land roles in movies and TV shows throughout the rest of his long acting career.
Awesome Article About Famous Comedy Actor
If you love comedy, check out this awesome article about actor Seth Rogen, the star of Knocked Up and other great comedy movies.
3 Amazing Celebrities
Check out 3 totally awesome articles which reveal little-known facts about intriguing lives of these amazing celebrities who were once members of Nirvana rock band:
1) 7 Crazy Kurt Cobain Facts You'D Think We Made Up And His Suicide Note
2) 7 Unreal Facts About Dave Grohl & His Music Groups You'D Never Believe
3) 5 Unreal Facts About Nirvana's Krist Novoselic You'D Never Believe