Seth Rogen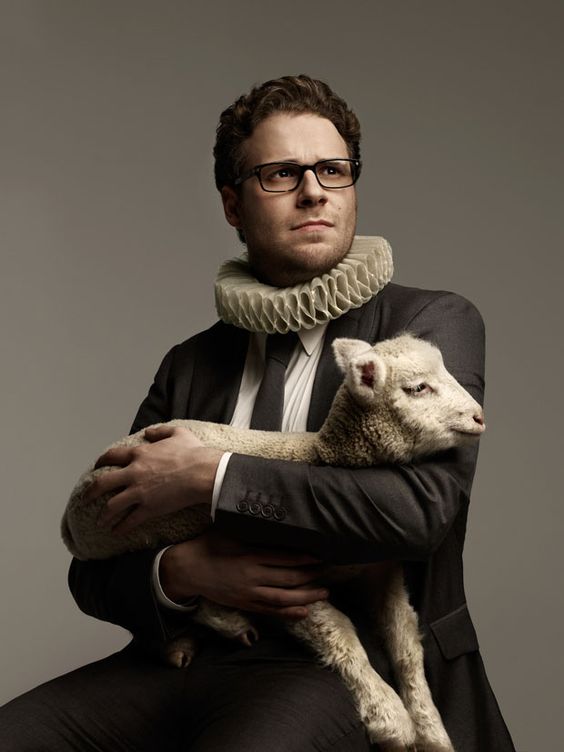 Learn 7 totally crazy facts, watch his funny videos, and read his full biography. Find out what you don't know about actor Seth Rogen. Then share all the awesomeness with your friends and family.
7 Totally Crazy Seth Rogen Facts
1. After both of his parents lost their jobs, Seth Rogen moved with them to Los Angeles and became the main breadwinner at age 16.
2. Rogen's parents met in Israel in a collective community called "kibbutz". He described his parents as "radical Jewish socialists".
3. The $120 million budget for the movie The Green Hornet overwhelmed Rogen. He found making a movie that size to be a challenge.
4. He started the script for the movie Superbad at age 13. He wrote the script with his friend Evan Goldberg and based it on his teenage experiences.
5. Actor James Franco created a collection of nude Seth Rogen paintings.
6. Seth Rogen admits that he hates Canadian pop star Justin Bieber.
7. Rogen started his comedic career at Jewish camp. He performed stand-up at Camp Miriam summer Jewish camp.
2 Really Funny Seth Rogen Videos
In this funny video, Seth Rogen plays the role of cameraman while comedian Billy Eichner tells unsuspecting passers-by that Seth has died.
In this hilarious video, Seth Rogen hijacks a stranger's Tinder account and has a lot of fun helping her get a date.



Seth Rogen Biography
This is the summary of what you are about to read in this section. Vancouver native Seth Rogen got his first taste of showbiz success at age 16. Then he got his start in mainstream Hollywood by appearing on TV shows.
Now he appears mostly in films, sometimes alongside his wife Lauren Miller. He also raises awareness for a variety of social issues. He frequently works with childhood friend and producer Evan Goldberg.
Life Before Fame
Seth Rogen was born on April 15, 1982 in Vancouver, British Columbia in Canada. He has dual Canadian and U.S. citizenship because his father Mark Rogen is an American. He has an older sister named Danya Rogen.
Seth started his comedy career at age 12. He performed at bar mitzvahs as well as local comedy clubs in Vancouver. He won a local teenage comedy talent show at age 16.
After his dad lost his job in Canada, Seth moved with his family to Los Angeles and began performing comedy routines there. His mainstream Hollywood success became the family's primary source of income.
Breakthrough
Rogen's breakthrough role came in 1999. Director Judd Apatow cast him in his new show Freaks and Geeks. Along with Rogen's quick wit and deadpan humor, Apatow may have also liked the signature Seth Rogen laugh. So you can experience his laugh we have put below a video of Seth Rogen laughing for 30 seconds.
The cult series Freaks and Geeks was short-lived. It only lasted one season and was canceled because of poor ratings. However, Rogen performed very well on the show.
Apatow cast him again in the show Undeclared. The network set to air the show did not like Rogen, however. So Apatow canceled the show before it ever aired.
Apatow continued his professional relationship with Seth by adding him to his "frat pack" of actors. The "frat pack" included actors Steve Carell and Paul Rudd. Wondering how weird these "frat pack" actors are? Well, you can see a photo of Seth Rogen and Paul Rudd below.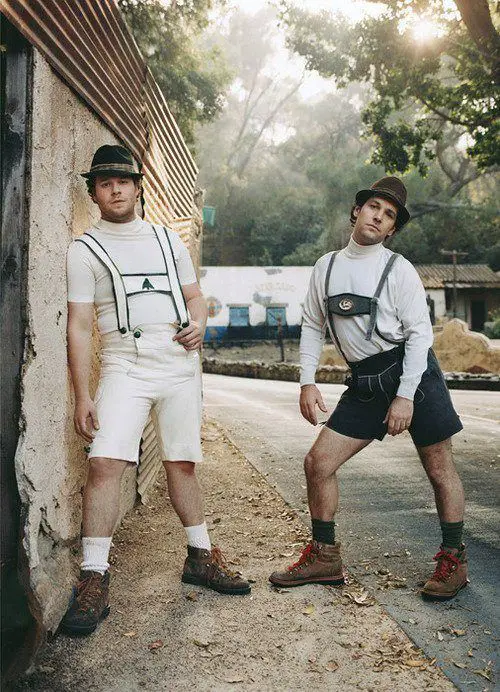 The role that turned Seth Rogen into a star that he is today is the leading role in a 2007 comedy film Knocked Up. You can see one of the best moments from that movie in a photo below.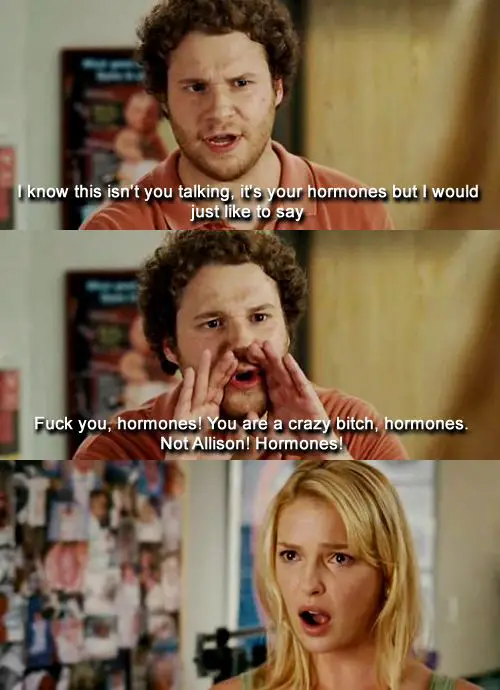 Life After Fame
Seth Rogen is one of the most successful actors and comedians in show business today. As of February 2017, the reported Seth Rogen net worth is around $45 million. His great fortune gives him an opportunity to help important charitable organizations. He even started one himself.
Seth raises awareness for Alzheimer's disease partly because his mother-in-law suffers from this disease. He and his wife work hard to bring about positive change through their charitable work.
Both of them have helped inform many teens about Alzheimer's disease through their organization Hilarity for Charity. You can see a photo of Seth Rogen and his wife at 2nd Annual Hilarity for Charity Event below.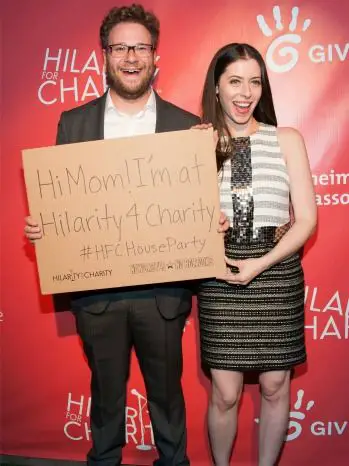 Seth has even testified about this disease in front of a Senate committee. Once again, it shows Seth's good-natured character as he charts his course through life with compassion for others and does everything he can to make the world a better place.
Seth also advocates for the legalization of marijuana. He says he is a frequent marijuana user. Furthermore, he considers himself to be an advocate for the LGBTQ cause. He calls himself a "Bear icon" and allows his image to be used in a number of gay publications.
Seth Rogen Wife
Seth Rogen met his future wife, actress Lauren Miller, in 2004. They met on the Da Ali G show and dated until September 29, 2010 when they got engaged. They were married on October 2, 2011.
Seth Rogen wife occasionally takes minor roles in her husband's films. You can see her in Superbad and Sausage Party. You can also see her in two episodes of comedy TV series Ben and Kate. If you don't wanna watch any of these movies and TV shows, you can see Lauren Miller in a photo below.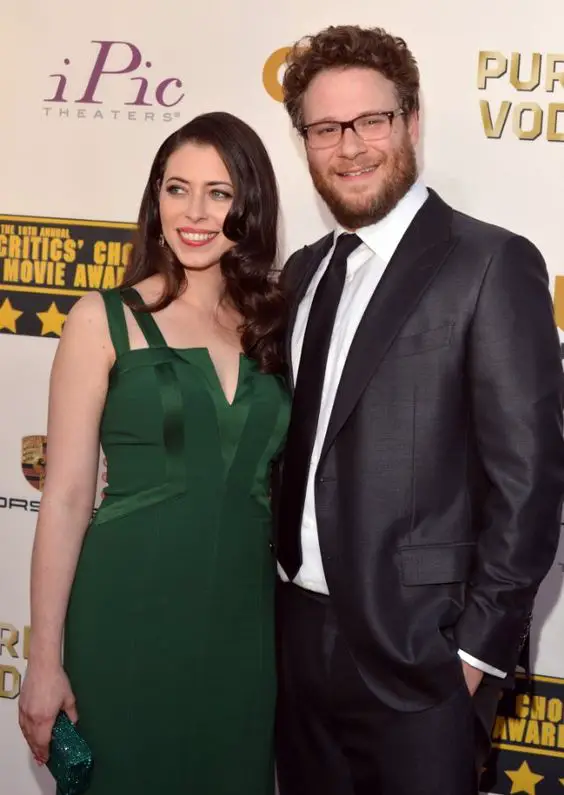 Seth Rogen Movies
The section of the page you are about to read has descriptions of our favorite Seth Rogen movies, so you can find a hilarious movie to watch.
The Interview
The Interview is a 2014 political satire comedy starring Seth Rogen and James Franco. Both actors play journalists who are recruited by the CIA to assassinate the North Korean dictator. The movie caused controversy throughout the world before its release.
North Korean leader Kim Jong Un threatened to start a war with the U.S. if the movie was released in theaters. The producers and directors caved to international pressure to withhold the film. It went on to a limited release and was made available on video in December 2014. Despite the controversy and hype, the movie was not a critical or commercial success.
Sausage Party
Sausage Party is one of the few Seth Rogen movies to feature computer animation. This film follows the lives of grocery store products, namely Rogen's sausage character named Frank.
Frank and his hot dog bun girlfriend Brenda, voiced by Kristin Wig, want to know if the Great Beyond exists. The film tells how the grocery store products try to escape the store to find out what happens after items are purchased. It cost $19 million to make. However, it brought in $140 million, making the film a commercial success. Rogen's friend Evan Goldberg was one of the film's writers. It was released in theaters in 2016.
Kung Fu Panda
Kung Fu Panda is another animated film partly voiced by Seth Rogen. Rogen plays the preying character Mantis. The film follows the story of Po, a panda bear who wants to become a kung fu master.
The movie, created by Dreamworks, was released in 2008 to critical acclaim. It made over $600 million worldwide and is one of Dreamwork's biggest successes. Rogen went on to appear in the next two sequels, released in 2011 and 2016, reprising his voice role of Mantis both times.
The Guilt Trip
The Guilt Trip is a 2012 comedy that stars Barbra Streisand alongside Rogen. The movie follows Rogen's character Andy, a failed inventor, who takes a cross-country road trip with his mother Joyce.
During the trip, mother and son work out year-long differences and learn more about each other as adults. Lorne Michaels of SNL fame as well as Evan Goldberg produced the movie.
The film was a modest success in theaters and made a little over $49 million worldwide. It is also one of the few pictures in which Rogen did not star alongside one of his fellow "frat pack" actors like Paul Rudd or Steve Carell.
Video With 7 Great Seth Rogen Movie Moments
Check out 7 great movie moments with Seth Rogen. Then share this page with your friends.
Celebrities Seth Rogen Worked With
Seth Rogen frequently works with the same actors and directors in his movies. These directors and actors include Judd Apatow, Paul Rudd, James Franco, Steve Carell, and Jonah Hill. He considers many of the people with whom he works to be close friends.
Seth Rogen's Relationship With Judd Apatow
Perhaps his closest friend in show business is director Judd Apatow. Apatow gave Rogen his first break in the industry. He said in an interview that Apatow is very important to him and has played a key role in his life.
Apatow likewise said in an interview that he considers Seth Rogen to be a close friend. Despite Rogen being just 16 years old when they met for the first time in Vancouver and him being much older, Apatow said he never felt odd about being friends with a teenager. At their first meeting, Apatow immediately recognized Rogen's talent.
Seth Rogen and Paul Rudd helped Judd Apatow come up with new movie ideas. The partnership between Apatow and Rogen continues today with great creative and financial success.
Seth Rogen And His Childhood Friend Evan Goldberg
Rogen also collaborates with childhood friend Evan Goldberg. Rogen and Goldberg grew up together in Vancouver. They started their first project together at age 13. That first project was the script for the movie Superbad. They referred to their own teenage experiences in that script. Goldberg regularly directs or produces films in which Rogen stars.
Seth Rogen's Relationship With James Franco And Three Other Actors
Seth Rogen often appears in movies with James Franco, and you can see a photo of them below.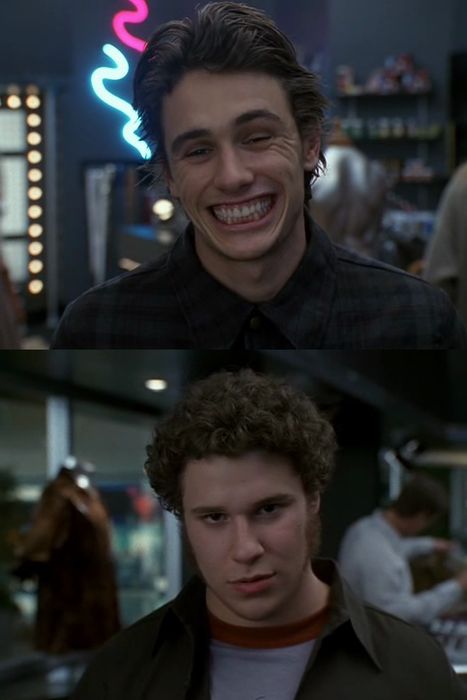 He considers Franco to be one of his closest friends. Franco creates paintings depicting Rogen posing in the nude. The two actors created controversy with their political comedy The Interview. The NSA had to take the actors into protective custody after they received death threats because of their involvement with the movie.
Rogen also appears in movies with Steve Carell and Jonah Hill. Carell and Rogen worked together in the well-received and critically acclaimed 2005 movie The 40-Year Old Virgin. Rogen's character helped groom Carell's character for a romantic relationship that would help Carell's character lose his virginity after 40 years.
Seth Rogen has also worked with lesser-known actor David Krumholtz in Sausage Party. Since then, the two have been friends. Seth has even attended David's wedding to actress Vanessa Britting. You can see black-and-white photo from that wedding below.
USAToday asked Rogen why he likes to work so often with his friends. He said that he enjoys the informal atmosphere that this arrangement creates on set.
Seth Rogen also finds it comical that they frequently holler and joke with each other while making movies. He said that when he works with friends he laughs more often. We think comedy is much easier for Seth when he stars with people whom he has known for years, and all the better for all of us who love his work. If you love his work too, share this page right now.
3 Amazing Celebrities
Check out 3 awesome articles which reveal little-known facts about intriguing lives of these amazing celebrities who were once members of Nirvana rock band:
1) 7 Crazy Kurt Cobain Facts You'D Think We Made Up And His Suicide Note
2) 7 Unreal Facts About Dave Grohl & His Music Groups You'D Never Believe
3) 5 Unreal Facts About Nirvana's Krist Novoselic You'D Never Believe