Dave Grohl Facts, Quotes, & More: 45+ Things You Need To Know
These Dave Grohl facts and quotes are surprising. I have hard time believing them, bro. How can this American musician be so weird?
You may have read in The New York Times that Dave is "one of the friendliest people in music". But that doesn't even scratch the surface of who he really is. The truth is much more complicated, bro.
But this page has much more than just the surprising truth about this singer and songwriter. It has some awesome bonus you'll enjoy. So please continue reading this page and you're gonna find awesomeness.
The Editor's Favorite Music Video Of Dave Grohl
Questions People Often Ask About Musician Dave Grohl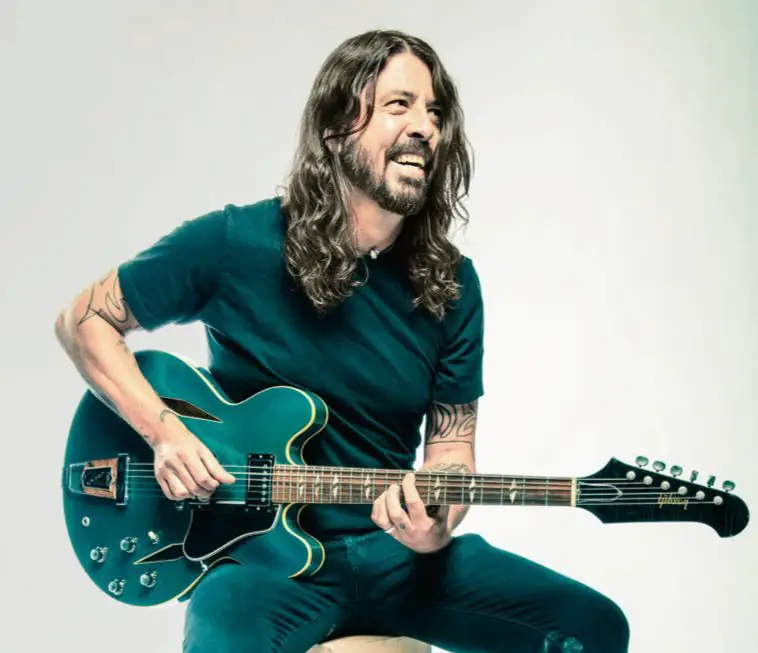 These are the most popular questions about this rock star. The answers might surprise you.
Is Dave Grohl Native American?
Many people Google: "Is Dave Grohl Native American?" The answer to that is simple. Dave Grohl is definitely not a Native American. In an interview with Kristen Wiig, Dave Grohl said the following about himself and his wife: "…we're not Native American." Instead, Dave Grohl is German, Irish, and Slovak.
Is Dave Grohl Vegan?
Many people wonder whether Dave Grohl is vegan. Dave Grohl definitely isn't a vegetarian. He does eat meat. And there's an interesting story about that.
While on Nirvana's last trip to South America in 1993, Dave Grohl, Kurt Cobain, and Krist Novoselic went to "the most expensive steak joint we could find just to spend the record company's money". Cobain, a vegetarian, was a little horrified at the way his bandmates could choose which cow their meal came from with the help of color photographs.
Did Dave Grohl Write Any Nirvana Songs?
Dave Grohl didn't write any Nirvana songs and didn't sing any Nirvana songs. Dave Grohl started writing his own songs after Kurt Cobain's death in 1994. He explained that the following way: "I didn't like my voice, I didn't think I was a songwriter, and I was in a band with one of the greatest songwriters of our generation. I didn't really want to rock the boat."
Did Dave Grohl Graduate High School?
While this rock star is definitely talented, he didn't graduate high school. He dropped out of high school because of something related to his music career.
At age 17, Grohl auditioned with local Washington, D.C. favorites Scream to fill the vacancy left by the departure of its drummer. In order to be considered for the position, Grohl lied about his age, claiming he was older. To Grohl's surprise, the band asked him to join. So he dropped out of high school in his junior year. He said the following about that: "I was 17 and extremely anxious to see the world, so I did it."
What Is Dave Grohl's Net Worth?
Dave Grohl's net worth is about three hundred million dollars.
Did Dave Grohl Pay For Plastic Surgery?
There's no information that definitely proves that Dave Grohl paid for his own plastic surgery. However, he said he considered plastic surgery on his nostrils. While that may sound weird to you, there's a valid reason for that. Please continue reading this page and you're gonna find that reason in the next section.
Dave Grohl Facts About His Life
This musician has led an interesting life. These Dave Grohl facts reflect that. Please share this page if you find them interesting, bro, because I would appreciate that.
In a 2008 interview, he said he had never taken cocaine, heroin or speed, and had stopped smoking cannabis and taking LSD at the age of 20.
When Dave Grohl was seven, his parents divorced.
He grew up with his mother.
Dave Grohl hates his nostrils. He thinks they're way too huge. Other children made fun of him when he was a child because of them. Other children told him that his nostrils are so huge that they could see his brain. As a result, he considered plastic surgery to make his nostrils smaller.
Jennifer Youngblood and Dave Grohl made a cameo appearance on the X-files in 1996 when they were still married. They played two unnamed background characters in the episode "Pusher."
Grohl was the Vice President of his freshman class at Thomas Jefferson High School in Springfield, VA. That same year, he lost at a battle of the bands to fellow classmate Chet Lott. In 2015, Grohl challenged Lott to a rematch at a sold-out Foo Fighters' show in Memphis.
David Eric Grohl is a documentary filmmaker. As a documentary filmmaker, he worked on 2013's Sound City, 2014's Sonic Highways, and 2021's What Drives Us. Sound City shows the history of a recording studio Sound City Studios. Sonic Highways is a 2014 American documentary miniseries that consists of eight episodes. Each episode is an exploration of the musical history of a different American city via interviews by Grohl.
Dave Grohl got married in his own backyard.
Grohl's birthplace of Warren, OH named a street after him and gave him the keys to the city. Back when he lived there, he wanted to grow up to become a helicopter pilot.
He may have coffee addiction, as he drinks about six cups of coffee every morning. In 2009, he was admitted to a hospital with chest pains from a caffeine overdose. The doctors said he didn't have enough coffee.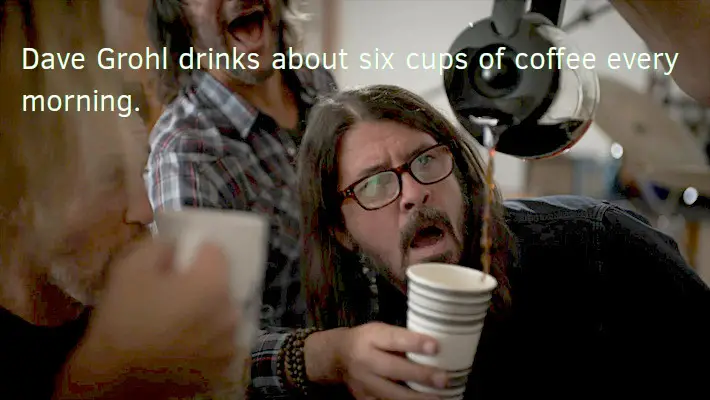 Dave Grohl On The Tonight Show
Dave Grohl Facts About His Music Career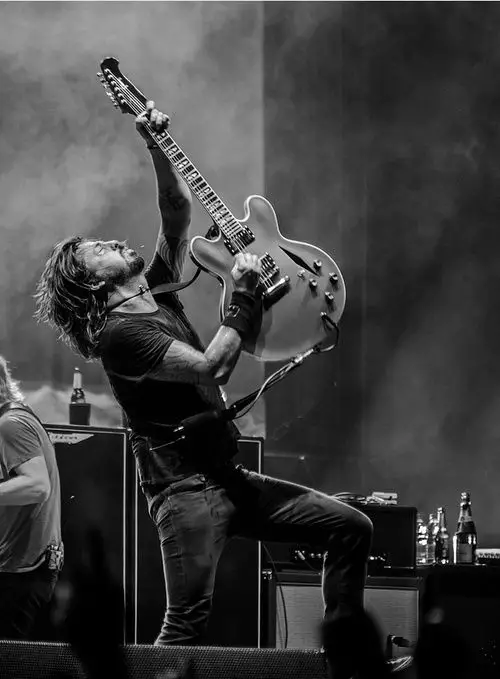 Dave Grohl has led a phenomenally successful music career. These Dave Grohl facts reflect that.
Dave Grohl began learning to play guitar at age twelve.
Grohl plays a large number of guitars, but his two primary guitars are both based on the Gibson ES-335.
On November 23, 2002, Grohl achieved a historical milestone by replacing himself on the top of the Billboard Modern rock chart, when "You Know You're Right" by Nirvana was replaced by "All My Life" by Foo Fighters. When "All My Life" ended its run, after a one-week respite, "No One Knows" by Queens of the Stone Age took the number one spot. Between October 26, 2002 and March 1, 2003 Grohl was in the number one spot on the Modern rock charts for 17 of 18 successive weeks, as a member of three different groups.
In 1997, Grohl played a few songs with David Bowie for Bowie's 50th birthday concert, which was recorded and shown on pay-per-view later that year.
Grohl has been a musical guest on Saturday Night Live fourteen times since 1992, more than any other musician. He has appeared with Nirvana, Foo Fighters, Them Crooked Vultures, Mick Jagger and Tom Petty and the Heartbreakers.
Grohl's band the Foo Fighters makes sure grammar rules are followed on marketing materials. The band charges a $100 fine for "misspellings or other stupid typos."
Nirvana actually had at least five other drummers prior to Grohl joining the band.
Grohl chews gum on stage to keep his throat ready for singing.
In 2010, Grohl was described by Ken Micallef, co-author of the book Classic Rock Drummers, as one of the most influential rock musicians of the last 20 years.
Dave Grohl said he didn't take drumming lessons and instead learned from listening to Rush and punk rock.
If you think these Dave Grohl facts are interesting, please share this page to your favorite social media site now because that would be awesome.
Video Interview With Dave Grohl
25 Best Dave Grohl Quotes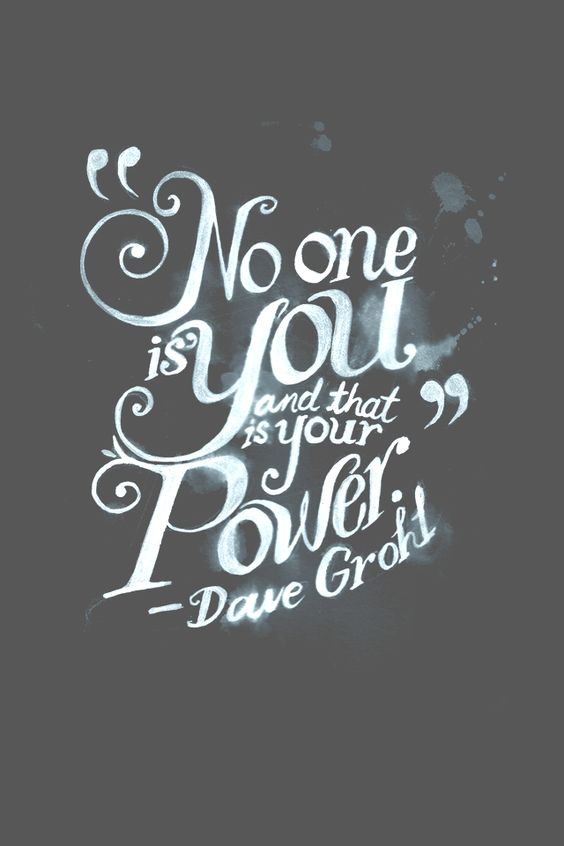 Check out these Dave Grohl quotes about his life after Nirvana and other topics. Then share them with all your friends.

1 I think people should feel encouraged to be themselves.
2 When you're young, you're not afraid of what comes next. You're excited by it.
3 If there's one thing I'm good at, it's gathering people together to do something fun.
4 People are so into digital recording now they forgot how easy analog recording can be.
5 Through Kurt I saw the beauty of minimalism and the importance of music that's stripped down.
6 All I really had was a suitcase and my drums. So I took them up to Seattle and hoped it would work.
7 If I hear a song that has a sweet melody, I'm a sucker for it, whether it's Linkin Park or Little Richard.
8 If I ever felt that I was getting swept away by the craziness of being in a band, well, I'd go back to Virginia.
9 Guilt is cancer. Guilt will confine you, torture you, destroy you as an artist. It's a black wall. It's a thief.
10 I've always been a fan of melody and emotional melancholy, whether it was Rites of Spring or Tears for Fears or Neil Young.
Continue reading these quotes below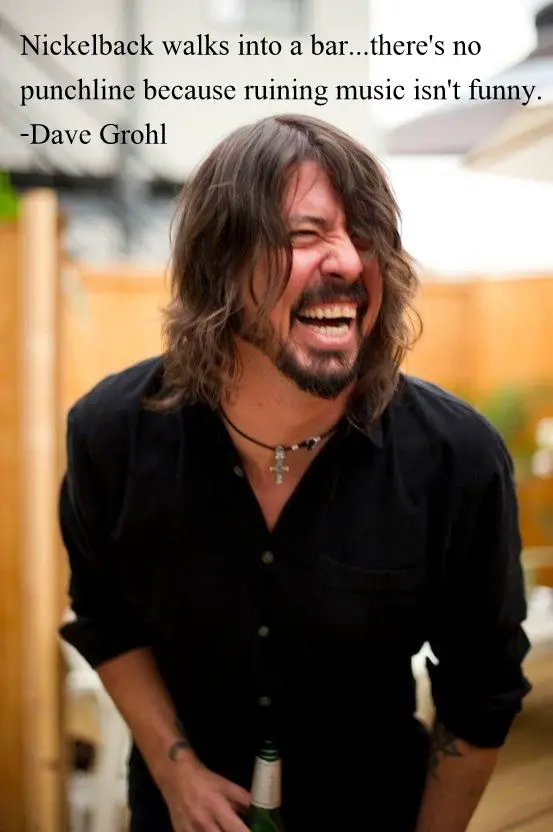 11 Give me something to assemble, I won't look at the directions, I'll try to figure it out by myself. It's why I love Ikea furniture.
12 When I listen to music these days, and I hear Pro Tools and drums that sound like a machine – it kinda sucks the life out of music.
13 I never needed much, and I never thought I'd get more than what I had. A trip to Burger King was the biggest thing in the world to me.
14 When Nirvana became popular, you could very easily slip and get lost during that storm. I fortunately had really heavy anchors – old friends, family.
15 When there's so much left to do, why spend your time focusing on things you've already done, counting trophies or telling stories about the good old days?
16 It's tough to go to sleep at night, and I wake up after five hours because I feel like I'm wasting time. I just sit up at night and think about what I can do next.
17 I've experienced great things, I've experienced great tragedies. I've done almost everything I could possibly ever imagine doing, but I just know that there's more.
18 Singing into a microphone and learning to play an instrument – learning to do your craft – that's the most important thing! It's not about what goes on in a computer!
Why not share quotes by this great musician with everyone you know?
19 I was at a New Year's Eve party, and someone asked me how was my year, and I said, 'I honestly think 2011 was the best year of my entire life,' and I actually meant it.
20 I taught myself how to play the guitar, I taught myself how to play the drums, and I kind of fake doing both of them. But drumming comes more natural to me, and it just feels better.
21 You know why Foo Fighters have been a band for 20 years? Because I've never really told anybody what I think of them. The last thing you ever want to do is go to therapy with your band.
22 A lot of the records you buy, there's nothing you can hold in your hand, it's all 1's and 0's, this digital cloud floating in the ether. but with analog albums, you can hold it in your hand.
23 There's a big difference between falling in love with someone and falling in love with someone and getting married. Usually, after you get married, you fall in love with the person even more.
24 I can understand how some people might resent me for having the audacity to continue playing music, but it'd take a lot more than that to stop me from doing it. I started Foo Fighters because I didn't want to retreat.
25 Whenever I say I made a record in the garage, people just assume that I have, like, a Learjet parked in there or something. But really there's old luggage, a couple of bikes. It's big enough to put one minivan in. That's it. No dartboard. I'm so not macho.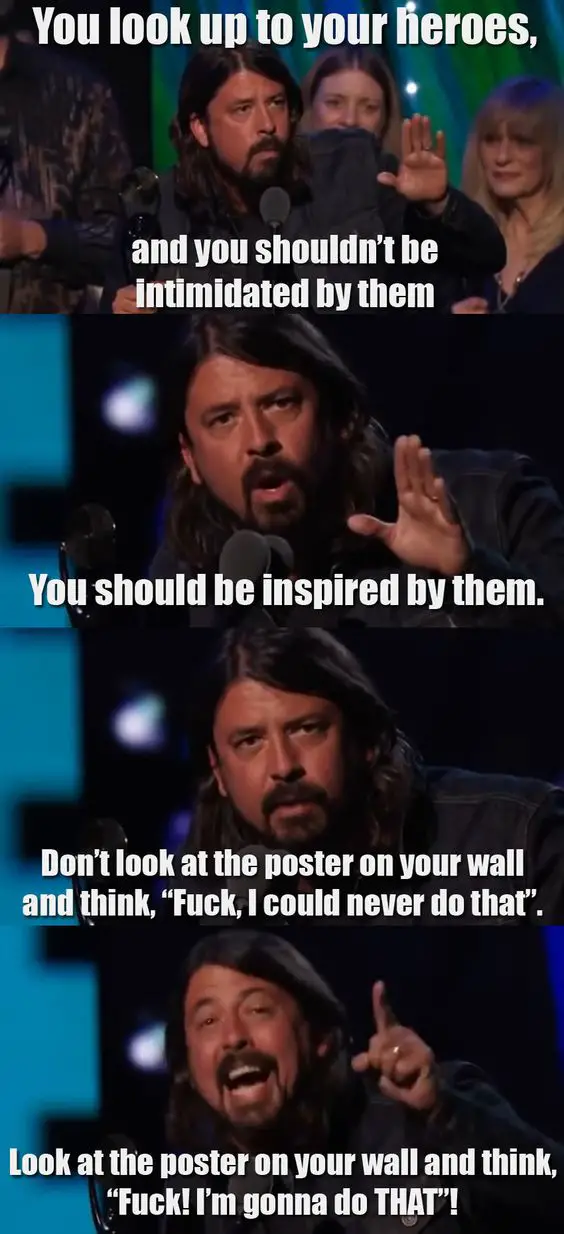 Liked these quotes by Dave Grohl? Then share his funny yet inspiring quote below to one of your Pinterest boards.
5 Best Dave Grohl Photos
Please share these photos to Pinterest because they're the coolest photos of Dave Grohl.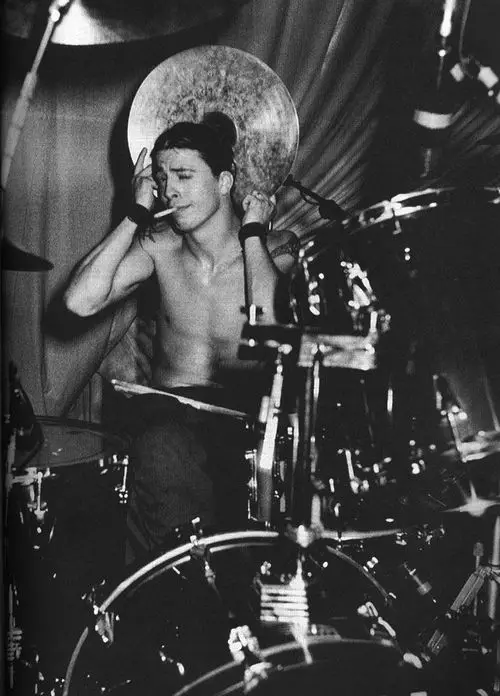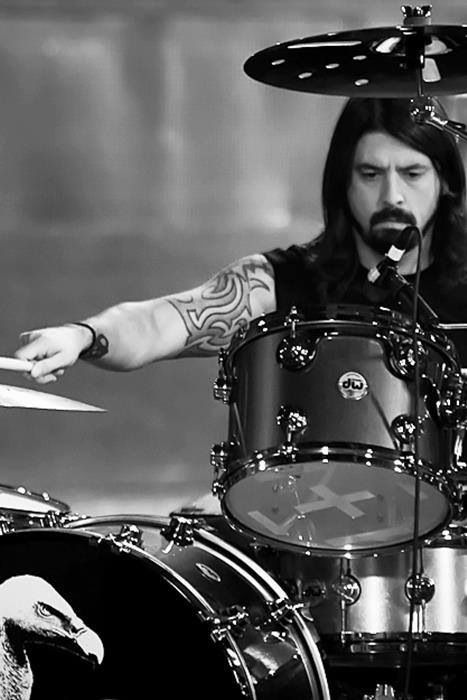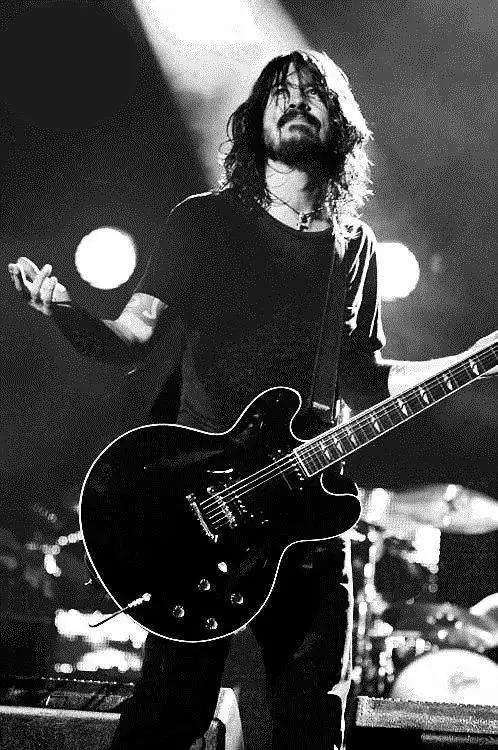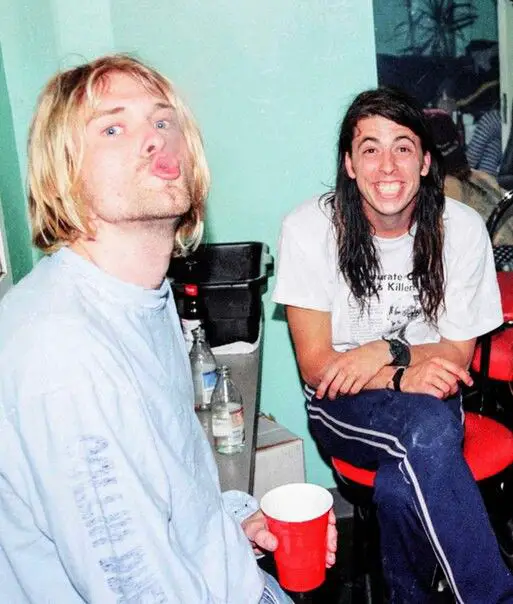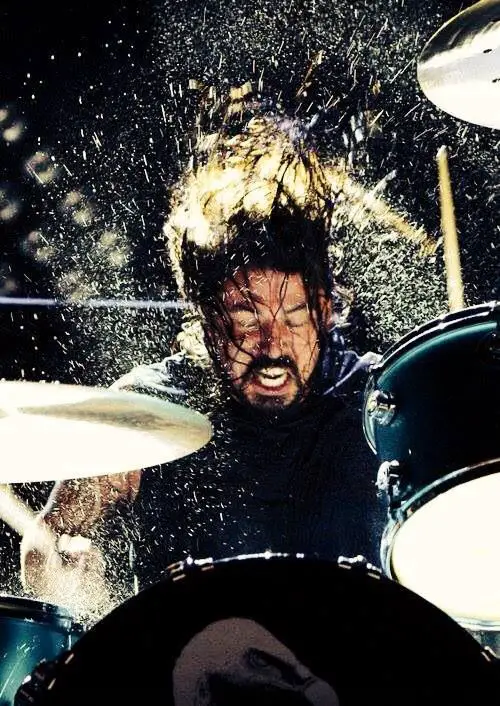 Dave Grohl Biography
His Life Before Fame
David Eric Grohl was born in Warren, OH in 1969 to Virginia and James Grohl. His father was then a journalist and his mother a teacher. Grohl has one older sister, Lisa. The family moved from Ohio to Springfield, VA when Grohl was three. When Virginia and James divorced, Dave and his sister were raised primarily by their mother.
Grohl's immersion in music began early; he formed his first band called the H. G. Hancock Band when he was 10. At that time, he was a guitarist. He went on to become involved in a series of punk bands after a cousin introduced him to the genre.
Grohl attended Thomas Jefferson High School, where he was active in various bands. During his high school years Grohl played music over the intercom system after the morning announcements. He dropped out to pursue music full-time in his Junior year. He joined the DC-based hardcore band Scream.
After seeing Cobain at a Melvins' gig in 1990, Grohl decided to audition for Nirvana. Joining the band that same year, he lived with Kurt Cobain for a short time and dated Jennifer Finch of L7. By 1991, Nirvana was on its way to international fame with the release of "Smells Like Teen Spirit."
Dave Grohl Music Groups
Dave Grohl is undoubtedly one of the most successful and enduring musicians of our era, with over 30 years of work touring with bands. Prior to any major recognition as a musician, Grohl performed with the short-lived DC punk band Dain Bramage from 1985 to 1987. In 1987, he dropped out of school to tour full-time with Scream until 1990. Scream had a strong following in the DC area underground hardcore scene.
In 1990, Grohl saw Cobain at a Melvins gig and successfully auditioned for the then relatively unknown Nirvana later that year. Grohl was with Nirvana through the band's meteoric rise until Cobain's death in 1994. In that same year, Tom Petty and the Heartbreakers recruited Grohl to play a pinch gig with them for Saturday Night Live. Petty liked him so much that he offered Grohl a permanent position with his band; Grohl considered it but ultimately declined. Later in 1994, Grohl started the Foo Fighters, which continue to release new albums and tour to this date. The Foo Fighters have won extensive critical acclaim and commercial success.
Other Dave Grohl music groups have included the Queens of the Stone Age (from 2001 to 2002), Them Crooked Vultures (from 2009 – 2010), Tenacious D, the Sound City Players, Teenage Time Killers, and Mondo Generator. Grohl's exceptional talent and energy has made him a fixture in American and international rock and alternative music over the past three decades.
Dave Grohl At Oscars
Grohl openly supported ANOHNI, the first transgender performer to ever be nominated for an Academy Award, via his Twitter account. ANOHNI controversially wrote an open essay regarding the Academy's discrimination and her decision to not attend the ceremonies after being specifically asked to not perform. Grohl, who was nominated in any category but was asked to perform Tweeted "This one's for you, my friend."
Dave Grohl at the Oscars in 2016 performed a heart-wrenchingly beautiful cover of the Beatles' "Blackbird" during the In Memoriam tribute that honored such icons as Alan Rickman, James Horner and David Bowie.
Grohl's rendition of "Blackbird" received instant positive media reaction for its sad and subdued sound. It should have been no surprise that the musician would have selected at Beatles song for his Oscars solo, however. In 2012 he told Spin magazine ""If it weren't for the Beatles, I would not be a musician. It's as simple as that. From a very young age I became fascinated with their songs, and over the years have drowned myself in the depth of their catalogue…From one generation to the next, The Beatles will remain the most important rock band of all time." The proud father of three proudly reported that his young daughters are also Beatles fans. "It made me so incredibly happy and proud," he said.
His Life After Fame
Grohl's extensive fame has not prevented him from having a fulfilling and relatively private family life. In 1994, he married photographer Jennifer Youngblood. Dave Grohl and wife Youngblood divorced in 1997, with Grohl citing the chaos following the end of Nirvana and the early days of the Foo Fighters as the reason for the breakup.
In 2003, Grohl married Jordyn Blum and the couple has remained happily married since. Blum stays out of the limelight with a low media profile. Dave Grohl and wife will celebrate their 14th anniversary this year, making them one of the longest lasting couples in rock and roll.
Dave Grohl has kids with Blum including Violet Maye Grohl, Harper Willow Grohl and Ophelia Saint Grohl. The girls range in age from 11 to 3. Grohl is a proud father, famously giving his daughter a kiss while performing onstage at a Foo Fighters' show.
Grohl uses his celebrity to raise awareness about drug abuse and LGBT rights. He protested Westboro Baptist Church and is an outspoken supporter of President Barack Obama and the Democratic Party in general.
Grohl is estimated to be the third wealthiest drummer in the entire world, falling only behind Ringo Starr and Phil Collins. Grohl is known to support a wide variety of charities including Autism Speaks, the ACLU of Southern California, the Elton John Aids Foundation, White Knot for Equality, and the Worldwide Orphans Foundation.
Legacy Of Dave Grohl
Known as the "nicest dude in rock," Grohl has an extensive legacy and continues to blaze new territory in rock and alternative music. Gibson guitars called him the third most influential drummer of all time, and Rolling Stone ranks him in their elite Top 100 list.
Grohl was inducted into the Rock and Roll Hall of Fame in 2014, the first year that Nirvana was eligible for the honor. Cobain had famously said, upon hiring Grohl, "now I've got the best drummer in the world." Cobain was right; Grohl is one of the most honored drummers in history.
Perhaps one of Grohl's greatest legacies, however, is his dedication to and championship of rock and roll music as it becomes an increasingly marginal genre. He is a historian of music, and a great proponent of keeping it relevant. If the success of the Foo Fighters is any indication, it seems his efforts are paying off.
Grohl has recorded over 40 albums, making him one of the most prolific drummers of all time, according to Rolling Stone. He has also collaborated on dozens of single tracks throughout his career, including working with other industry giants such as David Bowie, Nine Inch Nails, and Puff Daddy. Along with the Foo Fighters he has received 11 Grammy Awards, 2 MTV Music Awards, and an American Music Award. His work with various bands has been nominated over 80 times.
Best Songs Of Dave Grohl
The Official Music Video Of The Pretender
Video Of Dave Grohl Telling Funny Story And Singing Best Of You
The beginning of this video has funny story about Dave Grohl's concert with Paul McCartney and Taylor Swift. The ending has the song Best Of You.
Video Of Dave Grohl Performing Times Like These
This is the studio recording of this awesome song.
2 Awesome Articles About Other Members Of Nirvana
You're not gonna believe what you're about to find out. So check out these 2 awesome articles which reveal little-known facts about amazing lives of former members of Nirvana rock band:
1) 7 Crazy Kurt Cobain Facts You'D Think We Made Up And His Suicide Note
2) 5 Unreal Facts About Nirvana's Krist Novoselic You'D Never Believe
Related Links