Famous John Wayne Quotes And Sayings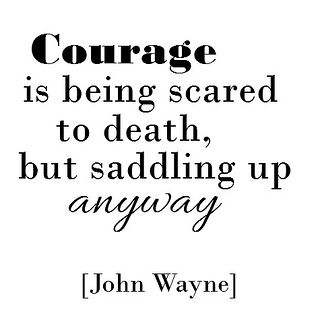 Enjoy the best John Wayne quotes. Famous Quotes by John Wayne, American Actor.
Tomorrow is the most important thing in life. Comes into us at midnight very clean. It's perfect when it arrives and it puts itself in our hands. It hopes we've learned something from yesterday.
[at Harvard in 1974, on being asked whether then-President Richard Nixon ever advised him on the making of his films] No, they've all been successful.
Check out Really Funny President Jokes
[on reactions to "The Green Berets"] The left-wingers are shredding my flesh, but like Liberace, we're bawling all the way to the bank.
Check out Really Funny Banker Jokes
Talk low, Talk slow, and Don't say too much.
Share these Famous John Wayne Quotes with your friends
I don't act . . . I react.
[on television] I don't know if I love it or hate it, but there sure has never been any form of entertainment so . . . so . . . available to the human race with so little effort since they invented marital sex.
Check out the best collection of Funny Sex Jokes
I play John Wayne in every picture regardless of the character, and I've been doing all right, haven't I?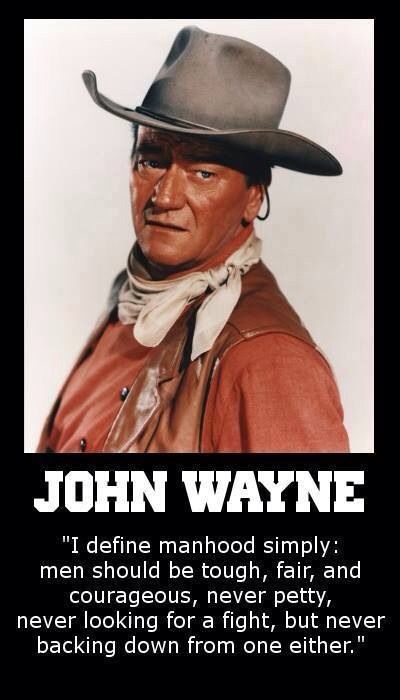 Continue reading these John Wayne Sayings and Quotes below
There's been a lot of stories about how I got to be called Duke. One was that I played the part of a duke in a school play–which I never did. Sometimes, they even said I was descended from royalty! It was all a lot of rubbish. Hell, the truth is that I was named after a dog!
Check out 20 Really Funny School Jokes That Will Make You Laugh
[in 1973] Hell yes, I'm a liberal. I listen to both sides before I make up my mind. Doesn't that make you a liberal? Not in today's terms, it doesn't. These days, you have to be a fucking left-wing radical to be a liberal. Politically, though . . . I've mellowed.
Check out our collection of Politically Incorrect Jokes
Watergate is a sad and tragic incident in our history. They were wrong, dead wrong, those men at Watergate. Men abused power, but the system still works. Men abused money, but the system still works. Men lied and perjured themselves, but the system still works. Check out Really Funny Money Jokes
I've always followed my father's advice: he told me, first to always keep my word and, second, to never insult anybody unintentionally. If I insult you, you can be goddamn sure I intend to. And, third, he told me not to go around looking for trouble.
Share these Famous John Wayne Quotes with your friends
I was 32nd in the box office polls when I accepted the presidency of the Alliance [The Motion Picture Alliance for the Preservation of American Ideals, a right-wing political organization he helped start]. When I left office eight years later, somehow the folks who buy the tickets had made me number one.
Don't ever for a minute make the mistake of looking down your nose at westerns. They're art–the good ones, I mean. They deal in life and sudden death and primitive struggle, and with the basic emotions–love, hate, and anger–thrown in. We'll have westerns films as long as the cameras keep turning. The fascination that the Old West has will never die. And as long as people want to pay money to see me act, I'll keep on making westerns until the day I die.
I was overwhelmed by the feeling of friendship, comradeship, and brotherhood . . . DeMolay will always hold a deep spot in my heart. Check out our collection of Really Funny Friendship Quotes
You're going to think I'm being corny, but this is how I really feel: I hope my family and my friends will be able to say that I was an honest, kind and fairly decent man.
I never trust a man that doesn't drink.
John Wayne Movie Quotes – Our Favorite Video
But don't get me wrong. As far as a man and a woman is concerned, I'm awfully happy there's a thing called sex. It's an extra something God gave us. I see no reason why it shouldn't be in pictures. Healthy, lusty sex is wonderful.
Share these John Wayne Sayings with everyone you know
My main object in making a motion picture is entertainment. If at the same time I can strike a blow for liberty, then I'll stick one in.
[on presenting the Best Picture Oscar in 1979] Oscar and I have something in common. Oscar first came to the Hollywood scene in 1928. So did I. We're both a little weatherbeaten, but we're still here and plan to be around for a whole lot longer.
Check out some really cool Hollywood Jokes
Not that I had thoughts of becoming a song and dance man, but, like most young actors, I did want to play a variety of roles. I remember walking down the street one day, mumbling to myself about the way my career was going, when suddenly I bumped into Will Rogers. "What's the matter, Duke?" he asked, and I said things weren't going so well. "You working?" he asked, and I said, "Yep." "Keep working, Duke," he said and smiled and walked away.
Contrary to what people think, I'm no politician, and when I have something to say I say it through my movies.
God-damn, I'm the stuff men are made of!
Talk low, talk slow and don't talk too much.
I am an old-fashioned, honest-to-goodness, flag-waving patriot.
[on "Jet Pilot"] It is undoubtedly one of my worst movies ever.
A man's got to have a code, a creed to live by, no matter his job.
I have tried to live my life so that my family would love me and my friends respect me. The others can do whatever the hell they please.
Paul Newman would have been a much more important star if he hadn't always tried to be an anti-hero, to show the human feet of clay.
I do not want the government to take away my human dignity and insure me anything more than a normal security. I don't want handouts.
[on the Oscars] You can't eat awards — nor, more to the point, drink 'em. [1962] I'm a progressive thinker, even though I'm not in the liberal strain.
Westerns are closer to art than anything else in the motion picture business.
Once I was working in a movie with Harry Carey and his wife Olive [Olive Carey], and I was complaining about being typed. "Duke," Ollie said, "look at Harry over there – would you like to see Harry Carey play any other way?". "Of course not," I said. "Well," Ollie said, "the American public doesn't want to see you any other way, either. So wake up, Duke! Be what they want you to be." See, I'm not against Women's Lib. Ollie gave me some real good advice.
[on "True Grit"] In my other pictures, we've had an explosion or something go off when a bad word was said. This time we didn't. It's profanity, all right, but I doubt if there's anybody in the United States who hasn't heard the expression "son of a bitch" or "bastard". We felt it was acceptable in this instance. At the emotional high point in that particular picture, I felt it was OK to use it. It would have been pretty hard to say "you illegitimate sons of so-and-so!". [At his divorce trial in 1953] I deeply regret I'm going to have to sling mud. [6/78] I'm a greedy old man. Life's been good to me, and I want some more of it.
Some people tell me everything isn't black and white. But I say why the hell not?
You can't whine and bellyache because somebody else got a good break and you didn't.
I am a demonstrative man, a baby picker-upper, a hugger and a kisser – that's my nature.
When you come slam bang up against trouble, it never looks half as bad if you face up to it.
Screw ambiguity. Perversion and corruption masquerade as ambiguity. I don't trust ambiguity.
[1966] I drink for comradeship, and when I drink for comradeship, I don't bother to keep count. [When asked if he believed in God] There must be some higher power or how else does all this stuff work?
When the road looks rough ahead, remember the Man Upstairs and the word "Hope". Hang onto both and tough it out.
If I had it to do over again, I'd probably do everything I did. But that's not necessarily the right thing to do.
[on "Donovan's Reef"] The script really called for a younger guy. I felt awkward romancing a young girl at my age.
We've made mistakes along the way, but that's no reason to start tearing up the best flag God ever gave to any country.
Winston Churchill's the most terrific fella of our century. If I had to make a speech on the subject of Communism, I could think of nobody that had a better insight or that said things concerning the future that have proven out so well. Let me read to you from a book of his quotes. While [Franklin D. Roosevelt] was giving the world Communism, Churchill said, "I tell you–it's no use arguing with a Communist. It's no good trying to convert a Communist, or persuade him. You can only deal with them on the following basis . . . you can only do it by having superior force on your side on the matter in question–and they must also be convinced that you will use–you will not hesitate to use these forces if necessary, in the most ruthless manner. You have not only to convince the Soviet government that you have superior force–but that you are not restrained by any moral consideration if the case arose from using that force with complete material ruthlessness. And that is the greatest chance of peace, the surest road to peace. Churchill was unparalleled. Above all, he took a nearly beaten nation and kept their dignity for them.
But you know, I'm very conscious that people criticize Hollywood. Yet we've created a form, the Western, that can be understood in every country. The good guys against the bad guys. No nuances. And the horse is the best vehicle of action in our medium. You take action, a scene, and scenery, and cut them together, and you never miss. Action, scene, scenery. But when you think about the Western–ones I've made, for example. "Stagecoach", "Red River", "The Searchers", a picture named "Hondo" that had a little depth to it–it's an American art form. It represents what this country is about. In "True Grit", for example, that scene where Rooster shoots the rat. That was a kind of reference to today's problems. Oh, not that "True Grit" has a message or anything. But that scene was about less accommodation, and more justice. They keep bringing up the fact that America's for the downtrodden. But this new thing of genuflecting to the downtrodden, I don't go along with that. We ought to go back to praising the kids who get good grades, instead of making excuses for the ones who shoot the neighborhood grocery man. But, hell, I don't want to get started on that!
Read the best collection of Winston Churchill Quotes that will inspire you
[on "Superman" star Christopher Reeve after meeting him at the 1979 Academy Awards] This is our new man. He's taking over. [on "High Plains Drifter"] That isn't what the West was all about. That isn't the American people who settled this country. [1971] Well, you like . . . each picture for . . . a different reason. But I think my favorite will always be the next one.
I'm an American actor. I work with my clothes on. I have to. Riding a horse can be pretty tough on your legs and elsewheres.
I wrote to the head man at General Motors and said, "I'm gonna have to desert you if you don't stop making cars for women.'"
Very few of the so-called liberals are open-minded . . . they shout you down and won't let you speak if you disagree with them.
[upon accepting his Oscar for "True Grit"] If I'd known this was all it would take, I'd have put that eyepatch on 40 years ago.
Rooster Cogburn's attitude toward life was maybe a little different, but he was basically the same character I've always played.
I stick to simple themes. Love. Hate. No nuances. I stay away from psychoanalyst's couch scenes. Couches are good for one thing.
[on "Cahill U.S. Marshal"] It just wasn't a well done picture. It needed better writing, it needed a little better care in making. [on being asked about his "phony hair" at Harvard in 1974] It's not phony. It's real hair. Of course, it's not mine, but it's real. [1960] I suddenly found out after 25 years I was starting out all over again. I would just about break even if I sold everything right now. [on why he never wrote an autobiography] Those who like me already know me, and those who don't like me wouldn't want to read about me anyway.
You may think all my parts are the same. That's just what I want you to think. You get lost on the screen if your personality doesn't show through.
[on "The Conqueror"] The way the screenplay reads, this is a cowboy picture, and that's how I am going to play Genghis Khan. I see him as a gunfighter. [1979] I've known Jane Fonda since she was a little girl. I've never agreed with a word she's said, but would give my life defending her right to say it. [poem, "The Sky", he read on his 1969 "Rowan & Martin's Laugh-In" appearance] The sky is blue, the grass is green. Get off your ass and join the Marines. [on Raoul Walsh] I've been very lucky in the men I've worked with. Raoul Walsh — the heartiness and lustiness he gave to pictures I thought was tremendous.
If a guy wants to wear his hair down to his ass, I'm not revolted by it. But I don't look at him and say, "Now there's a fella I'd like to spend next winter with."
[on his separation from third wife Pilar Wayne in 1973] We have separated, and it's a sad incident in my life. It is family and personal. I'd rather keep it that way.
If it hadn't been for football and the fact I got my leg broke and had to go into the movies to eat, why, who knows, I might have turned out to be a liberal Democrat.
Mine is a rebellion against the monotony of life. The rebellion in these kids, particularly the S.D.S.-ers and those groups, seems to be a kind of dissension by rote.
[Time Magazine interview, 1969] I would like to be remembered, well . . . the Mexicans have a phrase, "Feo fuerte y formal". Which means he was ugly, strong and had dignity. [in 1971] I licked the Big C. I know the man upstairs will pull the plug when he wants to, but I don't want to end my life being sick. I want to go out on two feet–in action.
It's kind of a sad thing when a normal love of country makes you a super patriot. I do think we have a pretty wonderful country, and I thank God that He chose me to live here.
[on Frank Capra] I'd like to take that little Dago son of a bitch and tear him into a million pieces and throw him into the ocean and watch him float back to Sicily where he belongs. [on "The Green Berets"] When I saw what our boys are going through – hell – and how the morale was holding up, and the job they were doing, I just knew they had to make this picture.
When people say a John Wayne picture got bad reviews, I always wonder if they know it's a redundant sentence, but hell, I don't care. People like my pictures and that's all that counts.
I don't want ever to appear in a film that would embarrass a viewer. A man can take his wife, mother, and his daughter to one of my movies and never be ashamed or embarrassed for going.
[1976] And to all you folks out there, I want to thank you for the last fifty years of my career. And I hope I can keep at it another fifty years – or at least until I can get it right.
I believe in white supremacy until the blacks are educated to the point of responsibility. I don't believe in giving authority and positions of leadership and judgment to irresponsible people.
I want to play a real man in all my films, and I define manhood simply: men should be tough, fair, and courageous, never petty, never looking for a fight, but never backing down from one either.
[1973] I've been allowed a few more years – I hope. My lung capacity is naturally limited now, but I had a pretty good set before the disease hit me, so it isn't too noticeable in my everyday life.
In B-pictures all we ever did is tell a story. He's gone to Red Gap! Where's Red Gap? There's Red Gap! Let's git after him to Red Gap. Here's Red Gap! But in A-pictures you reacted more to the situations.
[1971] Get a checkup. Talk someone you like into getting a checkup. Nag someone you love into getting a checkup. And while you're at it, send a check to the American Cancer Society. It's great to be alive.
The West – the very words go straight to that place of the heart where Americans feel the spirit of pride in their western heritage – the triumph of personal courage over any obstacle, whether nature or man.
I'm quite sure that the concept of a government-run reservation would have an ill effect on anyone. But that seems to be what the socialists are working for now – to have everyone cared for from cradle to grave.
God, how I hate solemn funerals. When I die, take me into a room and burn me. Then my family and a few good friends should get together, have a few good belts, and talk about the crazy old time we all had together.
[on Native Americans:] I don't feel we did wrong in taking this great country away from them. There were great numbers of people who needed new land, and the Indians were selfishly trying to keep it for themselves.
Let's say I hope that I appeal to the more carefree times in a person's life rather than to his reasoning adulthood. I'd just like to be an image that reminds someone of joy rather than of the problems of the world.
I don't have to assert my virility. I think my career has shown that I'm not exactly a pantywaist. But I do take pride in my work, even to the point of being the first one on the set in the morning. I'm a professional.
I never had a goddamn artistic problem in my life, never, and I've worked with the best of them. John Ford isn't exactly a bum, is he? Yet he never gave me any manure about art. He just made movies and that's what I do.
In spite of the fact that Rooster Cogburn would shoot a fella between the eyes, he'd judge that fella before he did it. He was merely trying to make the area in which he was marshal livable for the most number of people.
That little clique back there in the East has taken great personal satisfaction reviewing my politics instead of my pictures. But one day those doctrinaire liberals will wake up to find the pendulum has swung the other way.
[on "The Alamo"] This picture is America. I hope that seeing the battle of the Alamo will remind Americans that liberty and freedom don't come cheap. This picture, well, I guess making it has made me feel useful to my country.
Television has a tendency to reach a little. In their westerns, they are getting away from the simplicity and the fact that those men were fighting the elements and the rawness of nature and didn't have time for this couch-work.
I think those blacklisted people should have been sent over to Russia. They'd have been taken care of over there, and if the Commies ever won over here, why hell, those guys would be the first ones they'd take care of – after me.
Look, I'm sure there have been inequalities. If those inequalities are presently affecting any of the Indians now alive, they have a right to a court hearing. But what happened 100 years ago in our country can't be blamed on us today.
I know what the critics think–that I can't act. What is a great actor anyway? Of course, you could say a great actor is one who can play many different parts, like [Laurence Olivier] can. But all the parts I play are tailor-made for me.
[on America] I can tell you why I love her. I have a lust for her dignity. I look at her wonderfully classic face, and I see hidden in it a sense of humor that I love. I think of wonderful, exciting, decent things when I look at her.
I read someplace that I used to make B-pictures. Hell, they were a lot farther down the alphabet than that . . . but not as far down as R and X. I think any man who makes an X-rated picture ought to be made to take his own daughter to see it.
I think that the loud roar of irresponsible liberalism . . . is being quieted down by a reasoning public. I think the pendulum is swinging back. We're remembering that the past can't be so bad. We built a nation on it. We have to look
to tomorrow.
I said there was a tall, lanky kid that led 150 airplanes across Berlin. He was an actor, but that day, I said, he was a colonel. Colonel Jimmy Stewart [James Stewart]. So I said, "What is all this crap about Reagan [Ronald Reagan] being an actor?"
[on his third wife Pilar Wayne] I can tell you why I love her. I have a lust for her dignity. I look at her wonderfully classic face, and I see hidden in it a sense of humor that I love. I think of wonderful, exciting, decent things
when I look at her.
I had the feeling my career was going to decline back in '68. I'd just had a big hit with "The Green Berets", but I wasn't getting any younger and I knew "Hellfighters" wasn't going to set the box office on fire. Then I read a script
for a film called "True Grit".
[on "The Fighting Kentuckian"] Yates [Republic Pictures studio chief Herbert J. Yates] made me use Vera Hruba [Republic star Vera Ralston, who was also Yates' mistress] . . . I've always been mad at Yates about this, because we lost the chance to have one damn fine movie. [April 1944, on Victory Committee USO tour] What go me was the way those kids out there kept their sense of humor. Through hard work, battle, or deadly monotony, they could laugh. Healthy beefing, sure, but no squawks. Taking it, day after day, and no complaining. It got me.
This may come as a surprise to you, but I wasn't alive when reservations were created – even if I do look that old. I have no idea what the best method of dealing with the Indians in the 1800s would have been. Our forefathers evidently thought they were doing the right thing.
[on the studios' blacklisting of alleged "subversives" in Hollywood] If it is for the FBI, I will do anything for them. If they want me to I will even be photographed with an agent and point out a Communist for them. Tell Mr. Hoover [FBI Director J. Edgar Hoover] I am on his side.
Just think of it. At the Alamo there was a band of only 185 men of many nationalities and religions, all joined in a common cause for freedom. Those 185 men killed 1000 of Santa Anna's men before they died. But they knew they spent their lives for the precious time Sam Houston needed.
"High Noon" was the most un-American thing I have ever seen in my whole life. The last thing in the picture is ol' Coop [Gary Cooper] putting the United States marshal's badge under his foot and stepping on it. I'll never regret having run [screenwriter Carl Foreman] out of this country.
[on Republic Pictures' chief Herbert J. Yates' failed attempts to make a star out of wife Vera Ralston] Yates was one of the smartest businessmen I ever met. I respected him in many ways, and he liked me. But when it came to the woman he loved, his business brains just went flyin' out the window. [on Maureen O'Hara] She is a woman who speaks her mind and that impressed me, despite my old-fashioned chauvinistic ways! She is feminine and beautiful, but there is something about her that makes her more like a man. It's her stubbornness and her willingness to stand up to anyone–even John Ford.
What the hell, in my racket I've fallen off a lot of horses. I even fell off on purpose in "True Grit". But that fall in "The Undefeated" was irritating because I tore some ligaments in my shoulder. I don't have good use of one arm anymore, and it makes me look like an idiot when I'm getting on a horse.
That Redford [Robert Redford] fellow is good. Brando [Marlon Brando]. Ah, "Patton" – George C. Scott. But the best of the bunch is Garner – James Garner. He can play anything. Comedy westerns, drama – you name it. Yeah, I have to say Garner is the best around today. He doesn't have to say anything – just make a face and you crack up.
You know, I hear everybody talking about the generation gap. Frankly, sometimes I don't know what they're talking about. Heck, by now I should know a little bit about it, if I'm ever going to. I have seven kids and 18 grandkids and I don't seem to have any trouble talking to any of them. Never have had, and I don't intend to start now.
I've always had deep faith that there is a Supreme Being, there has to be. To me that's just a normal thing to have that kind of faith. The fact that He's let me stick me around a little longer, or She's let me stick around a little longer, certainly goes great with me — and I want to hang around as long as I'm healthy and not in anybody's way.
[About his close friend Maureen O'Hara] There's only one woman who has been my friend over the years and by that I mean a real friend, like a man would be. That woman is Maureen O'Hara. She's big, lusty, and absolutely marvelous, definitely my kind of woman. She's a great guy. I've had many friends and I prefer the company of men. Except for Maureen O'Hara.
When I started, I knew I was no actor and I went to work on this Wayne thing. It was as deliberate a projection as you'll ever see. I figured I needed a gimmick, so I dreamed up the drawl, the squint and a way of moving meant to suggest that I wasn't looking for trouble but would just as soon throw a bottle at your head as not. I practiced in front of a mirror.
My problem is that I'm not a handsome man like Cary Grant, who will be handsome at 65. I may be able to do a few more man-woman things before it's too late, but then what? I never want to play silly old men chasing young girls, as some of the stars are doing. I have to be a director – I've waited all these years to be one. "The Alamo" will tell what my future is.
[on "They Came to Cordura"] How they got Gary Cooper to do that one! To me, at least, it simply degrades the Medal of Honor. The whole story makes a mockery of America's highest award for valor. The whole premise of the story was
wrong, illogical, because they don't pick the type of men the movie picked to win the award, and that can be proved by the very history of the award. [After failing to win the Best Actor Oscar for "Sands of Iwo Jima"] The best way to survive an Oscar is to never try to win another one. You've seen what happens to some Oscar winners. They spend the rest of their lives turning down scripts while searching for the great role to win another one. Hell, I hope I'm never even nominated again. It's meat-and-potato roles for me from now on.
I have found a certain type calls himself a liberal . . . Now I always thought I was a liberal. I came up terribly surprised one time when I found out that I was a right-wing conservative extremist, when I listened to everybody's point of view that I ever met, and then decided how I should feel. But this so-called new liberal group, Jesus, they never listen to your point of view . . .
I figure if we're going to send even one man to die, we ought to be in an all-out conflict. If you fight, you fight to win. And the domino theory is something to be reckoned with, too, both in Europe and in Asia. Look at what happened in Czechoslovakia and what's happened all through the Balkans. At some point we have to stop communism. So we might as well stop it right now in Vietnam.
[1979] Listen, I spoke to the man up there on many occasions and I have what I always had: deep faith that there is a Supreme Being. There has to be, you know; it's just to me, that's just a normal thing, to have that kind of faith. The fact that He's let me stick around a little longer certainly goes great with me, and I want to hang around as long as I'm healthy and not in anybody's way.
"Rio Lobo" certainly wasn't any different from most of my Westerns. Nor was "Chisum", the one before that. But there still seems to be a very hearty public appetite for this kind of film–what some writers call a typical John Wayne Western. That's a label they use disparagingly . . . If I depended on the critics' judgment and recognition, I'd never have gone into the motion-picture business.
Every country in the world loved the folklore of the West – the music, the dress, the excitement, everything that was associated with the opening of a new territory. It took everybody out of their own little world. The cowboy lasted a hundred years, created more songs and prose and poetry than any other folk figure. The closest thing was the Japanese samurai. Now, I wonder who'll continue it.
"The Green Berets" made $7,000,000 in the first three months of its release. This so-called intellectual group aren't in touch with the American people, regardless of [J. William Fulbright's] blatting, and Eugene McCarthy and George McGovern and Ted Kennedy. In spite of them the American people do not feel that way. Instead of taking a census, they ought to count the tickets that were sold to that picture.
[asked whether the Native American Indians should be allowed to camp on their land at Alcatraz] Well, I don't know of anybody else who wants it. The fellas who were taken off it sure don't want to go back there, including the guards. So as far as I am concerned, I think we ought to make a deal with the Indians. They should pay as much for Alcatraz as we paid them for Manhattan. I hope they haven't been careless with their wampum. [1/46, interview in "Screenland" magazine] The picture business has grown up since I got into it 15 years ago, has acquired a dignity that is beyond reproach. Hollywood is, today, a quiet town compared to other places I have been and can, moreover, be pretty proud of itself, having pushed more charities, given more time to selling war bonds and more talent to entertaining servicemen than any other town in any other part of the country.
I don't think a fella should be able to sit on his backside and receive welfare. I'd like to know why well-educated idiots keep apologizing for lazy and complaining people who think the world owes them a living. I'd like to know why they make excuses for cowards who spit in the faces of the police and then run behind the judicial sob sisters. I can't understand these people who carry placards to save the life of some criminal, yet have no thought for the innocent victim.
[12/29/64] I've had lung cancer, the big C. But I've beaten the son of a bitch. Maybe I can give some poor bastard a little hope by being honest. I want people to know cancer can be licked. My advisers all told me that the public doesn't want its movie heroes associated with serious illness like cancer, that it destroys their image. Well, I don't care much about images, and, anyway, I would have thought there was a lot better image in the fact that John Wayne had cancer and licked it.
Well, at one time in my career, I guess sexuality was part of my appeal. But God, I'm 63 years old now. How the hell do I know whether I still convey that? Jeez. It's pretty hard to answer a question like, "Are you attractive to broads?" All that crap comes from the way I walk, I guess. There's evidently a virility in it. Otherwise, why do they keep mentioning it? But I'm certainly not conscious of any particular walk. I guess I must walk different than other people, but I haven't gone to any school to learn how.
Every time they rate a picture, they let a little more go. Ratings are ridiculous to begin with. There was no need for rated pictures when the major studios were in control. Movies were once made for the whole family. Now, with the kind of junk the studios are cranking out-and the jacked-up prices they're charging for the privilege of seeing it – the average family is staying home and watching television. I'm quite sure that within two or three years, Americans will be completely fed up with these perverted films.
There's a lot of yella bastards in the country who would like to call patriotism old-fashioned. With all that leftist activity, I was quite obviously on the other side. I was invited at first to a coupla cell meetings, and I played the lamb to listen to 'em for a while. The only guy that ever fooled me was the director Edward Dmytryk. I made a picture with him called "Back to Bataan". He started talking about the masses, and as soon as he started using that word – which is from their book, not ours – I knew he was a Commie.END.
[in 1971] Republic Pictures gave me a screen credit on one of the early pictures and called me Michael Burns. On another one they called me Duke Morrison. Then they decided Duke Morrison didn't have enough prestige. My real name, Marion Michael Morrison, didn't sound American enough for them. So they came up with John Wayne. I didn't have any say in it, but I think it's a great name. It's short and strong and to the point. It took me a long time to get used to it, though. I still don't recognize it when somebody calls me John . . .
Well, when I went to USC, if anybody had gone into the president's office and shit in his wastepaper basket and used the dirt to write vulgar words on the wall, not only the football team but the average kid on campus would have gone to work on the guy. There doesn't seem to be respect for authority anymore; these student dissenters act like children who have to have their own way on everything. They're immature and living in a little world all their own. Just like hippie dropouts, they're afraid to face the real competitive world.
There's been no top authority saying what marijuana does to you. I really don't know that much about it. I tried it once, but it didn't do anything to me. The kids say it makes them think they're going thirty miles an hour when they're going eighty. If that's true, marijuana use should definitely be stopped. When I went to Hong Kong, I tried opium once, as a clinical thing. I heard it didn't make you sick the first time, and Jesus, it just didn't affect me one way or the other, either. So I'm not a very good judge of how debasing it is.
Sure I wave the American flag. Do you know a better flag to wave? Sure I love my country with all her faults. I'm not ashamed of that, never have been, never will be. I was proud when President Nixon [Richard Nixon] ordered the mining of Haiphong Harbor, which we should have done long ago, because I think we're helping a brave little country defend herself against Communist invasion. That's what I tried to show in "The Green Berets" and I took plenty of abuse from the critics. Did you ever see reviews like that? Reviews with hatred and nastiness.
I'm not going to give you those I-was-a-poor-boy-and-I-pulled-myself-up-by-my-bootstraps-stories, but I've gone without a meal or two in my lifetime, and I still don't expect the government to turn over any of its territory to me. Hard times aren't something I can blame my fellow citizens for. Years ago, I didn't have all the opportunities, either. But you can't whine and bellyache 'cause somebody else got a good break and you didn't, like these Indians are. We'll all be on a reservation soon if the socialists keep subsidizing groups like them with our tax money.
[Herbert Marcuse] has become a hero only for an articulate clique. The men that give me faith in my country are fellas like Spiro Agnew, not the Marcuses. They've attempted in every way to humiliate Agnew. They've tried the old Rooseveltian thing of trying to laugh him out of political value of his party. Every comedian's taken a crack at him. But I bet if you took a poll today, he'd probably be one of the most popular men in the United States. Nobody likes Spiro Agnew but the people. Yet he and other responsible government leaders are booed and pelted when they speak on college campuses.
We must always look to the future. Tomorrow – the time that gives a man just one more chance – is one of the many things that I feel are wonderful in life. So's a good horse under you. Or the only campfire for miles around. Or a quiet night and a nice soft hunk of ground to sleep on. A mother meeting her first-born. The sound of a kid calling you dad for the first time. There's a lot of things great about life. But I think tomorrow is the most important thing. Comes in to us at midnight very clean. It's perfect when it arrives and it puts itself in our hands. It hopes we've learned something from yesterday.
Quite obviously, the Black Panthers represent a danger to society. They're a violent group of young men and women – adventurous, opinionated and dedicated – and they throw their disdain in our face. Now, I hear some of these liberals saying they'd like to be held as white hostages in the Black Panther offices and stay there so that they could see what happens on these early-morning police raids. It might be a better idea for these good citizens to go with the police on a raid. When they search a Panther hideout for firearms, let these do-gooders knock and say, "Open the door in the name of the law" and get shot at.
I don't think John Ford had any kind of respect for me as an actor until I made "Red River" for Howard Hawks. I was never quite sure what he did think of me as an actor. I know now, though. Because when I finally won an Oscar for my role as Rooster Cogburn in "True Grit", Ford shook my hand and said the award was long overdue me as far as he was concerned. Right then, I knew he'd respected me as an actor since "Stagecoach", even though he hadn't let me know it. He later told me his praise earlier, might have gone to my head and made me conceited, and that was why he'd never said anything to me, until the right time.
[1973] My build-up was done through constant exposure. By the time I went overseas to visit our boys during the Second World War, they had already seen my movies when they were back home. Now their kids are grown up and their kids are seeing my movies. I'm part of the family . . . I think Steve McQueen and Robert Redford have a chance of becoming lasting stars. And certainly that big kid – what the hell's his name? Jesus, I have such a hard time remembering my own name sometimes. Oh, you know the one I mean, that big kid, the one that's been directing some of his own movies lately. Yeah, that's the one – Clint Eastwood!
John Ford was like a father to me, like a big brother. I got word that he wanted to see me at his home in Palm Springs, and when I got there, he said, "Hi Duke, down for the deathwatch?" "Hell no," I said, "you'll bury us all." But he looked so weak. We used to be a triumvirate – Ford and me and a guy named Ward Bond. The day I went to Palm Springs, Ford said, "Duke, do you ever think of Ward?" "All the time," I said. "Well, let's have a drink to Ward," he said. So I got out the brandy, gave him a sip and took one for myself. "All right, Duke," he said finally, "I think I'll rest for a while." I went home, and that was Pappy Ford's last day.
[his speech at "The 42nd Annual Academy Awards"] Wow! Ladies and gentlemen, I'm no stranger to this podium. I've come up here and picked up these beautiful golden men before, but always for friends. One night I picked up two: one for Admiral John Ford and one for our beloved Gary Cooper. I was very clever and witty that night – the envy of, even, Bob Hope. But tonight I don't feel very clever, very witty. I feel very grateful, very humble, and I owe thanks to many, many people. I want to thank the members of the Academy. To all you people who are watching on television, thank you for taking such warm interest in our glorious industry. Good night.
Have you ever heard of some fellows who first came over to this country? You know what they found? They found a howling wilderness, with summers too hot and winters freezing, and they also found some unpleasant little characters who painted their faces. Do you think these pioneers filled out form number X6277 and sent in a report saying the Indians were a little unreasonable? Did they have insurance for their old age, for their crops, for their homes? They did not! They looked at the land, and the forest, and the rivers. They looked at their wives, their kids and their houses, and then they looked up at the sky and they said, "Thanks, God, we'll take it from here."
[December 1973] They're trying to crucify Nixon [Richard Nixon], but when they're writing the history of this period, Watergate will be no more than a footnote. Believe me, I have a high respect for the bulldogged way in which our
President has been able to continue to administrate this government, in spite of the articulate liberal press – whose only purpose is to sell toilet paper and Toyotas – and in spite of the ambitious politicians who would deny him the help and encouragement that a man needs to face the problems of this country. I endorsed Spiro Agnew's attitudes, but I knew nothing of his private affairs. I was sadly disappointed to discover his feet of clay.
I think it was sad that Brando [Marlon Brando] did what he did. If he had something to say, he should have appeared that night and stated his views instead of taking some little unknown girl and dressing her up in an Indian outfit.
What he was doing was trying to avoid the issue that was really on his mind, which was the provocative story of "Last Tango in Paris" . . . Let's just say I haven't made a particular point of seeing that particular picture. Brando is one of the finest actors we've had in the business, and I'm only sorry he didn't have the benefit of older, more established friends – as I did – to help him choose the proper material in which to use his talent.
[on "True Grit"] And that ending. I liked that. You know, in the book Mattie loses her hand from the snakebite, and I die, and the last scene in the book has her looking at my grave. But the way Marguerite Roberts wrote the screenplay, she gave it an uplift. Mattie and Rooster both go to visit her family plot, after she gets cured of the snakebite. By now it's winter. And she offers to let Rooster be buried there some day, seeing as how he has no family of his own. Rooster's happy to accept, long as he doesn't have to take her up on it too quick. So then he gets on his horse and says, "Come and see a fat old man sometime". And then he spurs the horse and jumps a fence, just to show he still can.
When you get hairy, sweaty bodies in the foreground, it becomes distasteful, unless you use a pretty heavy gauze. I can remember seeing pictures that Ernst Lubitsch made in the '30s that were beautifully risqué–and you'd certainly send your children to see them. They were done with intimation. They got over everything these other pictures do without showing the hair and the sweat. When you think of the wonderful picture fare we've had through the years and realize we've come to this shit, it's disgusting. If they want to continue making those pictures, fine. But my career will have ended. I've already reached a pretty good height right now in a business that I feel is going to fade out from its own vulgarity.
Luckily so far, it seems they kind of consider me an older friend, somebody believable and down-to-earth. I've avoided being mean or petty, but I've never avoided being rough or tough. I've only played one cautious part in my life, in "Allegheny Uprising". My parts have ranged from that rather dull character to Ralls in "Wake of the Red Witch", who was a nice enough fella sober, but bestial when he was drunk, and certainly a rebel. I was also a rebel in "Reap the Wild Wind" with ' Cecil B. De Mille'. I've played many parts in which I've rebelled against something in society. I was never much of a joiner. Kids do join things, but they also like to consider themselves individuals capable of thinking for themselves. So do I.
Sure it did–even if it took the industry 40 years to get around to it [awarding him an Oscar]. But I think both of my two previous Oscar nominations–for "She Wore a Yellow Ribbon" and "Sands of Iwo Jima"–were worthy of the honor. I know the Marines and all the American armed forces were quite proud of my portrayal of Stryker, the Marine sergeant in "Iwo". At an American Legion convention in Florida, General Douglas MacArthur told me, "You represent the American serviceman better than the American serviceman himself." And, at 42, in "She Wore a Yellow Ribbon" I played the same character that I played in "True Grit" at 62. But I really didn't need an Oscar. I'm a box-office champion with a record they're going to have to run to catch. And they won't.
The only way to get 520,000 men home – men who had been practically sneaked into Vietnam in the first place – was to make the decision to mine Haiphong Harbor. President [Richard Nixon] had the courage to make that decision, and when the other side started using prisoners of war as pawns, he had to make the awesome decision to bomb Hanoi. Which he did, and then he brought our prisoners of war home. Richard Nixon and I have had a long acquaintance. I respected him as a goodly man – winning or losing – over the years, and I think he should be standing in the crowning glory today for his accomplishments. Instead, they've chosen to blame him for the gradual growth of hypocrisy and individual ambition that have made our political system distasteful to the public.
Perhaps we have run out of imagination on how to effect illusion because of the satiating realism of a real war on television. But haven't we got enough of that in real life? Why can't the same point be made just as effectively in a drama without all the gore? The violence in my pictures, for example, is lusty and a little bit humorous, because I believe humor nullifies violence. Like in one picture, directed by Henry Hathaway ["The Sons of Katie Elder"], this heavy was sticking a guy's head in a barrel of water. I'm watching this and I don't like it one bit, so I pick up this pick handle and I yell, "Hey!" and clock him across the head. Down he went–with no spurting blood. Well, that got a hell of a laugh because of the way I did it. That's my kind of violence.
I'm not preaching a sermon from the mount, you know. This is just my own opinion. But it does seem to me that when our industry got vulgar and cheap, we began losing our regular customers. Sure, people are curious, and they'll go see any provocative thing once – maybe even four or five times – but eventually they'll just stay home and watch television. There used to be this little Frenchman in Hollywood who made all these risqué movies . . . what the hell was his name? . . . Lubitsch [Ernst Lubitsch, who was actually German]! He could make pictures as risqué as anything you'll see today, but he made them with taste and illusion. The only sadness in my heart for our business is that we are taking all the illusion out of it. After all, it's pretty hard to take your daughter to see "Deep Throat".
I made up my mind that I was going to play a real man to the best of my ability. I felt many of the western stars of the twenties and thirties were too goddamn perfect. They never drank or smoked. They never wanted to go to bed with a beautiful girl. They never had a fight. A heavy might throw a chair at them, and they just looked surprised and didn't fight in this spirit. They were too goddamn sweet and pure to be dirty fighters. Well, I wanted to be a dirty fighter if that was the only way to fight back. If someone throws a chair at you, hell, you pick up a chair and belt him right back. I was trying to play a man who gets dirty, who sweats sometimes, who enjoys kissing a gal he likes, who gets angry, who fights clean whenever possible but will fight dirty if he has to. You could say I made the western hero a roughneck.
They made me a singing cowboy. The fact that I couldn't sing–or play the guitar–became terribly embarrassing to me, especially on personal appearances. Every time I made a public appearance, the kids insisted that I sing "The Desert Song" or something. But I couldn't take along the fella who played the guitar out on one side of the camera and the fella who sang on the other side of the camera. So finally I went to the head of the studio and said. "Screw this, I can't handle it." And I quit doing those kind of pictures. They went out and brought the best hillbilly recording artist in the country to Hollywood to take my place. For the first couple of pictures, they had a hard time selling him, but he finally caught on. His name was Gene Autry. It was 1939 before I made "Stagecoach"–the picture that really made me a star.
To me, "The Wild Bunch" was distasteful. It would have been a good picture without the gore. Pictures go too far when they use that kind of realism, when they have shots of blood spurting out and teeth flying, and when they throw liver out to make it look like people's insides. "The Wild Bunch" was one of the first to go that far in realism, and the curious went to see it. That may make the bankers and stock promoters think that it is a necessary ingredient for successful motion pictures. They seem to forget the one basic principle of our business – illusion. We're in the business of magic. I don't think it hurts a child to see anything that has the illusion of violence in it. All our fairy tales have some kind of violence – the good knight riding to kill the dragon, etc. Why do we have to show the knight spreading the serpent's guts all over the candy mountain?
Entertainers like Steve Allen and his cronies who went up to Northern California and held placards to save the life of that guy Caryl Chessman. I just don't understand these things. I can't understand why our national leadership isn't willing to take the responsibility of leadership instead of checking polls and listening to the few that scream. Why are we allowing ourselves to become a mobocracy instead of a democracy? When you allow unlawful acts to go unpunished, you're moving toward a government of men rather than a government of law; you're moving toward anarchy. And that's exactly what we're doing. We allow dirty loudmouths to publicly call policemen pigs; we let a fella like William Kunstler make a speech to the Black Panthers saying that the ghetto is theirs, and that if police come into it, they have a right to shoot them. Why is that dirty, no-good son of a bitch allowed to practice law?
I had two operations six days apart – one for a cancer that was as big as a baby's fist, and then one for edema. I wasn't so uptight when I was told about the cancer. My biggest fear came when they twisted my windpipe and had to sew me back together a second time. When my family came in to see me and I saw the looks on their faces, I figured, "Well, Jeez, I must be just about all through. I kept my spirits up by thinking about God and my family and my friends and telling myself, "Everything will be all right." And it was. I licked the Big C. I know the man upstairs will pull the plug when he wants to, but I don't want to end up my life being sick. I want to go out on two feet – in action. The operation hasn't impeded anything except that I get short of breath quickly. Particularly in the higher altitudes, that slows me down. I still do my own fights and all that stuff. I'd probably do a little bit more if I had more wind, but I still do more than my share. Nobody else does anything any more than I do, whether they're young or old.
But back to "True Grit". Henry Hathaway used the backgrounds in such a way that it became almost a fantasy. Remember that one scene, where old Rooster is facing those four men across the meadow, and he takes the reins in his teeth and charges? Fill your hands, you varmints! That's Henry at work. It's a real meadow, but it looks almost dreamlike. Henry made it a fantasy and yet he kept it an honest Western. You get something of that in the character of Rooster. Well, they say he's not like what I've done before, and I even say that, but he does have facets of the John Wayne character, huh? I think he does. Of course, they give me that John Wayne stuff so much, claim I always play the same role. Seems like nobody remembers how different the fellas were in "The Quiet Man". Or "Sands of Iwo Jima". Or "She Wore a Yellow Ribbon", where I was 35 playing a man of 65. To stay a star, you have to bring along some of your own personality. Thousands of good actors can carry a scene, but a star has to carry the scene and still, without intruding, allow some of his character into it.
[about the death of James Stewart's son, who was killed in Vietnam] Jesus, that was a terrible thing about Gloria and Jimmy Stewart's kid getting killed over there. It makes you want to cry. At least Jimmy was over there to see the kid a few months ago. That's something. But it makes you want to cry. And [Robert Taylor]'s going was terrible. He was terminal since they opened him up. I know what he went through. They ripped a lung out of me. I thank God I'm still here. All the real motion picture people have always made family pictures. But the downbeats and the so-called intelligentsia got in when the government stupidly split up the production companies and the theaters. The old giants–[Louis B. Mayer], [Irving Thalberg], even Harry Cohn, despite the fact that personally I couldn't stand him–were good for this industry. Now the goddamned stock manipulators have taken over. They don't know a goddamned thing about making movies. They make something dirty, and it makes money, and they say, "Jesus, let's make one a little dirtier, maybe it'll make more money". And now even the bankers are getting their noses into it. I'll give you an example. Take that girl, Julie Andrews, a refreshing, openhearted girl, a wonderful performer. Her stint was "Mary Poppins" and "The Sound of Music". But she wanted to be a Theda Bara. And they went along with her, and the picture fell flat on its ass. A [Samuel Goldwyn] would have told her, "Look, my dear, you can't change your sweet and lovely image".
I'm glad I won't be around much longer to see what they do with it. The men who control the big studios today are stock manipulators and bankers. They know nothing about our business. They're in it for the buck. The only thing they can do is say, "Jeez, that picture with what's-her-name running around the park naked made money, so let's make another one. If that's what they want, let's give it to them." Some of these guys remind me of high-class whores. Look at 20th Century-Fox, where they're making movies like "Myra Breckinridge". Why doesn't that son of a bitch Darryl F. Zanuck get himself a striped silk shirt and learn how to play the piano? Then he could work in any room in the house. As much as I couldn't stand some of the old-time moguls – especially Harry Cohn – these men took an interest in the future of their business. They had integrity. There was a stretch when they realized that they'd made a hero out of the goddamn gangster heavy in crime movies, that they were doing a discredit to our country. So the moguls voluntarily took it upon themselves to stop making gangster pictures. No censorship from the outside. They were responsible to the public. But today's executives don't give a damn. In their efforts to grab the box office that these sex pictures are attracting, they're producing garbage. They're taking advantage of the fact that nobody wants to be called a bluenose. But they're going to reach the point where the American people will say, "The hell with this!" And once they do, we'll have censorship in every state, in every city, and there'll be no way you can make even a worthwhile picture for adults and have it acceptable for national release.
They're standing up for what they feel is right, not for what they think is right–'cause they don't think. As a kid, the Panther ideas probably would have intrigued me. When I was a little kid, you could be adventurous like that without hurting anybody. There were periods when you could blow the valve and let off some steam. Like Halloween. You'd talk about it for three months ahead of time, and then that night you'd go out and stick the hose in the lawn, turn it on and start singing "Old Black Joe" or something. And when people came out from their Halloween party, you'd lift the hose and wet them down. And while you were running, the other kids would be stealing the ice cream from the party. All kinds of rebellious actions like that were accepted for that one day. Then you could talk about it for three months afterward. That took care of about six months of the year. There was another day called the Fourth of July, when you could go out and shoot firecrackers and burn down two or three buildings. So there were two days a year. Now those days are gone. You can't have firecrackers, you can't have explosives, you can't have this, don't do this, don't do that. Don't . . . don't . . . don't. A continual "don't" until the kids are ready to do almost anything rebellious. The government makes the rules, so now the running of our government is the thing they're rebelling against. For a lot of those kids, that's just being adventurous. They're not deliberately setting out to undermine the foundations of our great country. They're doing their level worst–without knowing it. How 'bout all the kids that were at the Chicago Democratic Convention? They were conned into doing hysterical things by a bunch of activists. A lot of Communist-activated people. I know Communism's a horrible word to some people. They laugh and say, "He'll be finding them under his bed tomorrow." But perhaps that's because their kid hasn't been inculcated yet. Dr. Herbert Marcuse, the political philosopher at the University of California at San Diego, who is quite obviously a Marxist, put it very succinctly when he said, "We will use the anarchists."
Many of us were being invited to supposed social functions or house parties–usually at well-known Hollywood writers' homes–that turned out to be Communist recruitment meetings. Suddenly, everybody from makeup men to stagehands found themselves in seminars on Marxism. Take this colonel I knew, the last man to leave the Philippines on a submarine in 1942. He came back here and went to work sending food and gifts to U.S. prisoners on Bataan. He'd already gotten a Dutch ship that was going to take all this stuff over. The State Department pulled him off of it and sent the poor bastard out to be the technical director on my picture "Back to Bataan", which was being made by Edward Dmytryk. I knew that he and a whole group of actors in the picture were pro-Reds, and when I wasn't there, these pro-Reds went to work on the colonel. He was a Catholic, so they kidded him about his religion: They even sang "The Internationale" at lunchtime. He finally came to me and said, "Mr. Wayne, I haven't anybody to turn to. These people are doing everything in their power to belittle me." So I went to Dmytryk and said, "Hey, are you a Commie?" He said, "No, I'm not a Commie. My father was a Russian. I was born in Canada. But if the masses of the American people want communism, I think it'd be good for our country." When he used the word "masses," he exposed himself. That word is not a part of Western terminology. So I knew he was a Commie. Well, it later came out that he was. I also knew two other fellas who really did things that were detrimental to our way of life. One of them was Carl Foreman, the guy who wrote the screenplay for "High Noon", and the other was Robert Rossen, the one who made the picture about Huey Long, "All the King's Men". In Rossen's version of "All the King's Men", which he sent me to read for a part, every character who had any responsibility at all was guilty of some offense against society. To make Huey Long a wonderful, rough pirate was great; but, according to this picture, everybody was a shit except for this weakling intern doctor who was trying to find a place in the world. I sent the script back to Charles Feldman, my agent, and said, "If you ever send me a script like this again, I'll fire you." Ironically, it won the Academy Award. "High Noon" was even worse. Everybody says "High Noon" is a great picture because Dimitri Tiomkin wrote some great music for it and because Gary Cooper and Grace Kelly were in it. So it's got everything going for it. In that picture, four guys come in to gun down the sheriff. He goes to the church and asks for help and the guys go, "Oh well, oh gee." And the women stand up and say, "You're rats. You're rats. You're rats." So Cooper goes out alone. It's the most un-American thing I've ever seen in my whole life. The last thing in the picture is ole Coop putting the United States marshal's badge under his foot and stepping on it. I'll never regret having helped run Foreman out of this country. Running him out of the country is just a figure of speech. But I did tell him that I thought he'd hurt Gary Cooper's reputation a great deal. Foreman said, "Well, what if I went to England?" I said, "Well, that's your business." He said, "Well, that's where I'm going." And he did.
Liked these Famous John Wayne Quotes And Sayings? Then share them with your friends.
Liked this page?
Then why not get our iOS app from
Apple App Store
? Then you will have the world's biggest collection of jokes and inspiring quotes right in your pocket, and the app will work faster than the site, so it will save you time and keep you entertained.