Medical Jokes and Doctor Jokes: 19 Best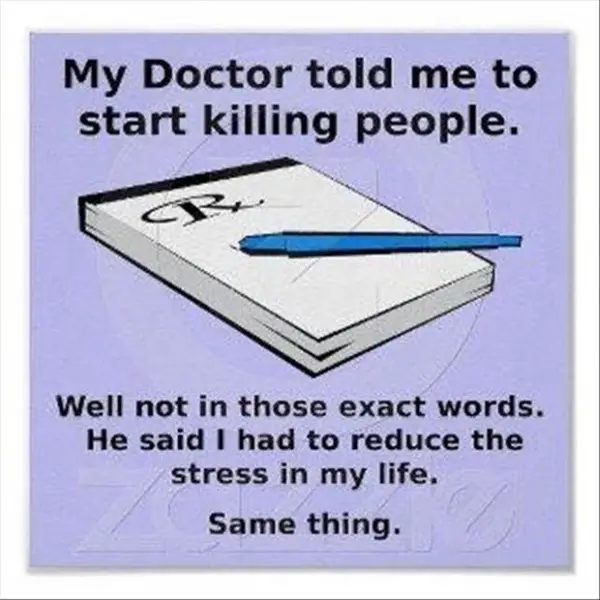 Check out these Medical Jokes About Doctors. They are the best Internet has to offer.
1. One afternoon, a man went to his doctor and told him that he hasn't been feeling well lately. The doctor examined the man, left the room, and came back with three different bottles of pills. The doctor said, "Take the green pill with a big glass of water when you wake up. Take the blue pill with a big glass of water after you eat lunch. Then just before going to bed, take the red pill with another big glass of water." Startled to be put on so much medicine, the man stammered, "Doc, exactly what is my problem?" The doctor replied, "You're not drinking enough water."
2. A college physics professor was explaining a particularly complicated concept to his class when a pre-med student interrupted him. "Why do we have to learn this stuff?" one young man blurted out. "To save lives," the professor responded before continuing the lecture. A few minutes later the student spoke up again. "So how does physics save lives?" The professor stared at the student for a long time without saying a word. Finally the professor continued. "Physics saves lives," he said, "because it keeps the idiots out of medical school."
3. A plumber attended to a leaking faucet at the neurosurgeon's house. After a two-minute job, he demanded $150. The neurosurgeon exclaimed, "I don't even charge that amount and I am a brain surgeon." The plumber replied, "I agree. You are right! I too, didn't either, when I was a surgeon. That's why I switched to plumbing."
4. A patient complained to his doctor, "I've been to three other doctors and none of them agreed with your diagnosis." The doctor calmly replied, "Just wait until the autopsy, then they'll see that I was right."
5. My four year old daughter had a terrible case of the flu, she was achy, had a high fever, and was terribly hoarse. After waiting in the waiting room at the doctor's office for over an hour we were finally admitted to see the Doctor. After the usual routine of listening to her breathing and checking her ears, the Doctor looked my daughter in the eye and said, "so what would you say is bothering you the most?" Without skipping a beat my daughter promptly answered, "Billy, he always breaks my toys!"
6. Doctor: Nurse, how is that little girl doing who swallowed ten quarters last night? Nurse: No change yet.
7. Patient: How much to have this tooth pulled? Dentist: $100.00. Patient: $100.00 for just a few minutes work? Dentist: Well, I can extract it very slowly if you like.
8. Due to a job transfer, Brian moved from his hometown to New York City. Being that he had a very comprehensive health history, he brought along all of his medical paperwork, when it came time for his first check up with his new Doctor. After browsing through the extensive medical history, the Doctor stared at Brian for a few moments and said, " Well there's one thing I can say for certain, you sure look better in person than you do on paper!"
9. Patient: Doctor, you must help me. I'm under such a lot of stress, I keep losing my temper with people. Doctor: Tell me about your problem. Patient: I just did, didn't I, you stupid fool!!
10. Brian, one of the worlds greatest hypochondriacs, bumped into his Dr. one day at the supermarket. "Doc!" Brian exclaimed, "I've been meaning to tell you, remember those voices I kept on hearing in my head? I haven't heard them in over a week!" "Wow! What wonderful news Brian! I'm so happy for you!" his Dr. exclaimed. "Wonderful?" asked a dismal looking Brian. "There's nothing wonderful about it. I'm afraid my hearing is starting to go now!
11. A doctor is talking to a car mechanic, "Your fee is several times more per hour then we get paid for medical care." "Yeah, but you see, doc, you have always the same model, it hasn't changed since Adam; but we have to keep up to date with new models coming every month."
12. Sam goes to the doctor for his yearly checkup. "Everything is fine", said the doctor, "You're doing OK for your age." "For my age?" questioned Sam, "I'm only 75, do you think I'll make it to 80? "Well" said the doctor, "do you drink or smoke?" "No" Sam replied. "Do you eat fatty meat or sweets?" "No" said Sam "I am very careful about what I eat." "How about your activities? Do you engage in thrilling behaviors like speeding or skiing? "No" said Sam taken aback, "I would never engage in dangerous activities." "Well," said the doctor, "then why in the world would you want to live to be 80?
13. Doctor: Did you know that there are more than 1,000 bones in the human body? Larry: Shhh, doctor! There are three dogs outside in the waiting room!
14. I was very scared about going to the eye doctor to get a certain procedure done on my eyes. The doctor tried to put me at ease but to no avail. It was after he finished with my first eye that I nearly jumped out of the chair. "There there", he said "only one eye left!"
15. David: My wife beats me, doctor. Doctor: Oh dear. How often? David: Every time we play Scrabble!
16. Anna: I get so nervous and frightened during driving tests! Doctor: Don't worry about it. You'll pass eventually. Anna: I'm the examiner!
17. Patient: 'Doctor, I think I need glasses.' Teller: 'You certainly do! This is a bank.'
18. A young woman was taking golf lessons and had just started playing her first round of golf when she suffered a bee sting. Her pain was so intense that she decided to return to the clubhouse for medical assistance. The golf pro – who was also a doctor – saw her heading back and said, "You are back early, what's wrong?" "I was stung by a bee!" she said. "Where?" he asked. "Between the first and second hole." she replied. He nodded and said, "Your stance is far too wide."
19. The man told his doctor that he wasn't able to do all the things around the house that he used to do. When the examination was complete, he said, "Now, Doc, I can take it. Tell me in plain English what is wrong with me." "Well, in plain English," the doctor replied, "you're just lazy." "Okay," said the man. "Now give me the medical term so I can tell my wife."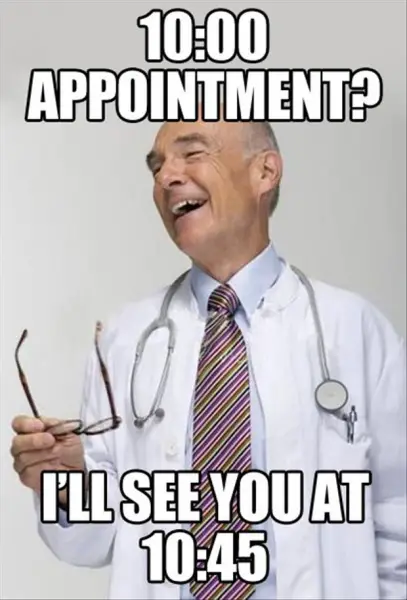 If you know any other hilarious Doctor Jokes that are not here, send them to us below. We would love to hear from you.

Latest posts by Roman Marshanski
(see all)