20 Funny Religious Jokes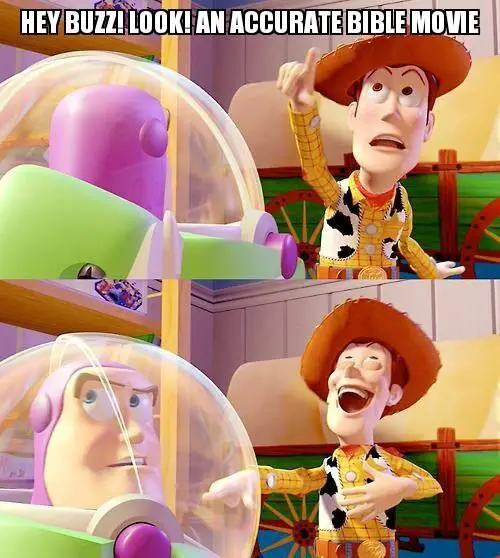 These really funny religious jokes will definitely make you laugh. We did our best to bring you only the best ones. They include all the best jokes about religion and nuns Internet has to offer.
1. God In The Ocean
There was a preacher who fell in the ocean and he couldn't swim. When a boat came by, the captain yelled, "Do you need help, sir?" The preacher calmly said "No, God will save me."
A little later, another boat came by and a fisherman asked, "Hey, do you need help?" The preacher replied again, "No God will save me."
Eventually the preacher drowned & went to heaven. The preacher asked God, "Why didn't you save me?" God replied, "Fool, I sent you two boats!"
2. Funny Joke About Sunday School
Josey wasn't the best pupil at Sunday school. She often fell asleep and one day while she was sleeping, the teacher asked her a question. "Who is the creator of the universe?" Joe was sitting next to Josey and decided to poke her with a pin to wake her up. Josey jumped and yelled, "God almighty!" The teacher congratulated her.
A little later the teacher asked her another question, "Tell me who is our lord and savior?" Joe poked Josey again and she yelled out, "Jesus Christ!" The teacher congratulated her again.
Later on the teacher asked, "What did Eve say to Adam after their 26th child?" Joe poked Josey again and she shouted, "If you stick that thing in me again, I'll snap it in half and stick it up your ass!"
– Check out more funny school jokes –
3. Woman With Strong Faith
An elderly lady was well-known for her faith and for her boldness in talking about it. She would stand on her front porch and shout "PRAISE THE LORD!"
Next door to her lived an atheist who would get so angry at her proclamations he would shout, "There ain't no Lord!!"
Hard times set in on the elderly lady, and she prayed for GOD to send her some assistance. She stood on her porch and shouted "PRAISE THE LORD. GOD I NEED FOOD!! I AM HAVING A HARD TIME. PLEASE LORD, SEND ME SOME GROCERIES!!"
The next morning the lady went out on her porch and noted a large bag of groceries and shouted, "PRAISE THE LORD."
The neighbor jumped from behind a bush and said, "Aha! I told you there was no Lord. I bought those groceries, God didn't."
The lady started jumping up and down and clapping her hands and said, "PRAISE THE LORD. He not only sent me groceries, but He made the devil pay for them. Praise the Lord!"
4. Christmas Balls
Q: What do a Christmas tree and a priest have in common? A: Their balls are just for decoration.
– Check out more funny Christmas jokes –
5. The Blind Man And The Nun
Nun was taking a shower when the door bell rang. She yelled 'Who is it?'
And the person ringing the door bell yelled, "I'm the blind man."
So the Nun got out of the shower and wrapped her hair in a towel, she didn't bother putting a towel around herself because the person behind the door was blind.
She opened the door and said, "What do you want?", and the man said, "I'm here to check your blinds."
6. Preacher Dying Among Banker And Lawyer
An old preacher was dying. He sent a message for his banker and his lawyer, both church members, to come to his home.
When they arrived, they were ushered up to his bedroom. As they entered the room, the preacher held out his hands and motioned for them to sit on each side of the bed. The preacher grasped their hands, sighed contentedly, smiled, and stared at the ceiling. For a time, no one said anything.
Both the banker and lawyer were touched and flattered that the preacher would ask them to be with him during his final moments. They were also puzzled; the preacher had never given them any indication that he particularly liked either of them. They both remembered his many long, uncomfortable sermons about greed, covetousness, and avaricious behavior that made them squirm in their seats.
Finally, the banker said, "Preacher, why did you ask us to come?"
The old preacher mustered up his strength and then said weakly, "Jesus died between two thieves, and that's how I want to go."
– Check out more funny lawyer jokes –
7. Satan In The Church
One bright, beautiful Sunday morning, everyone in tiny Gettysburg wakes up early and goes to their local church. Before the service starts, the townspeople sit in their pews and talk about their lives and their families.
Suddenly, at the altar, Satan appears!! Everyone starts screaming and running for the front entrance, trampling each other in their determined efforts to get away from Evil Incarnate. Soon, everyone is evacuated from the church except for one man, who sit calmly in his pew, seemingly oblivious to the fact that God's ultimate enemy is in his presence. This confuses Satan a bit. Satan walks up to the man and says, "Hey, don't you know who I am?" The man says, "Yep, sure do."
Satan says, "Well, aren't you afraid of me?" The man says, "Nope, sure ain't."
Satan, disturbed, says, "And why aren't you afraid of me?" The man says, "Well, I've been married to your sister for 25 years."
8. Christmas Present
A little boy wants a bike for Christmas really badly, but the kid is a real bad seed, and he knows it.
He writes a letter to Jesus. "Dear Jesus, if I get a bike for Christmas, I'll be good for a whole week." He thinks about it, crosses out what he wrote, and says, "I can't be good for a whole week, I'll be good for five days." He crosses that out and writes, "I'll be good for four days." Then he thinks again and says, "Can't do that." He gets down to one day and says, "I can't even be good for a day."
Then in frustration, goes in his mother's room and get the statue of the Virgin Mary, wraps it up in a blanket, puts it in a paper bag, throws it in the closet and says, "Dear Jesus, if I don't get a bike for Christmas, you'll never see your mother again!"
– Check out more funny Christmas jokes –
9. Pastor And The Dam Fish
A boy is selling fish on a corner. To get his customers' attention, he is yelling, "Dam fish for sale! Get your dam fish here!" A pastor hears this and asks, "Why are you calling them 'dam fish.'" The boy responds, "Because I caught these fish at the local dam."
The pastor buys a couple fish, takes them home to his wife, and asks her to cook the dam fish. The wife responds surprised, "I didn't know it was acceptable for a preacher to speak that way." He explains to her why they are dam fish. Later at the dinner table, he asks his son to pass the dam fish. He responds, "That's the spirit, Dad! Now pass the f*cking potatoes!"
10. Eve Got Suspicious Too
Sometimes women are overly suspicious of their husbands. When Adam stayed out very late for a few nights, Eve became upset. "You're running around with other women," she charged.
"You're being unreasonable," Adam responded. "You're the only woman on earth." The quarrel continued until Adam fell asleep, only to be awakened by someone poking him in the chest.
It was Eve. "What do you think you're doing?" Adam demanded.
"Counting your ribs," said Eve.
11. Religious Joke About Jesus And Moses
Jesus, Moses, and an old man go golfing.
The first one to tee off is Moses. He smashes the ball and it is heading right for the water hazard before the green. Moses raises his club, the water parts, and the ball makes it to the green.
Jesus gets up to swing, cranks it out, and it is headed for the water hazard. Jesus closes his eyes and prays. The ball skips across the water and lands on the green two feet from the hole.
The old man's turn comes and he drives the ball. The ball looks like it is going to drop directly into the water. A fish jumps from the water hazard swallowing the ball, as an eagle drops from the sky, grabbing the fish. As the eagle flies over the green, a bolt of lightning strikes the eagle, making it drop the fish. As the fish hits the green, it spits out the ball and the ball falls into the hole, making a hole in one. Jesus looks at Moses and says, "I really think I'm leaving Dad at home next time!"
12. Old Man Cheats On His Wife
An old man goes to a church, and is making a confession:
Man: "Father, I am 75 years old. I have been married for 50 years. All these years I had been faithful to my wife, but yesterday I was intimate with an 18 year old."
Father: "When was the last time you made a confession?"
Man: "I never have, I am Jewish."
Father: "Then why are telling me all this?"
Man: "I'm telling everybody!"
13. Taxi Driver And The Priest
A priest and a taxi driver both died and went to heaven. St. Peter was at the Pearly gates waiting for them.
'Come with me', said St. Peter to the taxi driver.
The taxi driver did as he was told and followed St. Peter to a mansion. It had anything you could imagine from a bowling alley to an olympic size pool.
'Wow, thank you', said the taxi driver.
Next, St. Peter led the priest to a rugged old shack with a bunk bed and a little old television set.
'Wait, I think you are a little mixed up', said the priest. 'Shouldn't I be the one who gets the mansion? After all I was a priest, went to church every day, and preached God's word.'
'Yes, that's true. But during your sermons people slept. When the taxi driver drove, everyone prayed.'
14. Joke About Three Nuns
Three nuns are talking. The first nun says, "I was cleaning in Father's room the other day and do you know what I found? A bunch of pornographic magazines."
"What did you do?" the other nun asks. "Well, of course I threw them in the trash."
The second nun says, "Well, I can top that. I was in Father's room putting away the laundry and I found a bunch of condoms!" "Oh my!" gasp the other nuns. "What did you do?" they ask. "I poked holes in all of them!" she replies. The third nun faints.
15. Nun And The Bus Driver
A man gets on a bus, and ends up sitting next to a very attractive nun. Enamored with her, he asks if he can have s** with her. Naturally, she says no, and gets off the bus. The man goes to the bus driver and asks him if he knows of a way for him to have s** with the nun. "Well," says the bus driver, "every night at 8 o'clock, she goes to the cemetery to pray. If you dress up as God, I'm sure you could convince her to have s** with you."
The man decides to try it, and dresses up in his best God costume. At eight, he sees the nun and appears before her. "Oh, God!" she exclaims. "Take me with you!" The man tells the nun that she must first have s** with him to prove her loyalty. The nun says yes, but tells him she prefers a*** s**. Before you know it, they're getting down to it, having nasty, grunty, loud s**. After it's over, the man pulls off his God disguise. "Ha, ha!" he says, "I'm the man from the bus!" "Ha, ha!" says the nun, removing her costume, "I'm the bus driver!"
16. Lady With Strong Faith Vs. Robber
One night a lady came home from her weekly prayer meeting, found she was being robbed, and she shouted out, "Acts 2:38: 'Repent & be baptized & your sins will be forgiven.'"
The robber quickly gave up & the lady rang the police. While handcuffing the criminal, a policeman said, "Gee mate, you gave up pretty easily. How come you gave up so quickly?" The robber said, "She said she had an axe and two 38's!"
17. Religious Joke About Going To Church
A friend was in front of me coming out of church one day, and the preacher was standing at the door as he always is to shake hands. He grabbed my friend by the hand and pulled him aside.
The Pastor said to him, "You need to join the Army of the Lord!"
My friend replied, "I'm already in the Army of the Lord, Pastor."
Pastor questioned, "How come I don't see you except at Christmas and Easter?"
He whispered back, "I'm in the secret service."
18. Painting Church The Wrong Way
It seems that there was a little old church out in the countryside: painted white and with a high steeple.
One Sunday, the pastor noticed that his church needed painting. He checked out the Sunday ads and found a paint sale. The next day, he went into town and bought a gallon of white paint. He went back out to the church and began the job.
He got done with the first side. It was looking great. But he noticed he had already used a half gallon. He didn't want to run back in town and being the creative person that he was, he found a gallon of thinner in the shed out back, and began to thin his paint.
It worked out great. He finished the remaining three sides with that last half gallon of paint.
That night, it rained: it rained hard. The next morning when he stepped outside of the parsonage to admire his work, he saw that the first side was looking great, but that the paint on the other three sides had washed away.
The pastor looked up in sky in anguish and cried out, "What shall I do?"
A voice came back from the heavens saying, "Repaint, and thin no more!"
19. Preacher Who Did Not Like Alcohol
A preacher was completing a temperance sermon: with great expression he said, "If I had all the beer in the world, I'd take it and throw it into the river." With even greater emphasis he said, "And if I had all the wine in the world, I'd take it and throw it into the river."
And then finally, he said, "And if I had all the whiskey in the world, I'd take it and throw it into the river."
He sat down. The song leader then stood very cautiously and announced with a smile, "For our closing song, let us sing Hymn # 365: "Shall We Gather at the River."
20. God Did Not Recognize Her
In surgery for a heart attack, a middle-aged woman has a vision of God by her bedside. "Will I die?" she asks. God says, "No. You have 30 more years to live." With 30 years to look forward to, she decides to make the best of it. So since she's in the hospital, she gets breast implants, liposuction, a tummy tuck, hair transplants, and collagen injections in her lips. She looks great!
The day she's discharged, she exits the hospital with a swagger, crosses the street, and is immediately hit by an ambulance and killed. Up in heaven, she sees God. "You said I had 30 more years to live," she complains. "That's true," says God. "So what happened?" she asks. God shrugs, "I didn't recognize you."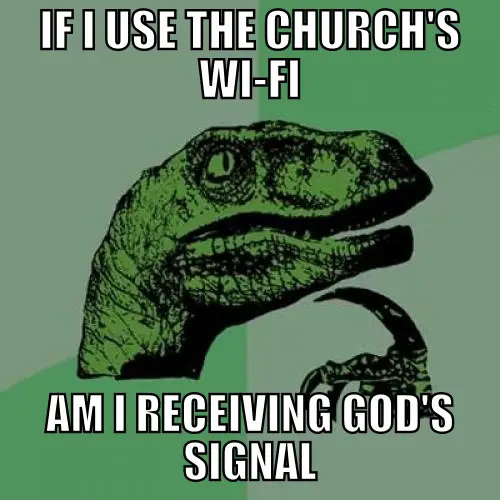 Liked these funny religious jokes? Then share them with everyone you know. They would thank you.
Related Funny Religious Links You May Enjoy:
1. Laugh Factory: Very Best of Religious Jokes
2. Aha Jokes: Church Jokes

Latest posts by Roman Marshanski
(see all)