7 Crazy Kurt Cobain Facts You'D Think We Made Up And His Suicide Note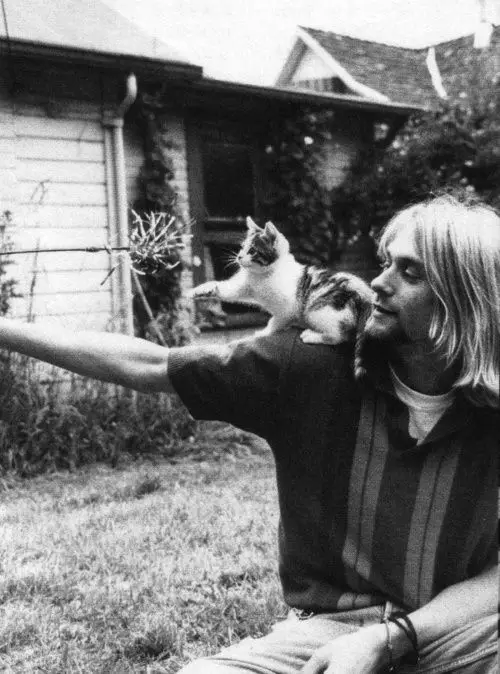 Learn 7 crazy facts about his life and death and see the photo of Kurt Cobain's suicide note. Find out the shocking truth that very few know.
On this page, you can also see Kurt Cobain perform. This page has two music videos with his best songs and one recording of his last concert with Nirvana. So grab a beer and a donut and waste your time mercilessly.
7 Crazy Kurt Cobain Facts
These 7 Kurt Cobain facts are so crazy you'd think we made them up:
1 He had a pet rat named Kitty.
2 When in high school, he liked to dye his hair into red and blue.
3 After he dropped out of high school, Cobain was frequently homeless. He earned money by working at local music concerts.
4 Cobain struggled with being famous. He did not enjoy nor seek out mainstream success in the music industry.
5 At his wedding to Courtney Love, he wore green pajamas because he said he was too lazy to rent a tuxedo.
6 He said that the song Seasons in the Sun always made him cry as a child.
7 After he was cremated, some of his ashes were taken to a New York Buddhist temple, mixed with clay, and made into cone-shaped sculptures called tsatsas.
If you think these Kurt Cobain facts are cool, why not share them with your friends?
Our Favorite Photo Of Kurt Cobain
This is by far the coolest photo of Kurt Cobain we could find on the Internet, so why not share it to your Pinterest music board?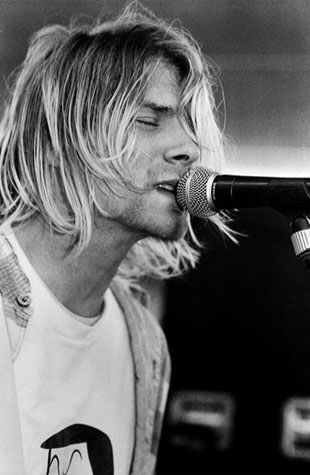 Kurt Cobain Biography
Life Before Fame
Kurt Cobain was born on February 20th, 1967. He had a younger sister named Kimberly, who was born in 1970. As a young child, he liked to paint. He may have been influenced by his grandmother who was a gifted painter.
His uncle was a professional musician with the band The Beachcombers. He gave Kurt his first guitar when Kurt was 14, a birthday present that helped launch young Cobain toward future stardom.
However, his happy childhood was cut short at the age of nine when his parents divorced and moved on to new romantic partners. His father remarried a woman who had two children of her own. Cobain hated his dad's family and resented his father.
Meanwhile, his mother entered into an abusive relationship. The man broke her arm and caused her to be hospitalized. This had a negative impact on Kurt Cobain's view of life. He later said that much of his malcontent in life could be linked to his parents' divorce.
After he dropped out of high school, Cobain endured periods of homelessness. At that time, he occasionally worked odd jobs that earned him enough money to take in local alternative music concerts. He continued to perfect his own musical skills and formed his own band Nirvana. In 1991, he achieved mainstream notice with the band's teen angst song Smells Like Teen Spirit.
Our Favorite Song Of Kurt Cobain – Smells Like Teen Spirit
We think this is his best song. If you disagree, write your favorite song in comment box on this page below and explain why you think so.
How The Success Of Nirvana Changed The Life Of Kurt Cobain
As noted in every Kurt Cobain documentary since his death, Cobain did in fact struggle with his sudden and newfound fame. He always identified himself as an underground musician and someone who took the side of the proverbial underdog. However, once he and his band Nirvana hit it big with their debut album, Cobain felt he and his music were misunderstood and even commercialized in ways that he could never fathom.
He felt many fans misinterpreted his songs or were phony in their proclaimed admiration and love for him and the band. Despite his love of making and writing his self-styled Kurt Cobain songs and music, he felt that Nirvana was being shoved into the mainstream limelight and being manipulated in ways that he could not control. He quickly became disenchanted with fame and mainstream success.
The Crazy Romance Of Kurt Cobain And Courtney Love
Kurt Cobain and Courtney Love were introduced to each other while touring with their respective bands on the Portland underground music scene. Love immediately became smitten with Cobain; Cobain, on the other hand, rebuffed her advances until he was sure that he wanted to be in a romantic relationship. He said at one point that he could not see a great ending to a potential pairing of the two because he was so resolved to remain a bachelor.
Nonetheless, the two eventually became a couple and married about a year later in Hawaii. Only eight people attended their wedding. Kurt Cobain wore green pajamas because he said he was too lazy to rent a tuxedo. At the time of their wedding, Love was already pregnant with his daughter.
Frances Bean Cobain: His Crazy Daughter And Only Child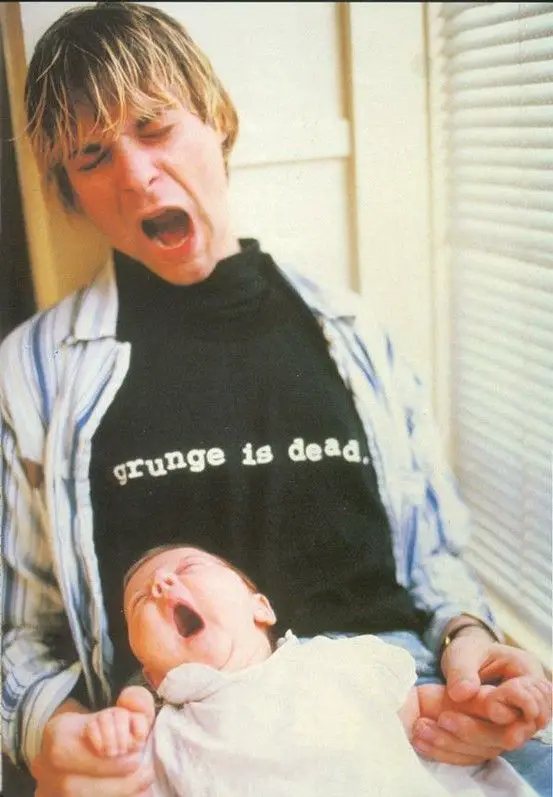 Marriage and parenthood were yet another obstacle for Kurt Cobain. He and Love both used heroin prior to getting married. Love reportedly stopped using it when she found out she was pregnant. Nonetheless, social services took Kurt Cobain daughter away for four weeks until the state could determine if they were fit to raise her.
They eventually regained custody of their daughter with the agreement that they would submit to regular drug testing to prove that they were not using heroin while parenting their daughter. They upheld their agreement with social services and were allowed to have full custody of their daughter shortly before Cobain's death.
Frances Bean Cobain was only 18 months old when her father took his own life. After that, her mother struggled with dependency issues. This caused her to lose custody of her daughter in 2005. At that time, Frances testified about her mother's erratic behavior in court. Since separation from her mother, she lived with her maternal grandmother for a few years.
Despite enduring a turbulent upbringing by her mother Courtney Love, she went on to establish herself as a respectable visual artist. She also models and sings on rare occasions, most notably for acts like Evelyn Evelyn. Her godparents are REM's Michael Stipe and actress Drew Barrymore.
Frances Bean Cobain married LA musician Isaiah Silva in 2014 but divorced him in 2016. Her former husband claimed that she hoarded items from her online shopping and made house unlivable. This was likely a behavior to escape her past.
The Shocking Truth About Kurt Cobain Death
Suffering from chronic depression that was aggravated by his drug use, Kurt Cobain committed suicide on April 5th, 1994. He shot himself in the head with a shotgun. His body was not discovered until three days later. At that time, an electrician who was hired to install security lighting in his house found his dead body. At the time of his death, he was 27 years old.
A suicide note was found planted outside in a flower pot. Courtney Love included the Kurt Cobain suicide note as part of a public memorial service in which she read the note to gathered fans.
The suicide note explains in detail his reluctance to continue performing before fans in concert. He notes that he has become disenchanted with performing as well as life itself. He tells Courtney directly that she and Frances would be better off without him. Then tells her that she should stay strong for the sake of their daughter. Finally, he says that his spirit will be with both of them even after his death.
The Photo Of Kurt Cobain's Suicide Note
This is the real photo of the Kurt Cobain's suicide note.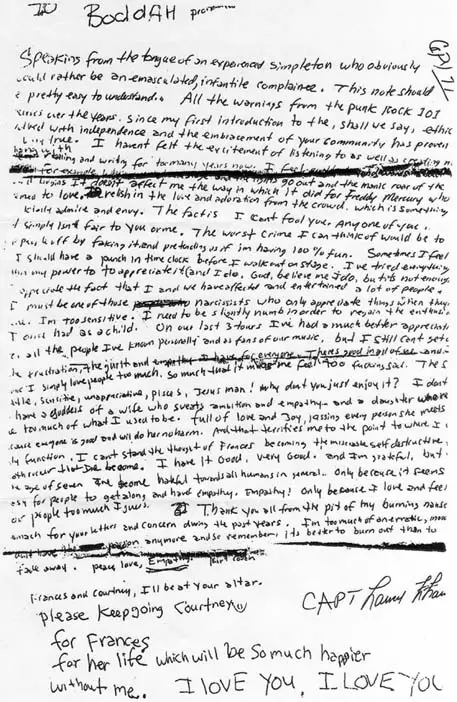 The Text Of Suicide Note
Speaking from the tongue of an experienced simpleton who obviously would rather be an emasculated, infantile complain-ee. This note should be pretty easy to understand.

All the warnings from the punk rock 101 courses over the years, since my first introduction to the, shall we say, ethics involved with independence and the embracement of your community has proven to be very true. I haven't felt the excitement of listening to as well as creating music along with reading and writing for too many years now. I feel guity beyond words about these things.

For example when we're back stage and the lights go out and the manic roar of the crowds begins., it doesn't affect me the way in which it did for Freddie Mercury, who seemed to love, relish in the the love and adoration from the crowd which is something I totally admire and envy. The fact is, I can't fool you, any one of you. It simply isn't fair to you or me. The worst crime I can think of would be to rip people off by faking it and pretending as if I'm having 100% fun. Sometimes I feel as if I should have a punch-in time clock before I walk out on stage. I've tried everything within my power to appreciate it (and I do,God, believe me I do, but it's not enough). I appreciate the fact that I and we have affected and entertained a lot of people. It must be one of those narcissists who only appreciate things when they're gone. I'm too sensitive. I need to be slightly numb in order to regain the enthusiasms I once had as a child.

On our last 3 tours, I've had a much better appreciation for all the people I've known personally, and as fans of our music, but I still can't get over the frustration, the guilt and empathy I have for everyone. There's good in all of us and I think I simply love people too much, so much that it makes me feel too fucking sad. The sad little, sensitive, unappreciative, Pisces, Jesus man. Why don't you just enjoy it? I don't know!

I have a goddess of a wife who sweats ambition and empathy and a daughter who reminds me too much of what i used to be, full of love and joy, kissing every person she meets because everyone is good and will do her no harm. And that terrifies me to the point to where I can barely function. I can't stand the thought of Frances becoming the miserable, self-destructive, death rocker that I've become.

I have it good, very good, and I'm grateful, but since the age of seven, I've become hateful towards all humans in general. Only because it seems so easy for people to get along that have empathy. Only because I love and feel sorry for people too much I guess.

Thank you all from the pit of my burning, nauseous stomach for your letters and concern during the past years. I'm too much of an erratic, moody baby! I don't have the passion anymore, and so remember, it's better to burn out than to fade away.

Peace, love, empathy.
Kurt Cobain

Frances and Courtney, I'll be at your alter.
Please keep going Courtney, for Frances.
For her life, which will be so much happier without me.
I LOVE YOU, I LOVE YOU!
Courtney Love Talks About Her Husband's Suicide
Dead But Not Forgotten
News of the Kurt Cobain death rippled across the underground music scenes in Seattle and Portland and soon afterwards throughout the rest of the United States. Fans could not understand how someone so rich and famous could take his own life, leaving behind a young daughter and grieving widow. His music resonated so thoroughly with fans that he remains a favorite of underground music followers even today.
Despite his rejection of fame and fortune, Kurt Cobain remains as famous today as he was in the 1990's. In fact, while the Kurt Cobain net worth was estimated to be $1.2 million at the time of his death, his fortune has grown exponentially because of the popularity of his songs.
The Video Of Nirvana's Last Concert
The Legacy Of Kurt Cobain
Fans are not willing to let the memory of Kurt Cobain die, which explains why he is consistently listed among the most influential musicians of all time. He outranked Elvis Presley for the highest selling deceased musician in 2006. MTV lists Cobain as number 7 on the list of the top 22 greatest voices in music.
Many music insiders consider Cobain to be an icon of Generation X. This generation is often regarded as one that rejected the materialism of the Baby Boomers. Cobain's music reflected the generation's disenchantment with life, the rejection of the Baby Boomers' ideals, and the struggle to find a purpose in society.
His music continues to influence the performance styles and songs of other singers and groups like Smashing Pumpkins. Musicians today credit Cobain with opening the doors of opportunity for underground musicians and for bringing awareness to this genre of music to mainstream audiences.
Honored In His Hometown And Celebrated By His Fans
Despite his controversial death, Kurt Cobain hometown of Aberdeen, Washington honored him with a sign on the town's outer limits. It tells visitors to come as they are, a bid to a line in one of his songs. Not everyone pays homage to him though. Some hold him up as an example of how not to live one's life. They say that he is an example of the fact that drug use can destroy even the most gifted of people.
As the 20 year mark for Cobain's death came and went, fans continue to remember the promise of what could have been had Cobain found more pleasure in his group Nirvana and his own musical genius. He created songs that will live on for generations. He also continues to be one of the most highly regarded and missed musicians of the late 20th century.
Unedited Kurt Cobain Interview With MTV
5 Best Kurt Cobain Photos
These are some of the coolest photos of this amazing musician, so feel free to share them with the world.
1.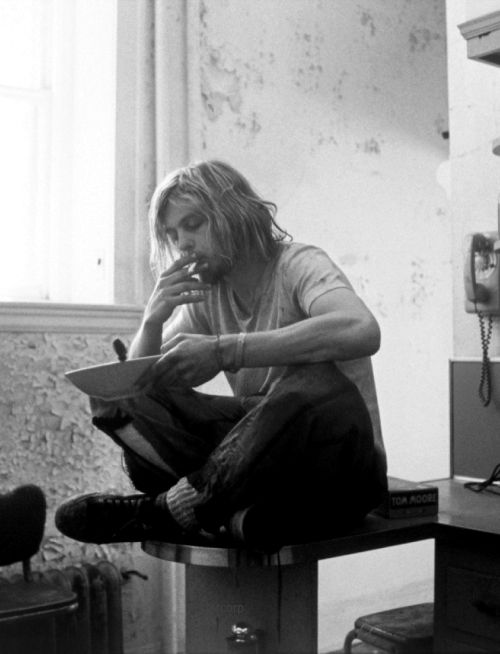 2.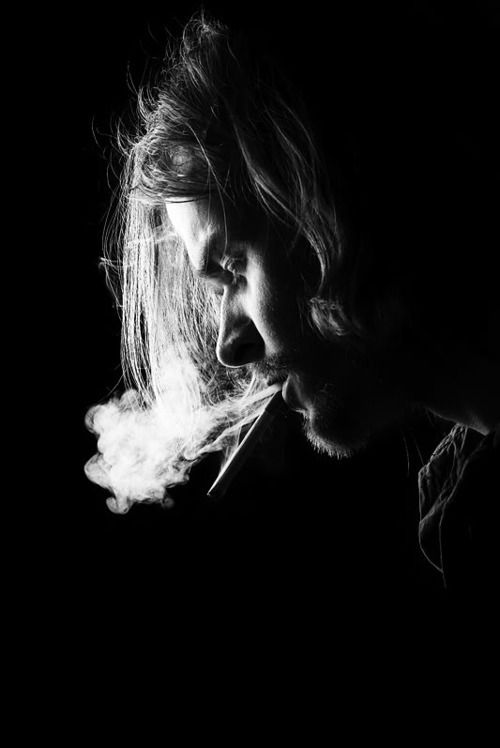 3.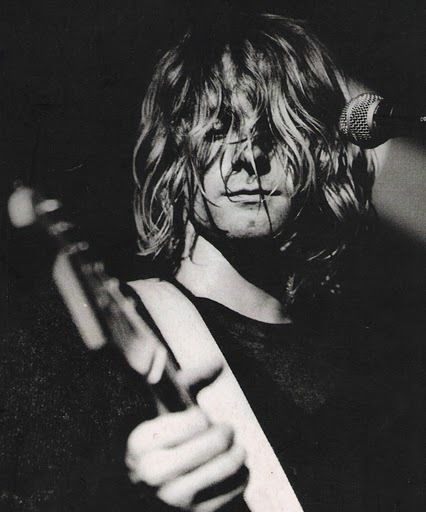 4.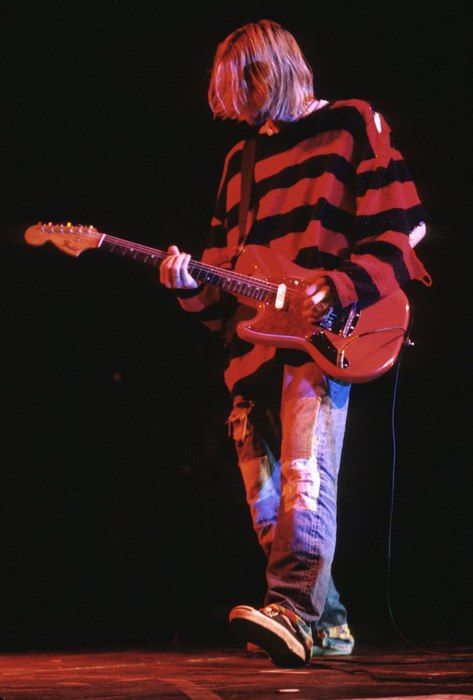 5.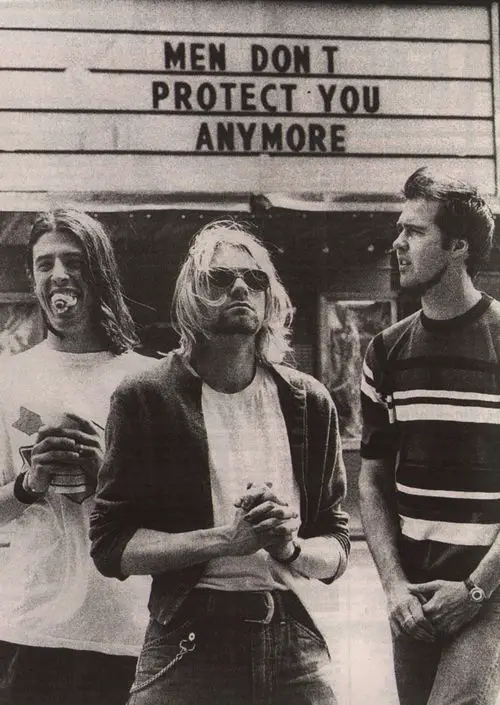 Our Second Most Favorite Song Of Kurt Cobain – Come As You Are
25 Best Kurt Cobain Quotes
Check out these best Kurt Cobain quotes and share them with all your friends.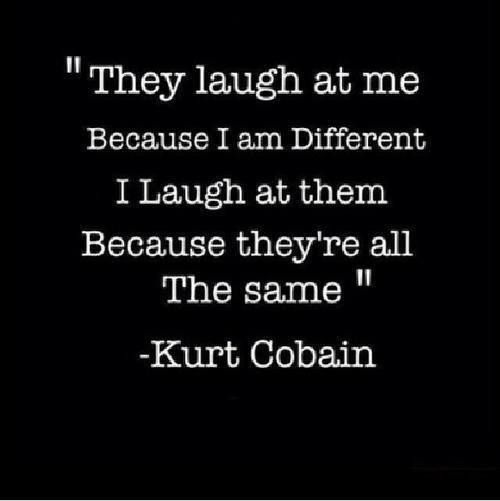 1 None of you will ever know my true intent.
2 I'm not a death rocker, and I don't wear black.
3 I'm not well-read, but when I read, I read well.
4 Wanting to be someone else is a waste of the person you are.
5 I'd rather be hated for who I am than loved for who I am not.
6 I'm not gay, but I wish I was just to piss off the homophobes.
7 If I went to jail, at least I wouldn't have to sign autographs.
8 The music comes first. Lyrics are second. (When asked how he writes his songs.)
9 I never wanted to sing. I just wanted to play rhythm guitar – hide in the back and just play.
10 I think people who glamorize drugs are f**king *ssholes and if there's hell they'll go there.
11 I didn't know how to deal with success. If there was a Rock Star 101, I would have liked to take it. It might have helped me.
12 [To 'Weird Al" Yankovic', when asked for permission to do a parody of "Smells Like Teen Spirit"] "It isn't going to be about food, is it?".
13 When I heard the Pixies for the first time, I connected with that band so heavily I should have been in that band – or at least in a Pixies cover band.
14 It just so happens that there's a bunch of people that are concerned with what I have to say. I find that frightening at times because I'm just as confused as most people.
15 "I stared into his eyes and told him that I thought he was a respectable human. I did tell him straight out that I think his band still sucks." – on his encounter with Pearl Jam lead singer Eddie Vedder.
16 I would like to get rid of the homophobes, racists and sexists in our audience. I know they're out there, and it really bothers me. So at this point I have a request for our fans: If any of you in any way hate homosexuals, people of a different color, or women, please do this one favor for us… Don't come to our shows and don't buy our records.
17 [on his Irish ancestry] They came from County Cork, which is a really weird coincidence, because when we toured Ireland, we played in Cork and the entire day I walked around in a daze. I'd never felt more spiritual in my life. It was the weirdest feeling and I have a friend who was with me who could testify to this. I was almost in tears the whole day. Since that tour, which was about two years ago, I've had a sense that I was from Ireland.
18 Drugs are a waste of time. They destroy your memory and your self-respect and everything that goes along with your self esteem.
19 If you're really a mean person you're going to come back as a fly and eat poop.
20 I wanted to have the adoration of John Lennon but have the anonymity of Ringo Starr. I didn't want to be a frontman. I just wanted to be back there and still be a rock and roll star at the same time.
21 My body is damaged from music in two ways. I have a red irritation in my stomach. It's psychosomatic, caused by all the anger and the screaming. I have scoliosis, where the curvature of your spine is bent, and the weight of my guitar has made it worse. I'm always in pain, and that adds to the anger in our music.
22 I'm a spokesman for myself. It just so happens that there's a bunch of people that are concerned with what I have to say. I find that frightening at times because I'm just as confused as most people. I don't have the answers for anything.
23 I really haven't had that exciting of a life. There are a lot of things I wish I would have done, instead of just sitting around and complaining about having a boring life. So I pretty much like to make it up. I'd rather tell a story about somebody else.
24 Punk is musical freedom. It's saying, doing and playing what you want. In Webster's terms, 'nirvana' means freedom from pain, suffering and the external world, and that's pretty close to my definition of Punk Rock.
25 Birds scream at the top of their lungs in horrified hellish rage every morning at daybreak to warn us all of the truth, but sadly we don't speak bird.
Liked these Kurt Cobain quotes? Then share the quote below to your Pinterest quote board.

2 Awesome Articles About Other Members Of Nirvana
You're not gonna believe what you're about to find out. So check out these 2 awesome articles which reveal little-known facts about amazing lives of former members of Nirvana rock band:
1) 5 Unreal Facts About Nirvana's Krist Novoselic You'D Never Believe
2) 7 Unreal Facts About Dave Grohl & His Music Groups You'D Never Believe
Related Links
These are links to some of the sources we used while creating this article.
1. Wikipedia: Kurt Cobain Biography
2. Fatsaloon: 13 Rare Facts You Didn't Know About Kurt Cobain
3. CBS News: Kurt Cobain Death Scene Photos
4. The Actual Contents Of Kurt Cobain's Suicide Note
5. Rolling Stone Magazine: Frances Bean Cobain on Life After Kurt's Death
6. Pinterest: Kurt Cobain Photos
7. Goodreads: Kurt Cobain Quotes