Tami Taylor Actress Connie Britton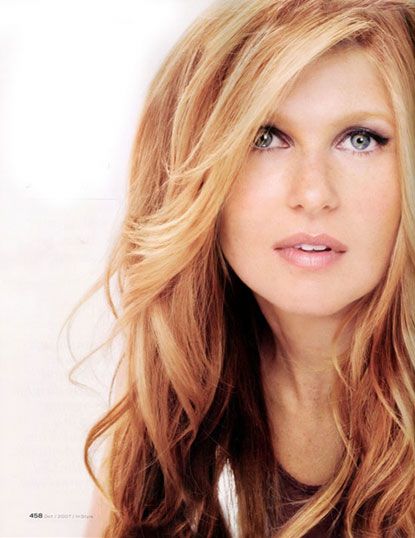 Enjoy top 50 facts about Tami Taylor actress Connie Britton. Find out what you don't know about her. Then watch her Stephen Colbert interview.
Connie Britton Movies And TV Shows
The 50-year-old actress has a career spanning over 20 years.
Prior to her acclaimed role on Friday Night Lights, Britton appeared as Nikki Faber on Spin City for four seasons. You also may recognize her from recurring roles in Ellen, The Fugitive, The Fighting Fitzgeralds, The West Wing, Lost at Home, and 24.
Since Friday Night Lights, Britton hasn't slowed down. She starred as Vivien Harmon in American Horror Story: Murder House and as Rayna Jaymes in Nashville. Also, while working on Friday Night Lights, she acted alongside Lyla Garrity actress Minka Kelly.
Connie Britton Nashville character Jaymes is fictional, but her singing isn't. Britton performs all of the songs, resulting in several albums of music from the show.
Britton's first film appearance was in the 1995 winner of the Best Film award at the Same festival, The Brothers McMullen.
Since, she has appeared in 24 additional films, ranging across genres as diverse as romantic comedies to horror.
One of these films was the movie Friday Night Lights which preceded the television series. Similarly, she played the coach's wife, but under the different character name of Sharon Gaines.
Britton said she would not reprise the role unless her character was given more independence and depth.
Connie Britton movies and TV shows have earned her 19 award nominations and three prestigious wins, including Best Actress in a TV Series by the Satellite Awards.
Britton, who is not a Texan, was inducted into the Texas Film Hall of Fame in 2011.
Pass these facts to your friends on social media. Share this page.
Video With Connie Britton On Stephen Colbert Show
Watch Connie Britton on Stephen Colbert show and hear why she traveled to China.
Tami Taylor
Tami Taylor Friday Night Lights character is the wife of main character Coach Taylor, mother to Judy and Gracie, and career woman.
The character is far more complicated than originally written for the film version, including being willing to be separated from her husband to stay in Dillon while he pursued his dreams in Austin, and standing up for women's reproductive rights in a conservative town.
Tami Taylor served as principal at Dillon High prior to the abortion scandal, then resigned to become a guidance counselor at East Dillon High. The series ends with her as Dean of Admissions at a college in Philadelphia.
Connie Britton's portrayal of Tami Taylor has earned her critical acclaim, two Television Critics Association Award nominations for Individual Achievement in Drama, and two Primetime Emmy Award nominations for Outstanding Lead Actress in a Drama Series.
AOL and TV Guide called the fictional couple "one of the best TV couples of all time," for depicting a strong and healthy relationship that allowed both to grow.
Both Britton and Coach Taylor actor Kyle Chandler told writers that they didn't want their characters to be a place to discuss infidelity, but rather focus on the strengths of marriage. Here is picture with Tami Taylor moment that shows this:
Tami is known by fans to reflect a middle class drinking problem quietly disguised as just "enjoying wine," and even touching on the character drinking while breastfeeding.
Alcoholism was a common theme in Friday Night Lights, including the storyline of Tim Riggins.
The feisty Taylor's hair styles, with auburn color and long soft curls, have been the subject of admiration and countless blogs and how-to guides. At one point, fans even created a Twitter account for her hair.
Esquire magazine called the character, the "roughest, toughest, best mom on TV."
Connie Britton Personal Life
Connie Britton was born as Constance Elaine Womack in Boston, Massachusetts. Her father, Edgar Womack, was a physicist and energy executive.
Cynthia, Connie Britton twin sister, their parents, and the actress herself moved to Maryland shortly after the girls' birth. When the fraternal twins were seven, the family moved once again. This time they moved to Lynchburg, Virginia.
Connie and her sister attended E.C. Glass High School. After graduation, Connie went on to receive a degree from the Ivy League Dartmouth College.
In fact, the actress met her ex-husband John Britton, an investment banker, at a fraternity house at Dartmouth. The couple moved to New York together and married in 1991.
Although they divorced four years later, Connie chose to use her married name as her stage name when she first began and has retained the moniker throughout her career.
She still refers to her divorce as difficult in interviews and won't speak ill of her ex-husband.
This talented actress has volunteered extensively in Africa since the 90s, including with the African Children's Choir.
She is ranked as one of the highest paid actresses in all of Hollywood. Connie Britton net worth is estimated at over $8 million.
She lives in Los Angeles with her son but travels extensively for filming and other pursuits. The home her fictional character "lived" in on Nashville was on the market for over $19 million.
Although the beauty has not been publicly linked romatically to anyone besides her ex-husband, she frequently jokes about dating and has said she's open to younger men. She has referred to herself as "dating, but not in a full-time relationship."
Connie Britton Son Eyob Britton
In 2011, Britton adopted her son, Eyob Britton, from Ethiopia. "Yoby," as she calls him, is truly her pride and joy. "I do very strongly believe that he and I did choose each other," Britton said of Yoby "… that's really true with adopted children. I know that he is my son."
"There was a lot of grief about having not started this journey with the man who was going to be my partner. I anticipate finishing it with a man who's going to be my partner," Britton has said.
The actress is not shy about her dating life post-adoption, having joked publicly about her lack of a sex life in motherhood.
Katie Lowe's, popular star of Scandal, began as Eyob's nanny when he was only a baby.
Connie Britton son could read at just two years old.
While Britton clearly uses nannies, it is important for her to be fully a mom when she is home, stating she wants her son Eyob Britton to have a big world view. She also reportedly sings to him in musical style, which he loves.
The actress always travels with her son, who is six this year, calling him her "best companion."
She also gushes about his great personality, calling him hilarious, smart, and kind. She frequently takes him onto set with her during shooting, and he's well-loved by her costars.
Yoby's favorite things to play with mom are typical little boy things, including superheros and building towers.
"He's the most gung ho kid and he's up for anything," the actress has stated. No matter what pops up in their busy world, Yoby is onboard as long as mom is.
Fascinating Facts About Connie Britton
The incredibly bright Connie Britton studied Asian Studies and Chinese at Dartmouth and also at the Beijing Normal University.
One of her classmates in China was U.S. Senator Kirsten Gillibrand of New York.
She claims that her Chinese is now shaky and that her singing is "much" better.
This talented actress worked as an aerobics instructor in New York in 1989, admitting that she wore a headband and leg warmers to do so.
She and actress Lauren Graham squatted in a house together.
Things weren't always so good for Britton. "We lived in an empty house that we weren't supposed to be living in," Graham revealed. "We had no furniture and all we ate were Rice Krispies Treats."
Britton is very politically active and has even written op-ed pieces scorning Mitt Romney for co-opting phrases from Friday Night Lights. While working on Friday Night Lights, she acted alongside gorgeous actress Aimee Teegarden.
As a little girl, she wrote plays for her classmates to perform. Later, she would spend two years at the Neighborhood Playhouse School of the Theatre studying with the legendary Sanford Meisner.
As a Goodwill Ambassador for the United Nations Development Programme, Connie Britton spends her free time fighting to empower women worldwide.
To feel comfortable singing publicly in Nashville Britton had to drink whiskey to "take the edge off." The actress reportedly doesn't even like whiskey.
Our Favorite Photo Of Connie Britton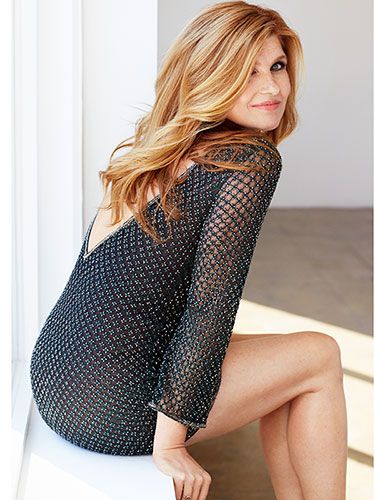 This is our favorite photo of actress Connie Britton, so share this awesome photo to Pinterest if you dig her amazing style.


3 Amazing Hollywood Actors You Really Need To Know
1) Love Judd Apatow movies like Knocked Up? Then you definitely know a Canadian-American actor and comedian Seth Rogen. So check out our article 7 Totally Crazy Seth Rogen Facts You'D Think We Made Up
2) You may not know the next actor in our list. But he is one of only eight Asian American actors to be nominated for an Academy Award in an acting category. So check out Top 10 Mako Iwamatsu Facts You Really Need To Know
3) You may not know this actor either if you don't watch TV. However, if you watch TV, you probably know him from 90210 TV series. The actor we are taking about is Matt Lanter.