77 Joan Crawford Quotes That Will Amaze You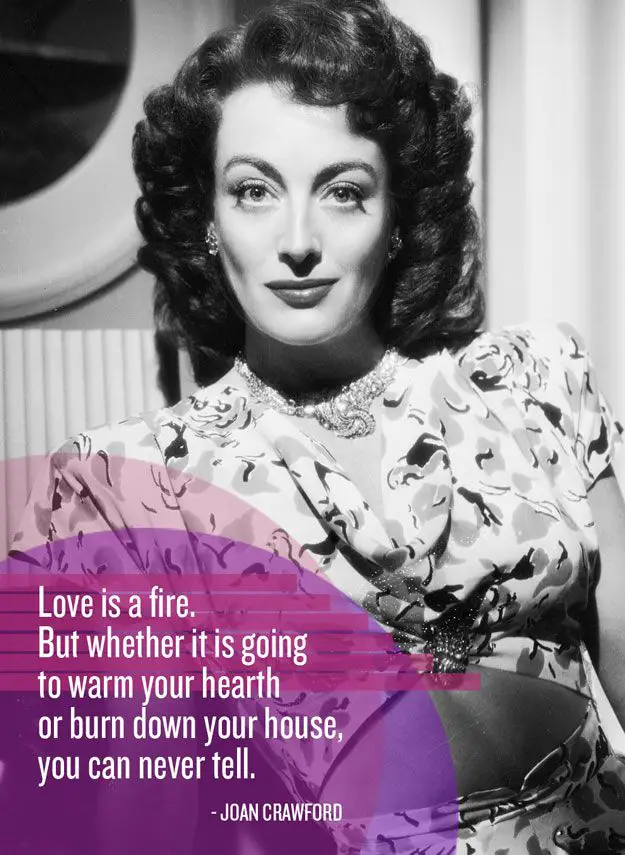 Enjoy the best of Joan Crawford quotes. Quotes by Joan Crawford, Actress.
I need s** for a clear complexion, but I'd rather do it for love.
If I can't be me, I don't want to be anybody. I was born that way.
Hollywood is like life, you face it with the sum total of your equipment.
Check out the very best of Hollywood jokes that will make you laugh
[The 1930s] Hollywood was capable of hurting me so much. The things about Hollywood that could hurt me (when I first came) can't touch me now. I suddenly decided that they shouldn't hurt me – that was all.
Don't fu** with me, fellas. This cowgirl has been to the rodeo before.
Not that anyone cares, but there's a right and wrong way to clean a house.
I love playing b**ches. There's a lot of b**ch in every woman – a lot in every man.
[on "Planet of the Apes"] Sure, I'd play an ape if they asked me. Maurice Evans did.
Be afraid of nothing.
Send me flowers while I'm alive. They won't do me a damn bit of good after I'm dead.
[speaking of Marilyn Monroe] Look, there's nothing wrong with my t*ts, but I don't go around throwing them in people's faces!
Check out the best of Marilyn Monroe quotes
[speaking to director George Cukor after learning of Marilyn Monroe's death] You're right. She was cheap, and an exhibitionist. She was never professional, and that irritated the hell out of people. But for God's sake, she needed help. She had all these people on her payroll. Where the hell were they when she needed them? Why in the hell did she have to die alone?
[on William Haines and his partner, Jimmie Shields] "The happiest married couple I ever knew."
Check out the best of Joan Crawford movies
You have to be self-reliant and strong to survive in this town. Otherwise you will be destroyed.
[To Spencer Tracy, made up with curled hair for "Captains Courageous"] Oh, my God, it's Harpo Marx!
I think the most important thing a woman can have — next to talent, of course, is — her hairdresser.
I'd like to think every director I've worked with has fallen in love with me, I know Dorothy Arzner did.
Women's Lib? Poor little things. They always look so unhappy. Have you noticed how bitter their faces are?
Share these Joan Crawford Quotes with all your friends
Of all the actresses … to me, only Faye Dunaway has the talent and the class and the courage it takes to make a real star.
[on "The Women"] It was like a f–king zoo at times. If you let down your guard for one moment you would have been eaten alive.
If I weren't a Christian Scientist, and I saw "Trog" advertised on a marquee across the street, I'd think I'd contemplate suicide.
[on Bette Davis] She has a cult, and what the hell is a cult except a gang of rebels without a cause. I have fans. There's a big difference.
Nobody can imitate me. You can always see impersonations of Katharine Hepburn and Marilyn Monroe. But not me. Because I've always drawn on myself only.
There was a saying around MGM: "Norma Shearer got the productions, Greta Garbo supplied the art, and Joan Crawford made the money to pay for both".
[on "The David Frost Show", (1970)] I feel that if you have one ounce of good sense and one good friend, you'll never have to go to a psychiatrist.
I hate this f-king picture ["What Ever Happened to Baby Jane?"], but I need the money, and if it goes over I'll get a nice percentage of the profits.
Browse a huge selection of Joan Crawford movies
[after seeing Greta Garbo for the first time on the MGM lot] My knees went weak. She was breathtaking. If ever I thought of becoming a lesbian, that was it.
[In "The Women"] Norma Shearer made me change my costume sixteen times because every one was prettier than hers. I love to play b**ches and she helped me in this part.
If you've earned a position, be proud of it. Don't hide it. I want to be recognized. When I hear people say, "Joan Crawford!" I turn around and say, "Hi! How are you?"
[on the red carpet treatment Norma Shearer attracted at MGM] What do you expect? She sleeps with the boss [Shearer's husband Irving Thalberg was production head of MGM].
I absolutely will not allow anyone to call me grandmother. They can call me Auntie Joan, Dee-Dee, Cho-Cho, anything but grandmother. It pushes a woman almost to the grave.
[on her son, Christopher Crawford] I remember most clearly when a teenage Christopher spat in my face. He said, "I hate you". It's pretty hard to overlook that. I couldn't.
[commenting on s** in films] I find suggestion a hell of a lot more provocative than explicit detail. You didn't see [Clark Gable] and [Vivien Leigh] rolling around in bed in "Gone with the Wind", but you saw that sh*t-eating grin on her face the next morning and you knew damned well she'd gotten properly laid . . . In my fallen-woman roles . . . nobody saw me do the actual falling . . . but they knew I'd fallen, and when it happened again–well, they got the point, and maybe the por**graphy that went on inside their heads was better than the actual thing would have been on screen. Censorship was a pain in the ass–when it was moral or political–but in the long run, considering what I see now, I think it served a purpose. Marlon Brando . . . Oh, what was the film ["Last Tango in Paris"] . . . anyway the nude scene. He's at least 40 pounds overweight, and I think the only s** appeal he has would be to a meat packer. That's art? The emphasis seems to be on the seamier side of real life, as though we should be more interested in what happened in the bathroom and the bedroom instead of living room, kitchen, and office. The perspective is crazy. If we think about our lives, and divide time into the portions spent on making a living, eating, talking, reading, being entertained by TV or movies or radio or theater or whatever, and having s**, I think we'd find s** coming out on the short end of the stick. Unless you're a w**re it doesn't give you the wherewithal to survive. Good God, isn't it more fun doing it or imagining it than watching it? . . . I know I sound like some sort of old Puritan, but I still think back to "Gone with the Wind", and that morning scene with Scarlett O'Hara. It was a hell of a lot more s**ually stimulating than a glimpse of fat Marlon Brando.
Buy interesting Joan Crawford movies at Amazon.com
Recently I heard a 'wise guy' story that I had a party at my home for twenty-five men. It's an interesting story, but I don't know twenty-five men I'd want to invite to a party.
[on director George Cukor] Mr. Cukor is a hard task-master, a fine director and he took me over the coals giving me the roughest time I have ever had. And I am eternally grateful.
If you're going to be a star, you have to look like a star, and I never go out unless I look like Joan Crawford the movie star. If you want to see the girl next door, go next door.
[on Bette Davis]: There was one thing where Bette was one up on me. She'd had a baby, a child of her own. I wanted one, and Bette was so lucky to have been able to have her own daughter.
If you start watching the oldies, you're in trouble. I feel ancient if "Grand Hotel" or "The Bride Wore Red" comes on. I have a sneaking regard for "Mildred Pierce", but the others do nothing for me.
[commenting on the remake of "The Women", "The Opposite Sex"] It's ridiculous. Norma [Norma Shearer] and I might not ever have been bosom buddies, but we towered compared to those pygmies in the remake!
I had always known what I wanted, and that was beauty… in every form… a beautiful house, beautiful man, a beautiful life and image. I was ambitious to get the money which would attain all that for me.
[on "Hush…Hush, Sweet Charlotte" (1973)] I still get chills when I think of the treachery that Miss Davis [Bette Davis] indulged in on that movie, but I refused to ever let anger or hate enter my heart.
[on "This Woman Is Dangerous"] "At the moment when I needed a blockbuster, my next picture could easily have been my swan song. It was the type of improbable corn that had gone out with Adrian's shoulder pads."
[on Bette Davis and "The Star"] Of course I had heard she was supposed to be playing me, but I didn't believe it. Did you see the picture? It couldn't possibly be me. Bette looked so old, and so dreadfully overweight.
[on being dubbed "box-office poison in 1938] "Box-office poison? Mr. [Louis B.] Mayer always asserted that the studio had built Stage 22, Stage 24 and the Irving Thalberg Building, brick by brick, from the income on my pictures.
When television killed comedy and love stories, the movie makers went in slugging. They offered the downbeat, the degenerate as competition. This seems to me to be a sad campaign for Hollywood to use to combat box office disaster.
[on Greta Garbo] To this day I deplore the fact that she is unable to share herself with the world. What a waste!…If only she hadn't been so afraid, she wouldn't today be a lonely stranger on Fifth Avenue, fleeing before recognition.
[on Bette Davis and "Hush…Hush, Sweet Charlotte"] I have always believed in the Christian ethic, to forgive and forget. I looked forward to working with Bette again. I had no idea of the extent of her hate, and that she planned to destroy me.
I used to wash my hands every ten minutes. I couldn't step out of the house unless I had gloves on. I wouldn't smoke a cigarette unless I opened the pack myself, and I would never use another cigarette out of that pack if someone else had touched it.
[on "Queen Bee"] "I had a chance to play the total b**ch, a worse b**ch than I had played in "The Women" – and for a solid ninety minutes, too. I ended up hating myself, honestly feeling that in my death scene I was getting precisely what I deserved."
[on Bette Davis and "What Ever Happened to Baby Jane?"] Sure, she stole some of my big scenes, but the funny thing is, when I see the movie again, she stole them because she looked like a parody of herself, and I still looked like something of a star.
While making "Possessed", I wept each morning on my drive to the studio, and I wept all the way back home. I found it impossible to sleep at night, so I'd lie in bed contemplating the future. I fear it with all my heart and soul even as I fear the dark.
[on filming the bath scene in "The Women"] It took ten hours to shoot. The suds lasted only fifteen minutes under the hot lights. Once, the water began to leak out and the crew had to toss me a towel to clothe myself. It could have been so embarrassing.
[on "Possessed"] "I worked harder on it than on any other picture. Don't let anyone tell you it's easy to play a madwoman, particularly a psychotic. It was a heavy, heavy picture, not very pleasant, and I was emotionally and physically exhausted when we finished shooting."
[commenting on her final days at Warner Brothers] They were grooming Doris Day to take over the top spot. [Jack L. Warner] asked me to play her sister in one picture ["Storm Warning"]. I said, "Come on, Jack. No one could ever believe that I would have Doris Day for a sister".
Sensitive husbands don't like second billing. I don't believe Franchot [Franchot Tone] ever for a moment resented the fact that I was a star. Possibly he resented Hollywood's refusal to let him forget it. There was never a doubt in my mind that his talent was greater than mine.
[regarding the films she made after "What Ever Happened to Baby Jane?"] They were all terrible, even the few I thought might be good. I made them because I needed the money or because I was bored or both. I hope they have been exhibited and withdrawn and are never heard from again.
[regarding the ongoing feud between she and daughter Christina Crawford] Mother and daughter feuds make for reams in print; they also make for reams of inaccuracies: the greatest inaccuracy is the feud itself. It takes two to feud and I'm not one of them. I only wish the best for Tina.
[on Greta Garbo] She's let herself go all to hell. She walks along the sidewalk and runs across the street through the cars when somebody notices her, like an animal, a furtive rodent. It's a wonder anybody notices her – she looks like a bag lady. I heard that she's simply stopped bathing.
[on Bette Davis] So I had no great beginnings in legitimate theater, but what the hell had she become if not a movie star? With all her little gestures with the cigarette, the clipped speech, the big eyes, the deadpan? I was just as much an actress as she was, even though I wasn't trained for the stage.
[on returning to MGM to work on "Torch Song"] "It was like a homecoming. I loved doing that film. It gave me a chance to dance again. All the right elements were there. It was a field day for an actress, particularly one who'd reached a certain age. They don't wrote pictures like this anymore, do they?"
[on why she declined "Airport '77"] I wanted Joel McCrea to play opposite me, and anyway, they actually asked me to fly out there with only one week's notice! Why, that is hardly enough time for makeup tests or rehearsals… and when I asked about costume fittings, they said they wanted me to wear my own clothes!
The Democratic party is one that I've always observed. I have struggled greatly in life from the day I was born and I am honored to be apart of something that focuses on working class citizens and molds them into a proud specimen. Mr. Roosevelt and Mr. Kennedy have done so much in that regard for the two generations they've won over during their career course.
["The Story of Esther Costello"] It was one hell of a demanding role and I played it in my own pitch, the way I thought it should be played, and I was right. The complexities of the part were staggering and I have nothing but very fond memories of it – plus the usual nagging question, why the hell didn't more pictures like this come along? Why did I get stuck in freak shows?
[on working with Bette Davis in "What Ever Happened to Baby Jane?" at Legendary Ladies of the Movies, Town Hall (1973)] It was one of the greatest challenges I ever had. [pauses to allow the laughter from the audience to taper off] I meant that kindly. Bette is of a different temperament than I. Bette had to yell every morning. I just sat and knitted. I knitted a scarf from Hollywood to Malibu.
[on her children Christina Crawford and Christopher Crawford] You know the troubles I've had with my two older children. I can't understand why it turned out so badly. I tried to give them everything. I loved them and tried to keep them near me, even when they didn't return my love. Well, I couldn't make them love me, but they could have shown some respect. I couldn't insist on love, but I could insist on respect.
[on "This Woman Is Dangerous"] "I must have been awfully hungry. The kids were in school, the house had a mortgage. And so I did this awful picture that had a shoddy story, a cliché script and no direction to speak of. The thing just blundered along. I suppose I could have made it better, but it was one of those times when I was so disgusted with everything that I just shrugged and went along with it. It was the worst picture I ever made."
[on acting] "One of the scary things is the effects a really heavy or demanding role will have on your personal life. During "The Women", I'm afraid I was as much of a b**ch offscreen as I was on. Elizabeth Taylor said that she actually became Martha [in "Who's Afraid of Virginia Woolf?" in private life, with rather disastrous consequences. I can understand that. I always wondered how Charlton Heston acted offscreen while he was playing Moses."
[on Bette Davis during the filming of "Hush…Hush, Sweet Charlotte"] She acted like ["What Ever Happened to Baby Jane?"] was a one-woman show after they nominated her [for an Academy Award as Best Actress]. What was I supposed to do, let her hog all the glory, act like I hadn't even been in the movie? She got the nomination. I didn't begrudge her that, but it would have been nice if she'd been a little gracious in interviews and given me a little credit. I would have done it for her.
[on "The Gorgeous Hussy"] I had read the criticisms of me and my movies and they were discerning. They said that Crawford needs a new deal, and they asked if I was doomed to explore forever the emotional misfortunes of the super-s**ed modern young woman. And so, to break away from the pattern, I wanted to do "The Gorgeous Hussy". [David O.] Selznick laughed at me. 'You can't do a costume picture. You're too modern.' But I begged and begged and begged, and so they let me do it. I was totally miscast.
[on "What Ever Happened to Baby Jane?" and whether she hid weights on her body so that Bette Davis would have a hard time lifting her off the bed when she takes her out of the house for their trip to the beach] Weights! And have Bette tell everyone I was as heavy as an elephant. Absolutely not. I may not have made it as easy for her to lift me out of the bed as I could have, at least at first, but when you're a pro you get over any animosity you may feel and help your fellow player out. It simply didn't happen.
When we were making ["What Ever Happened to Baby Jane?"], Bette [Bette Davis] admitted to me she was "absolutely smitten" with Franchot [Franchot Tone], who had made "Dangerous" with her, but Franchot and I were already very much involved. That proves that Bette did have some good taste in men. Franchot said he thought Bette was a good actress, but he never thought of her as a woman. Our marriage didn't last, but we had some wonderful years. I wouldn't give them back for anything, and we remained friends as long as he lived.
Everything clicked on "Autumn Leaves". The cast was perfect, the script was good, and I think Bob [Robert Aldrich] handled everything well. I really think Cliff [Cliff Robertson] did a stupendous job; another actor might have been spitting out his lines and chewing the scenery, but he avoided that trap. I think the movie on a whole was a lot better than some of the romantic movies I did in the past. It did all right at the box office, but somehow it just never became better known. It was eclipsed by the picture I did with Bette Davis.
[on "Mildred Pierce"] "The character I played was a composite of the characters I'd always played, and there were a few elements from my own personality and character, too. In a way, I think I was getting ready for "Mildred Pierce" when I was a kid, waiting on tables and cooking. But there was not a single Crawford mannerism in my performance. I sailed into [it] with all the gusto I'd been saving for three years. The role was a delight to me, because it rescued me from what was known at MGM as the Joan Crawford formula. I had become so hidden in clothes and sets that nobody could tell whether I had talent or not."
[on Judy Garland] Over the years I've heard and read so many stories about the way Judy Garland was so badly treated at Metro she ended up a mess. I did not know her well, but after watching her in action a few times I didn't want to know her well. I think her problems were caused by the fact that she was a spoiled, indulgent, selfish brat — plus a stage mother who had to be something of a monster, and a few husbands whose egos absolutely dominated hers. There were times when I felt sorry for Judy, but there were more times when I thought, "For Christ's sake, get off your ass!" …but when she put her mind to it, she was good. And I mean damned good. Even in her silly pictures she came off.
I realized one morning that "Trog" was going to be my last picture. I had to be up early for the shoot and when I looked outside at the beautiful morning sky I felt that it was time to say goodbye. I think that may have been a prophetic thought because when I arrived on the set that morning the director told me that due to budget cuts we would wrap up filming today. The last shot of that film was a one-take and it was a very emotional moment for me. When I was walking up that hill towards the sunset I was flooded with memories of the last 50 years, and when the director yelled cut I just kept on walking. That for me was the perfect way to end my film career, however, the audiences who had to sit through that picture may feel differently.
Franchot [Franchot Tone] was an extremely loving, intelligent, considerate man, but he was also very haunted. He was one hell of a fine actor, but he loved the theatre and despised Hollywood. He very seldom got the parts he deserved, and I think this bugged him a lot. I wasn't as nice to him, as considerate, as I should have been. I was extremely busy during those years, and I didn't realize that his insecurities and dissatisfactions ran so deeply. His s** life diminished considerably, which didn't help matters, and there finally came a time when we only had things to argue about, not to talk about, and after hundreds of running arguments and a few physical rows we decided to call it quits. I missed him a lot, for a long, long time. He was so mature and stimulating. I think I can safely say that the break-up was another career casualty. If I'd tried a little harder – who knows.
I hate being asked to discuss those dreadful horror pictures I made the mistake of starring in. They were all just so disappointing to me, I really had high expectations for some of them. I thought that William Castle and I did our best on "Strait-Jacket" but the script was ludicrous and unbelievable and that destroyed that picture. I even thought that "Berserk" would be good but that was one of the worst of the lot. The other one William Castle and I did ["I Saw What You Did"] was the most wretched of them all and I just wasn't good at playing an over-the-hill nymphomaniac. Ha! Then came "Trog". Now you can understand why I retired from making motion pictures. Incidentally, I think at that point in my career I was doing my best work on television. Della was a good television role for me, and I really liked working on that pilot episode of "Night Gallery" with young Steven Spielberg. He did a great job and I am very satisfied with my performance on that show. Funny, every time a reporter asks me about my horror pictures they never talk about that one, and it's the only one I liked!
Liked these Joan Crawford Quotes? Then learn more about her: check out some interesting books about her on Amazon.com

Latest posts by Roman Marshanski
(see all)