That's How They Self-Destructed Their Own Privacy Policy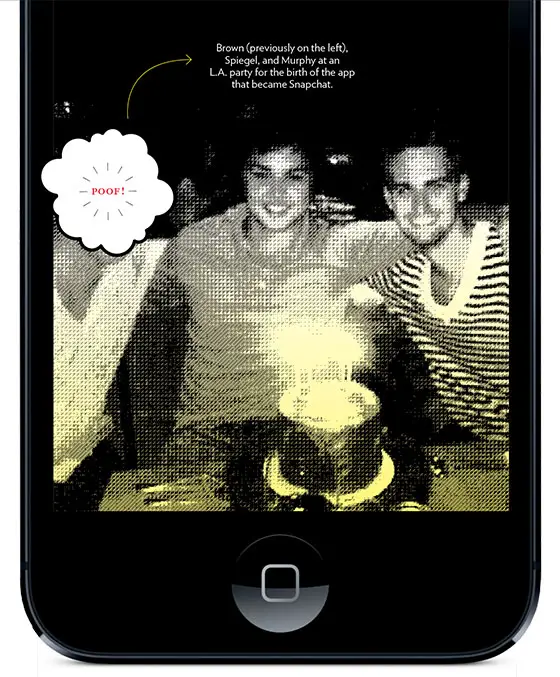 You may have heard of a new fad called Snapchat. This app sends supposedly disappearing photos.
The problem is, they have been repeatedly found to be quite "appearing". People tend to steal them, save them, and use them for such sophisticated purpose as masturbation. So lots of news outlets have reported about the recent troubles Snapchat has faced.
These troubles must have prompted Snapchat founders to finally admit that they are a bunch of worthless liars. But they were clever enough to immediately command their statements to self-destruct.
Somehow the statements issued by Snapchat's executives did not immediately self-destruct, apparently not obeying the strict command. As a matter of fact, their statements have not self-destructed themselves at all, or we would not be writing this article.
Here are those statements that refused to self-destruct themselves:
"We, at Snapchat, are just a bunch of liars. We think it would've helped us if everything we said would automatically self-destruct itself. So from now whatever we say, we haven't said. Thank you for your cooperation."
But this was was just the beginning of a wider trend, as ten minutes later Snapchat co-founders have issued a conflicting statement:
"We self-destruct our last statement. We have called ourselves liars to test our self-destructive capabilities. So we are going to self-destruct all of our policies, past, present, and future, including the lousy privacy policy which you cannot even call a joke."
Apparently, Snapchact co-founders Evan Spiegel and Bobby Murphy are trying to gain more self-destructive fame. Just recently, they have denied the obvious, claiming that when photos are supposed to disappear and they don't, it's not their fault. Apparently it's the fault of Santa Claus.
But Federal Trade Commission was not impressed with their legal mumbo jumbo. That's why they have hit them with a lawsuit, forced them to comply, and issued the following statement:
Snapchat, the developer of a popular mobile messaging app, has agreed to settle Federal Trade Commission charges that it deceived consumers with promises about the disappearing nature of messages sent through the service.

The FTC case also alleged that the company deceived consumers over the amount of personal data it collected and the security measures taken to protect that data from misuse and unauthorized disclosure.

In fact, the case alleges, Snapchat's failure to secure its Find Friends feature resulted in a security breach that enabled attackers to compile a database of 4.6 million Snapchat usernames and phone numbers.

According to the FTC's complaint, Snapchat made multiple misrepresentations to consumers about its product that stood in stark contrast to how the app actually worked…

Touting the "ephemeral" nature of "snaps," the term used to describe photo and video messages sent via the app, Snapchat marketed the app's central feature as the user's ability to send snaps that would "disappear forever" after the sender-designated time period expired. Despite Snapchat's claims, the complaint describes several simple ways that recipients could save snaps indefinitely.

"The problem, the FTC case alleged, was that users could take screenshots of photos and download third party apps that save all of the content that is supposed to disappear.
But Snapchat's run-ins with the law are nothing when compared to recently reported massive leak of photos and videos, as reported by Business Insider:
A giant database of intercepted Snapchat photos and videos has been released by hackers who have been collecting the files for years.

Shocked users of the notorious chat forum 4chan are referring to the hack as "The Snappening," noting that this is far bigger than the iCloud hacks that recently targeted celebrities.
This is especially damaging to Snapchat because some of these nude photos apparently feature underage boys and girls, as the vast majority of Snapchat's users are teens. This makes the matter all the more disgusting. But not disgusting enough for Yahoo.
Yahoo wants to invest in Snapchat. Probably because it has already invested in a popular porn site called Tumblr.com (lots of people use this blogging platform exactly for that purpose). Now Yahoo wants to extend its porn empire and acquire a de facto sexting app. Yes indeed, Snapchat was conceived as a sexting app for sending dirty pictures.
Apparently, porn and sexting have become the most profitable technologies known to man. So is not it excellent Silicon Valley hotshots are finding new ways to monetize our lives?