21 Cool Facts About Singer Mahogany Lox You Need To Know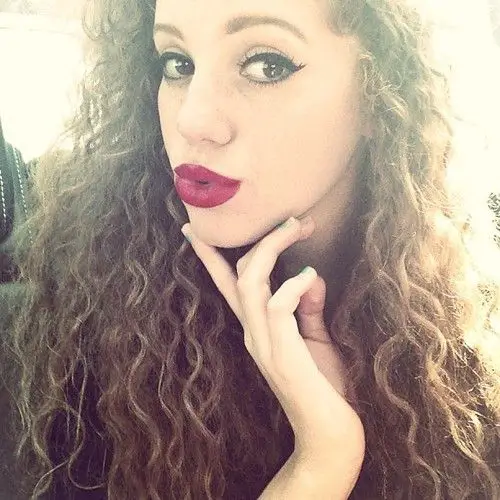 Hey, check out some cool facts about singer Mahogany Lox. Find out what you don't know about her. Then watch her best videos. After you did that, please share this article with your friends on social media because your shares help us grow.
7 Cool Facts About Mahogany Lox's Biography
1. Mahogany Lox was born on October 5, 1994 in Detroit as Mahogany Cheyenne Gordy.
2. She is a member of the famous Motown Gordy family.
3. Her father is Barry Gordy IV, and her mother is Valerie Robinson.
4. Her paternal grandparents are Barry Gordy and Bertha Fuller Gordy.
5. She has one older brother, Skyler Austen Gordy, also known as Sky Blue.
6. Sky Blue is one-half of the pop duo LMFAO and is a DJ, singer, and rapper.
7. Lox's Internet fame has led her to become friends and hang out with fellow Internet stars like Nash Grier and Aaliyah Mendes.
BOOM – Mahogany LOX Official Music Video
7 Most Interesting Facts About Mahogany Lox
The following are seven of the most interesting facts about Mahogany Lox:
1. She is named after the 1975 movie Mahogany, which was directed by her grandfather Barry Gordy and starred Motown celebrity Diana Ross.
2. Her aunt Anna Gordy was married to the late Motown singer Marvin Gaye.
3. She loves to sketch.
4. When she sketches, she often creates original fashion designs.
5. As an aspiring fashion designer, she is fascinated with the Tokyo fashion scene.
6. Despite being a member of Young Hollywood and the granddaughter of Barry Gordy, she has a reputation for being quiet and down-to-earth. She loves to spend time at home with her family.
7. Her uncle Stefan Kendal Gordy is the other half of the pop duo LMFAO.
ULTIMATE CHALLENGE COMPILATION | MUSIC MONDAY WITH MAHOGANY LOX
8 Cool Facts About Mahogany Lox's Rise To Stardom
1. Her career in entertainment began in 2015 when she began posting music videos to Vine.
2. The first original single that she posted online was called "Boom".
3. "Boom" quickly became a hit and earned Mahogany Lox an invitation to tour with the female pop band Fifth Dimension in the spring of 2015. The Fifth Dimension tour visited 22 cities and lasted until the end of May that year.
4. By the end of the tour, her single "Boom" had been uploaded to YouTube and had been viewed more than 1.2 million times.
5. She has since collaborated with Ariana Grande on the song "Problem."
6. Many of her songs and videos are now written and produced by her brother Sky Blue.
7. She has since become known as the Queen of Young Hollywood.
How Mahogany Lox YouTube Channel Compares To Other YouTube Channels
Mahogany Lox has more than 500,000 subscribers on her YouTube channel as of June, 2017, a number that seems to be fairly impressive. However, her following is modest compared to those that other YouTubers attract.
Some YouTube channels have more than one million subscribers. Some YouTube channels have even more than ten million subscribers. So it is obvious that she is by no means the biggest YouTube star out there though she has the potential to gain many more subscribers.
As a matter of fact, the most popular YouTube channel – that of PewDiePie – has fifty five million subscribers as of June, 2017. Maybe one day the most popular YouTube channel will surpass one hundred million subscribers.
What It Is Like To Be A YouTube Star Like Mahogany Lox
The channels with 500,000 or more subscribers are the most profitable and have the most recognition. Lox presumably understands the competitive nature of viral social media stardom, which is increasingly becoming more cutthroat as more people rush to join this new path to super stardom. In that situation, her famous parents can do little to help her channel get new subscribers. So she has to rely on herself to grow her fan base.
Mahogany Lox, like others who either aspire to YouTube fame or are YouTube famous, must come up with new ideas for her posts, whether those posts be new songs, Q&A sessions, or silly and playful anecdotes. Every post has the potential to garner new fans and shares on social media sites. However, she never knows whether her new videos will be as popular as her old ones. So her life is not as easy as it seems.
People looking to follow YouTube stars have plenty from which to choose, and many of those stars are pretty awesome. Nonetheless, Mahogany Lox has lived up to the challenge and remains one of the most popular YouTube stars.
Other Great Singer Whose Songs You May Enjoy
If you've never heard of musical sensation Jackie Evancho, then you're in for a big treat because we have put together all of her best songs. So listen to her best songs and find out insider scoop about controversy she created by becoming Donald Trump's inauguration singer. That's Jackie Evancho, the new sensation you need to know.
3 Amazing Hollywood Actors You Really Need To Know
1) Love Judd Apatow movies like Knocked Up? Then you definitely know a Canadian-American actor and comedian Seth Rogen. So check out our article 7 Totally Crazy Seth Rogen Facts You'D Think We Made Up
2) You may not know the next actor in our list. But he is one of only eight Asian American actors to be nominated for an Academy Award in an acting category. So check out Top 10 Mako Iwamatsu Facts You Really Need To Know
3) You may not know this actor either if you don't watch TV. However, if you watch TV, you probably know him from 90210 TV series. The actor we are taking about is Matt Lanter.

Liked this page?
Then why not get our iOS app from
Apple App Store
? Then you will have the world's biggest collection of jokes and inspiring quotes right in your pocket, and the app will work faster than the site, so it will save you time and keep you entertained.