Jackson Krecioch: 27 Cool Facts You Need To Know + Awesome Videos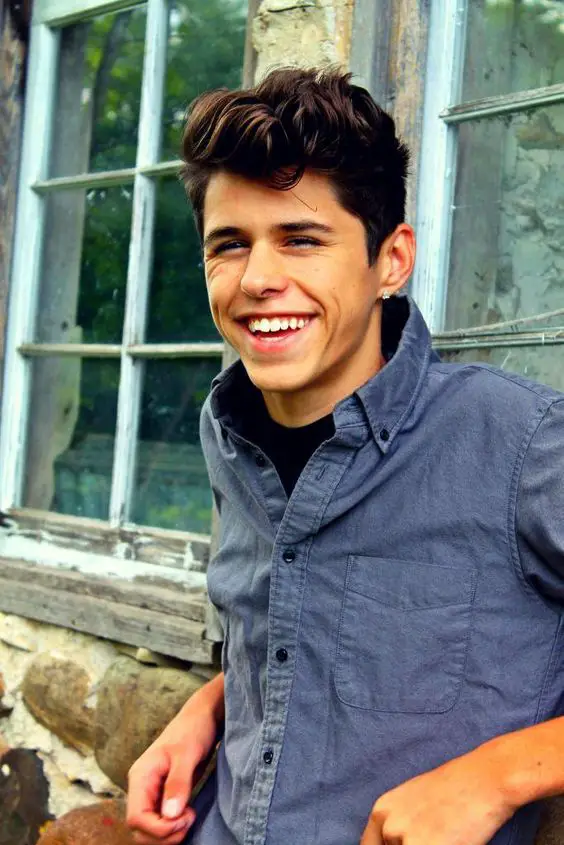 Hey, check out some cool facts about Internet celebrity Jackson Krecioch. Find out what you don't know about him and watch his best videos. After you did that, please share this article with your friends on social media because your shares help us grow.
10 Most Interesting Facts About Jackson Krecioch
1. Jackson has six brothers and one sister.
2. One of his older brothers taught him how to snowboard. Now it is one of his favorite things to do.
3. He said in an interview that he gets a natural high when he goes snowboarding.
4. He briefly dated fellow Internet star Aaron Fuller.
But the end of that relationship was not happy. Jackson cried after Aaron broke up with him. Watch a video of that breakup:



5. He has collaborated with social media star Jordyn Jones. Check out a cool photo of Jackson Krecioch smiling and share it to Pinterest:

6. He has more than 2.1 million followers on the social networking app Musical.ly.
7. He has more than 300,000 followers on the social media site YouNow. He also has more than 180,000 followers on YouTube. These numbers are current as of June, 2017.
8. He describes himself as being a good listener. He also said he has a natural talent for picking up on nuances in conversations.
9. He is especially close to his younger brother Julian whom he calls his sidekick.
10. His dad was hurt in an industrial accident at work and died two months later from a lingering brain injury.
Best Videos Of Jackson Krecioch
Watch a compilation of his best videos



9 Cool Facts About Jackson Krecioch's Biography
1. He was born on June 1, 1998 in Wisconsin.
2. His dad's name was John, and his mother's name is Jennifer.
3. All of the boys in the family have names that start with the letter J.
4. His sister, Katherine, is the only one with a name that does not start with J.
5. Jackson Krecioch came out as gay in October, 2016.
Watch a video of that emotional moment when Jackson announced these news to all of his fans:
6. He said in an interview that he initially did not want to be gay and prayed to be straight.
7. He came to accept his sexuality and now is comfortable with being gay.
8. His family also accepts the fact that he is gay.
9. His Internet revenue has replaced the income lost because of his dad's death.
Pass these facts to your friends on social media. Share this page.
8 Cool Facts About Jackson Krecioch's Rise To Internet Fame
1. He began his career as an Internet celebrity in 2015 by posting videos to Musical.ly.
2. His first videos were recreations of funny conversations that he had with friends or family members.
3. Jackson Krecioch also posted videos on how to sketch and draw interesting shapes like mouths and eyes.
4. He gained a large online following when people discovered how affable he appears in his videos.
5. He continues to make time for his fans by chatting with them in live videos.
6. His fans say that he is very down-to-earth. This is pretty cool considering that he is an Internet celebrity.
7. He has expanded his online content to include sketch comedies.
8. He also has begun posting how-to videos and videos about his favorite activities.
Best Photo Of Jackson Krecioch
What It Is Like To Be An Internet Celebrity Like Jackson Krecioch
Jackson Krecioch has millions of fans on Musical.ly and thousands of followers on YouNow and YouTube. However, as an Internet celebrity he probably understands that the number of his followers is heavily dependent on the videos that he posts.
In an ever competitive social media market, Internet celebrities face a challenge of keeping followers engaged. They also face a challenge of coming up with new content ideas. If they allow their accounts to grow stagnant, they risk losing the followers who can make or break their bottom line. For their accounts to be profitable, they must continue to frequently post new and exciting content.
Considering that, Jackson Krecioch may feel pressured to come up with videos that his followers will enjoy and share. At the same time, he might welcome the challenge that comes with being an Internet celebrity and appreciate the unique opportunity that his stardom has given him. However, his life is not as easy as it seems. That being said, most of non-famous people would definitely trade their places with him for a chance of fame and fortune. Would you trade places with him? Join the conversation and leave a comment.
2 Other Internet Celebrities You May Like
If you are into YouTube or Musical.ly, you may enjoy reading about either one of the two Internet celebrities we wrote about. So choose one of our articles and find out what you don't know: 21 Cool Facts About Singer Mahogany Lox You Need To Know or Top 20 Facts About Aaliyah Mendes And Her Brother Shawn Mendes


3 Amazing Hollywood Actors You Really Need To Know
1) Love Judd Apatow movies like Knocked Up? Then you definitely know a Canadian-American actor and comedian Seth Rogen. So check out our article 7 Totally Crazy Seth Rogen Facts You'D Think We Made Up
2) You may not know the next actor in our list. But he is one of only eight Asian American actors to be nominated for an Academy Award in an acting category. So check out Top 10 Mako Iwamatsu Facts You Really Need To Know
3) You may not know this actor either if you don't watch TV. However, if you watch TV, you probably know him from 90210 TV series. The actor we are taking about is Matt Lanter.