Top 20 Facts About Aaliyah Mendes And Her Brother Shawn Mendes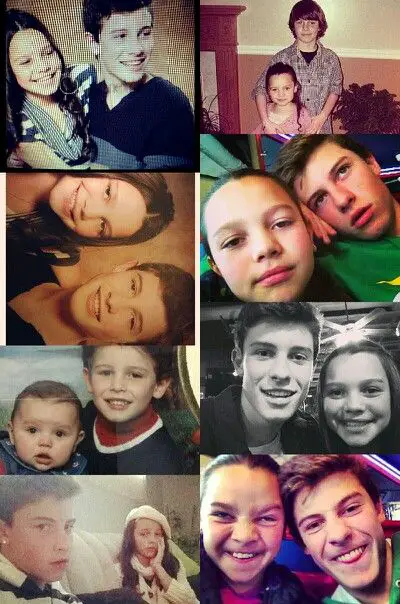 Learn top 20 little-known facts about Aaliyah Mendes and her brother Shawn Mendes. Uncover their secrets and watch their best videos. Then please share this article with your friends on social media because your shares help us grow.
9 Most Interesting Facts About Aaliyah Mendes
The nine most interesting facts about web sensation Aaliyah Mendes are:
1. She was born on September 15, 2003 in Toronto, Ontario in Canada. She is a Virgo.
2. When she created and launched her first social media account on Vine.com, she used the name Princess Aaliyah.
3. She gained over 250,000 followers to her Vine.com account before the website closed.
4. Aaliyah Mendes created another social media account on Musical.ly and quickly accrued more than 500,000 followers.
5. She has more than 300,000 followers on her Instagram account.
6. She says that she does not follow any particular theme or thought process for posting her videos and pictures. She says her posts are purely random.
7. She is good friends with fellow Internet stars Mahogany Lox and Alyssa Shouse.
8. Like her older brother Shawn Mendes, she has a lazy eye.
9. On a recent Reddit.com AMA, she noted that her older brother is very protective of her.
Video With Best Aaliyah Mendes Moments
Facts About Aaliyah Mendes' Brother Shawn Mendes
10. Aaliyah may get artistic direction and guidance from her older brother Shawn. Shawn Mendes was born on August 8, 1998 in Toronto, Ontario. He was raised in Pickering and attended Pine Ridge Secondary School.
11. His parents are Manuel and Karen Mendes. Manuel is from Algarve, Portugal, making Shawn and his sister Aaliyah half-Portuguese. His mother is from English descent.
12, In 2013, Shawn began posting his version of cover songs to Vine.com. His songs were well-received by the public and eventually attracted the attention of talent scouts. They helped him land his first major recording deal with Island Records, which is based in Jamaica.
13. His first album came out in 2013 and was entitled Handwritten. From this album he released his first original song called "Stitches." The song quickly rose to the Top 10 on charts around the globe. He even performed the song during the Macy's Thanksgiving Day Parade in 2014. Check out a picture of Shawn Mendes at a sports event:
14. His second album, Illuminate, came out in June 2016. Songs from the record include "Mercy" and "There's Nothing Holdin' Me Back." The album debuted at the top of the Billboard charts. Critics overall enjoyed Illuminate but noted that the songs definitely have a "teenager in love" sound to them.
15. When he is not recording new songs for his albums or for Disney movies like Descendants, Shawn volunteers his time and money to charitable causes. He is active in campaigns to highlight teen depression and low self-esteem. He also donated $25,000 to help build a school in Ghana.
Mercy Official Music Video
Shawn Mendes Awards And Recognitions
16. Despite being a relatively new recording artist, Shawn Mendes has accrued an impressive array of awards and honors. He has been nominated for and received awards throughout the world including in countries like Italy and his native Canada.
17. Many of the awards that he has been nominated for and received are in honor of his song "Stitches." The song won the BBC Radio 1 Teen's award for Best Song in 2016. It was also nominated for top honors like:
the 2016 SOCAN Song of the Year
the 2016 iHeartRadio Canadian Single of the Year
the 2015 Teen Choice Award for Male Artist
18. He likewise has won or been nominated for awards for his two albums Handwritten and Illuminate. Some of the awards he has been up for since 2013 include:
the 2016 Juno Award for Album of the Year
the 2017 Juno Award for Album of the Year
the 2015 Vine Best Musician Award
the 2016 Choice Male Artist Award
19. In 2016, he won the BBC Radio 1 Teen Awards top honors for best international artist. He also won Canada's Walk of Fame Allan Straight Honour award in 2015 as well as the 2017 Juno Fan Choice Award.
20. He embarked on a world tour in March 2017 to promote his album Illuminate. He is expected to be recognized and honored with more industry awards in the 2018 awards season. So here is a pic of Shawn Mendes at an awards ceremony:

There's Nothing Holdin' Me Back Lyric Video
Speculation On The Personal Life Of Aaliyah Mendes
At the young age of 13, one can only speculate on what life must be like for Internet star Aaliyah Mendes. She is the younger sister of Shawn Mendes, who currently enjoys international fame as a recording artist. However, she is also a celebrity in her own right with her massive followings on social media sites like Instagram and YouTube.
We do know that she must have led a relatively quiet and normal life prior to her becoming famous on the Internet. Like her brother, she was born and raised in the Toronto, Ontario area. She may even have attended Pine Ridge Secondary School in Pickering like her brother.
We also know that her parents worked typical white collar jobs. Her mother, for example, is a real estate agent while her father sells bar and restaurant supplies. This low-key early childhood surely contrasts the life that she now lives as one of the leading Internet stars today.
Even with no official word from her or her family, we can assume that Aaliyah Mendes and her parents manage her personal life carefully. With such massive social media followings, they cannot be too careful about her security. They do not disclose where she currently lives or attends school, for example.
Likewise, she may consult with her parents before posting images and videos online. People today are sensitive to any materials that they believe to be inappropriate or offensive. She may use her parents and others in her life as a soundboard before posting content so that she avoids alienating any of her followers.
AMA Session On Reddit
As far as how her relatively newfound fame affects her personally, we can only base our assumptions on content that she has posted on her social media accounts. For example, during her AMA session on Reddit, she appeared to be lighthearted and good humored about the questions that fans asked her. She even obliged with several fans' requests for her to follow them on social media.
3 Amazing Hollywood Actors You Really Need To Know
1) Love Judd Apatow movies like Knocked Up? Then you definitely know a Canadian-American actor and comedian Seth Rogen. So check out our article 7 Totally Crazy Seth Rogen Facts You'D Think We Made Up
2) You may not know the next actor in our list. But he is one of only eight Asian American actors to be nominated for an Academy Award in an acting category. So check out Top 10 Mako Iwamatsu Facts You Really Need To Know
3) You may not know this actor either if you don't watch TV. However, if you watch TV, you probably know him from 90210 TV series. The actor we are taking about is Matt Lanter.

Liked this page?
Then why not get our iOS app from
Apple App Store
? Then you will have the world's biggest collection of jokes and inspiring quotes right in your pocket, and the app will work faster than the site, so it will save you time and keep you entertained.