Top 30 Bananarama Facts About Keren Woodward And Sara Dallin

Learn top 30 little-known facts about Bananarama singers Keren Woodward and Sara Dallin. Find out what very few know about them. This page also has best Bananarama songs and official music videos, so you will definitely enjoy your time on our site. Once you enjoyed all that, be totally awesome and share it with your friends and family members and we will love you forever and ever.
15 Keren Woodward Facts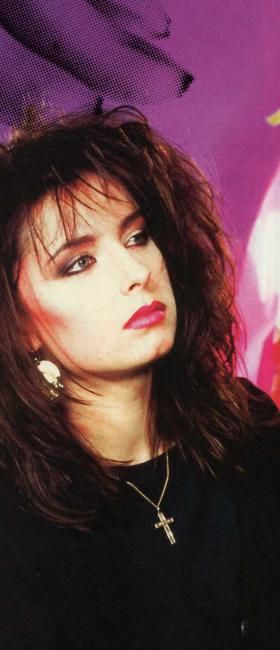 1. Keren Woodward was born on April 2, 1961, making her an Aries.
2. She met Bananarama co-founder Sara Dallin when they were 5 years old.
3. The two pop stars grew up just a few streets apart. They went on to share several living arrangements throughout the early years of Bananarama, including a room at the Sex Pistols' studio, a YWCA hostel, London flats, and side-by-side houses.
4. Woodward was classically trained as a musician and briefly worked for the BBC.
5. As a young teen, she had a David Essex poster on her bedroom wall.
6. Woodward admits to having a shoe obsession and loves online shopping from her rural Cornwall home.
7. She has one adult son named Thomas, who she conceived with former lover David Scott Evans, a model.
8. Woodward is embarrassed by fame as a rule, and doesn't like listening to her music in public. However, she notes she may dance to it when she's "a little worse for wear."
9.She and Dallin were close long-term friends of George Michael, and routinely spent holidays at his home prior to his death.
10. She has said that Siobhan Fahey was "always paranoid" and may have felt threatened by her closeness with Dallin.
11. Keren Woodward further notes that the break-up with Fahey was "ugly at the time," but that the three communicate now and may collaborate.
12. Woodward and Dallin became best friends at age 11, which makes them friends for over forty years.
13. Now, she enjoys the music of Puretone, Coldplay, Zero 7, and Ibiza.
14. Early musical influences for Woodward included David Bowie and Roxy Music.
15. Woodward is most proud of the band's contribution to Band Aid's fundraising efforts in 1984 for Ethiopian famine victims.
Video With Keren Woodward TV Interview
Keren Woodward And Andrew Ridgeley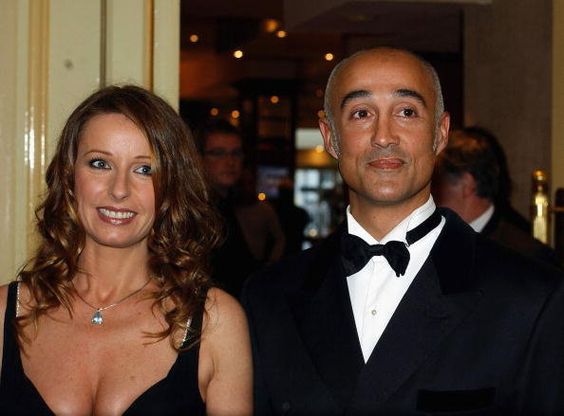 One of pop music's most enduring and beloved couples, Keren Woodward and Andrew Ridgeley began dating in 1990 after having been introduced by Ridgeley's former Wham! band mate George Michael. Of course, Ridgeley had been an international pop icon in his own right by that time, having sold more than 28 million records from 1982 to 1986.
Even after the breakup of Wham!, Ridgeley and Michael remained close friends. Michael was also a long-time friend of Woodward, who had taken an interest in Ridgeley. Early on, she joked, she liked him because he both challenged her and paid for things, unlike other men in her life.
The couple never did marry, but together raised Woodward's son from a previous relationship. After Ridgeley made several unsuccessful attempts at a solo music career, the couple decided to leave the London scene for a simpler life.
They purchased and restored a 15th-century farmhouse in rural Cornwall, where Ridgeley prefers his time to be filled by cycling, golfing, and swimming as opposed to Woodward's continued interest in music. The couple has happily said that they "go to the pub and no one bothers us," and even remarked that high-profile George Michael was able to visit them prior to his death without any hassle.
Keren Woodward and Andrew Ridgeley reportedly had a brief split in 2015, but have since resolved their issues and reunited.
In George Michael's 2004 documentary A Different Story, Michael famously asked Ridgeley who had the happier life. In this way, he clearly indicated his belief that Ridgeley's quiet life with Woodward had been the better choice. He also discussed early school days with Ridgeley, where he claims Ridgeley "took him under his wing." Learn more about this fascinating man: learn Top 10 Little-Known Andrew Ridgeley Facts.
Bananarama – Venus Official Music Video

Share this page with your friends if you enjoyed this awesome music video


15 Sara Dallin Facts
1. Sara Dallin was born on December 17, 1961, in Bristol. She is a Sagittarius.
2. She studied fashion journalism at the London College of Fashion prior to co-founding Bananarama and jokes that it "was about having the biggest hair."
3. Dallin was once engaged to Bananarama dancer Bassey Walker. The former couple have a daughter, Alice, who was born in 1991.
4. Dallin is the second cousin of British comedian, author, and director Stephen Merchant. She was a bridesmaid in his wedding.
5. Her daughter Alice is also a musician.
6. Dallin and Woodward remain best friends and use FaceTime to drink wine together and chat.
7. She collects Bananarama memorabilia and says that her daughter Alice wears her 80s clothes.
8. Like Woodward, Dallin is proud of her work on Band Aid and recounts the recording event as a surreal experience.
9. When asked if she enjoys exercise, Dallin has responded that she would "rather have a life and a glass of wine."
10. She is unimpressed by celebrities and thinks many new acts suffer from contrived identities.
11. Sara Dallin still lives in North London, where Woodward routinely visits and stays with her.
12. Dallin's first recollection of Woodward is of seeing Woodward with a Wagon Wheel cookie stuffed in her mouth.
13. Despite being a fashion icon in the 80s, Dallin says she sewed most of her stage clothing for Bananarama's early days.
14. As a young teen, Dallin thought model Jerry Hall was exceptionally glamorous.
15. Sara Dallin and Keren Woodward used to save their school lunch money to buy chocolate cake at the end of the week.
Video With Sara Dallin Interview
Short History of Bananarama
The all-female pop group Bananarama was formed in 1979 by Sara Dallin, Siobhan Fahey, and Keren Woodward. Dallin and Woodward were childhood friends, while Dallin and Fahey connected during their studies at the London College of Fashion.
During the 80s and early 90s, Bananarama (named after a combination of the children's television show The Banana Splits and the Roxy Music album "Pajama Rama") went on to sell more than 40 million records and chart a record-setting number of times.
The band began playing impromptu gigs and backup vocals for the punk and post-punk London scene. At that time, they performed with punk giants such as Iggy Pop and The Jam.
Finally, while the women living above the Sex Pistols' studio, Steve Jones and Paul Cook helped them to record their first demo. Shortly after, Demon Records offered them a deal and the band quickly grew a large and loyal following of both music and fashion fans in the United Kingdom.
In 1984, Bananarama had its first breakthrough into the American market and began writing more complex, socially responsible songs. That same year, their participation in Band Aid catapulted them into international focus.
Fahey, disenchanted with the new direction and feeling isolated by Woodward and Dallin, left the band in 1988. She was briefly replaced by Jacqui O'Sullivan until 1992. That year, the remaining band members decided to proceed as a duo.
While the band has not recreated its widespread success of the 80s, a resurgence of the nostalgia market and critically well-received new albums have kept the duo going through present.
Bananarama – Cruel Summer Official Music Video

Why don't you share this groovy Bananarama song to Pinterest?


Best Bananarama Songs
With albums spanning more than four decades, it is difficult to pinpoint the very best songs the band has recorded in all of its lineups. However, it is clear that their loyal fans love both top hits and obscure singles.
The band's massive discography has not received much in terms of critics' awards and recognition. However, they have seen record-setting popularity on the UK charts with hits such as "It Ain't What You Do," "Really Saying Something," "Shy Boy," and "Na Na Hey Hey Kiss Him Goodbye".
If you want to hear more of their great hits, you should know some other songs as well. Some of these great Bananarama songs are "Cruel Summer," "Robert De Niro's Waiting," "Love in the First Degree," "Venus," and "I Heard a Rumour."
Bananarama has released several "Best Of" albums and been included on countless compilation albums and remix albums. Their work has been sampled and remixed by artists such as Rev Run and Run DMC.
Bananarama – Love In The First Degree Official Music Video

Please share this page to Pinterest if you think that this Bananarama song is awesome


Our Favorite Photo Of Bananarama
We think that this is one of the best photos of Bananarama. If you agree with us, please share this awesome photo of Bananarama pop group to Pinterest.

Other Great Singer Whose Songs You May Enjoy
If you've never heard of musical sensation Jackie Evancho, then you're in for a big treat because we have put together all of her best songs. So listen to her best songs and find out insider scoop about controversy she created by becoming Donald Trump's inauguration singer. That's Jackie Evancho, the new sensation you need to know.


3 Amazing Celebrities
Check out 3 totally awesome articles which reveal little-known facts about intriguing lives of these amazing celebrities who were once members of Nirvana rock band:
1) 7 Crazy Kurt Cobain Facts You'D Think We Made Up And His Suicide Note
2) 7 Unreal Facts About Dave Grohl & His Music Groups You'D Never Believe
3) 5 Unreal Facts About Nirvana's Krist Novoselic You'D Never Believe