Singer Andrew Ridgeley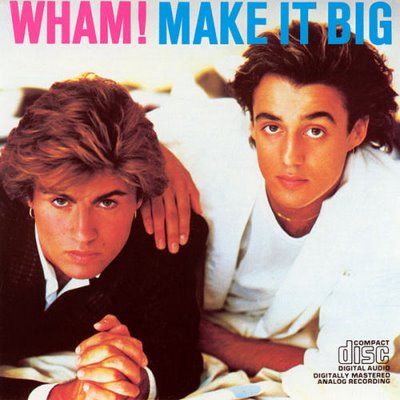 Learn top 10 little-known Andrew Ridgeley facts. Find out what you don't know about him and listen to his best songs from Wham! years. Then be totally awesome and share all that musical awesomeness about this Wham! singer with your friends and family members.
Top 10 Little-Known Andrew Ridgeley Facts
1. Andrew Ridgeley has Italian, Egyptian, and English ancestry. He acknowledges that his ancestry could account for his natural good looks.
2. His physical appearance helped him feel confident to get up on stage and perform before large crowds. He said that between him and Wham! bandmate George Michael he had a more natural ability to sing and perform.
3. Despite his ease at performing and singing, he was often referred to as The Other Guy in Wham!
4. Andrew Ridgeley helped George Michael write the Wham! hit "Careless Whisper" while sitting in the back of a bus on the way home from school.
The song reached number one in 25 countries and is counted as one of the most successful songs of all time. You can check out the official music video for a song Careless Whisper below:
5. He has no plans to ever return to the music industry.
6. He owns a restaurant called Bar 92. Bar 92 is located in London and recently added a cocktail lounge in its basement.
7. Andrew Ridgeley is an avid surfer and enjoys surfing in his free time.
8. He also is a skilled motor racer.
9. He supports a group called Surfers Against Sewage. The surfing group advocates for the end of ocean dumping.
10. His wife Keren Woodward is a former member of the 80s girl pop group Bananarama.
Andrew Ridgeley And George Michael
Andrew Ridgeley and George Michael made each other's acquaintance in the mid-1970s. They went to school together in the U.K. The two found that they shared a love for writing songs and music.
They collaborated while performing for several London-area musical groups. Then they formed their own singing group called Wham!
While Michael gets most of the credit for the group's success, Andrew is actually the one who had the most musical experience between the two. He used his natural propensity for writing music to show Michael the ropes of writing songs and performing on stage.
While Andrew Ridgeley is a natural at singing and dancing on stage, he actually does not like the limelight. As the group became more internationally famous, he felt increasingly uncomfortable with all of the attention.
He left the group in 1986 after performing for a last time at Wembley Stadium. He said he was happy for Michael's solo success but felt no obligation to rejoin the music industry.
Rumors that he and Michael were at odds with each other after the breakup of Wham! proved to be false. He joined Michael in a documentary about the group in 2005. After Michael's death in December 2016, Ridgeley tweeted his sorrow at the loss of his friend.
Life Before Fame
Andrew Ridgeley was born on January 26, 1963 in Windlesham, Surrey. His age as of March 2017 is 54 years.
His parents are Jennifer Ridgeley, who was a school teacher, and Albert Ridgeley, who worked for Canon. He grew up in Bushey in Hertfordshire and attended Bushey Meads School as a child.
He says that he enjoyed a happy childhood. When asked by Michael who was happier, he or George, Andrew admitted that he probably had a happier life. His contentment with life reportedly helped him feel confident about himself and his musical talent.
His upbringing by a teacher and a Canon professional is also said to have given him the ability to think outside of the box. So when it came to participating in the group Wham!, Ridgeley had enough ingenuity to help Michael come up with new songs.
Despite being dismissed as a failed 80s pop act, Andrew Ridgeley was one of the reasons behind the success of Wham!. He came up with the name of the group's first hit song after writing a note to his mom asking her to "wake me up before you go go." By the way, you can check out the official music video for Wham's song Wake Me Up Before You Go-Go below:
Please share this page on Pinterest if you like this awesome Wham! song
Ridgeley's Wham! Years
Ridgeley and Michael founded the group Wham! in 1982. The group's manager was Simon Napier-Bell. Bell made up a story of Andrew getting punched in the face to help generate publicity for Wham! In fact, Ridgeley had plastic surgery on his nose, which accounted for the bandages on his face.
The group enjoyed near instant success with its first song "Wake Me Up Before You Go Go." Ridgeley wrote the song and created the title after leaving a note for his mom to wake him up before she left the house. He meant to write "Wake me up up before you go." However, he mistakenly wrote "Wake me up before you go go." That simple mistake generated the song that many people now associate with Wham!
While performing, Andrew Ridgeley and George Michael got along well, and you can see them during those years from the following picture: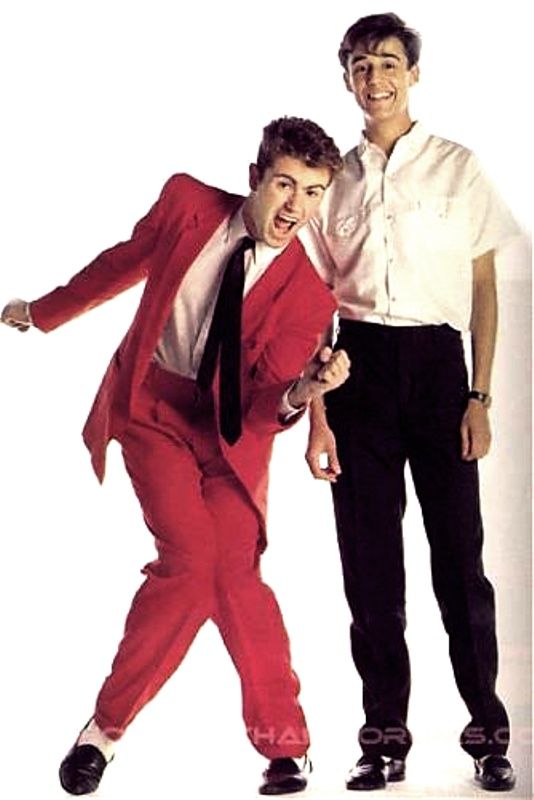 However, by 1986 Andrew Ridgeley was ready to leave the limelight and become a family man. He and his wife Keren Woodward became parents to a son Thomas that same year. He says the breakup of the group is the most amicable split in music history.
Life After Fame
Since exiting the music scene, Andrew Ridgeley has largely stayed out of public eye. He and his wife run a successful restaurant in London.
Apparently, he prefers privacy because he refuses requests for interview. However, made an official tweet after Michael died, referring to his former bandmate and friend as "Yog."
Andrew tried his hand at Formula Three motor racing but met failure. Then he moved to Los Angeles to become an actor. After meeting with disappointment at both endeavors, he moved back to London to focus on running his restaurant.
In spite of all the above, he must be enjoying a good life if he knows how to focus on the bright side. The bright side is that he continues to receive royalties from the songs he wrote for Wham! The song "Careless Whisper" alone generates enough money for him to make a living.
Son Of Albert Album
Andrew Ridgeley attempted a solo career in music with the release of his album Son of Albert. The album was released in May 1990. It featured songs like "Shake" and "Red Dress." His former bandmate George Michael lent his voice to some of the songs.
The title derives from the fact that Ridgeley is indeed the son of a man named Albert. The album was not a commercial success. It only peaked at the 130 spot on the U.S. Billboard charts. It peaked at 63 in Australia. Critics said that the album sounded too contrived and manufactured. They also said that Ridgeley did not show his best song writing capabilities with the album.
After the dismal performance of the album, Andrew Ridgeley exited the music industry. However, he continues to record music in his spare time. But he does not release those songs to the public.
Best Andrew Ridgeley Songs
Son of Albert album and the many songs he wrote made him rich. His net worth as of March 2017 is estimated at $25 million.
Ridgeley's greatest song, according to many of his fans, is "Wake Me Up Before You Go Go" from Wham's debut album. This song continues to be played on the radio and has transcended three generations with its upbeat and fun lyrics.
His other great songs from Wham's years are "Careless Whisper" and "Everything She Wants." Check out the official music video for "Everything She Wants" because it's awesome:
If you like this awesome song, why not share our page on Pinterest?
Other Great Singer Whose Songs You May Enjoy
If you've never heard of musical sensation Jackie Evancho, then you're in for a big treat because we have put together all of her best songs. So listen to her best songs and find out insider scoop about controversy she created by becoming Donald Trump's inauguration singer. That's Jackie Evancho, the new sensation you need to know.


3 Amazing Celebrities
Check out 3 totally awesome articles which reveal little-known facts about intriguing lives of these amazing celebrities who were once members of Nirvana rock band:
1) 7 Crazy Kurt Cobain Facts You'D Think We Made Up And His Suicide Note
2) 7 Unreal Facts About Dave Grohl & His Music Groups You'D Never Believe
3) 5 Unreal Facts About Nirvana's Krist Novoselic You'D Never Believe