Michael Jackson Quotes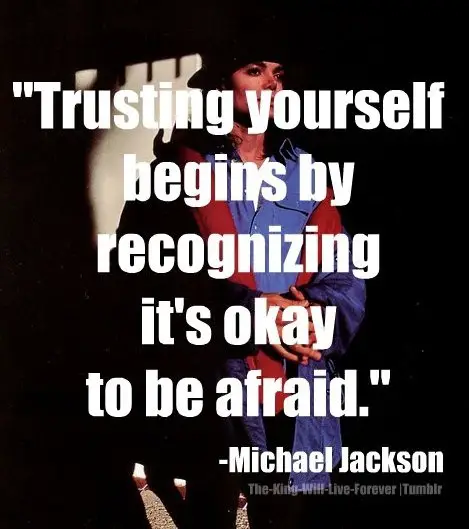 Enjoy the best Michael Jackson Quotes. Quotes by Michael Jackson, American Singer.
When I step out on stage in front of thousands of people, I don't feel that I'm being brave. It can take much more courage to express true feelings to one person. […] In spite of the risks, the courage to be honest and intimate opens the way to self-discovery. It offers what we all want, the promise of love.
In a world filled with hate, we must still dare to hope. In a world filled with anger, we must still dare to comfort. In a world filled with despair, we must still dare to dream. And in a world filled with distrust, we must still dare to believe.
I'll always be Peter Pan in my heart.
I was a veteran, before I was a teenager.
People write negatives things, cause they feel that's what sells. Good news to them, doesn't sell.
I just wish I could understand my father.
Me and Janet really are two different people.
But for me the sweetest contact with God has no form. I close my eyes, look within, and enter a deep soft silence. The infinity of God's creation embraces me
My mother's wonderful. To me she's perfection.
I'm happy to be alive, I'm happy to be who I am.
Before I would hurt a child, I would slit my wrists.
Just because it's in print doesn't mean it's the gospel.
The Bee Gees who are brilliant, I just love great music.
Please keep an open mind and let me have my day in court.
I'm just like anyone. I cut and I bleed. And I embarrass easily.
"You ain't seen nothing yet, and the best is yet to come." (1999)
The greatest education in the world is watching the masters at work.
But I will never stop helping and loving people the way Jesus said to.
My father was a management genius. But what I really wanted was a dad.
Sometimes the heart is so heavy that we turn away from it and forget that its throbbing is the wisest message of life, a wordless message that says, "Live, be, move, rejoice — you are alive!" Without the heart's wise rhythm, we could not exist.
I think that it's demeaning and disrespectful but I also want to make it clear it's not just about me but a pattern of disrespect that he has shown to our community. He needs to stop it and he needs to stop it now. – On Eminem's video for "Just Lose It"
I'm never pleased with anything, I'm a perfectionist, it's part of who I am.
Elizabeth Taylor is gorgeous, beautiful, and she still is today, I'm crazy about her.
[the three most important rules for any aspiring pop star] Rehearse, rehearse, rehearse.
I've helped many, many, many children, thousands of children, cancer kids, leukemia kids.
When I see children, I see the face of God. That's why I love them so much. That's what I see.
[on his career] It all went by so fast, didn't it? I wish I could do it all over again, I really do.
I'm a black American, I am proud of my race. I am proud of who I am. I have a lot of pride and dignity.
I have a skin disorder that destroys the pigmentation of my skin, it's something that I cannot help, OK?
A star can never die. It just turns into a smile and melts back into the cosmic music, the dance of life.
I have confidence in my abilities. I have real perseverance. Nothing can stop me when I put my mind to it.
I am the captain of my ship. I take suggestions and listen to what everyone has to say, but the final decision is mine.
[on recording in Ireland in 2006] I've never given up on making music. Ireland has inspired me to make a great new album.
Everyone who knows me will know the truth, which is that my children come first in my life and that I would never harm any child.
Music has been my outlet, my gift to all of the lovers in this world. Through it, my music, I know I will live forever.
Children show me in their playful smiles the divine in everyone. This simple goodness shines straight from their hearts and only asks to be loved.
If you enter this world knowing you are loved and you leave this world knowing the same, then everything that happens in between can be dealt with.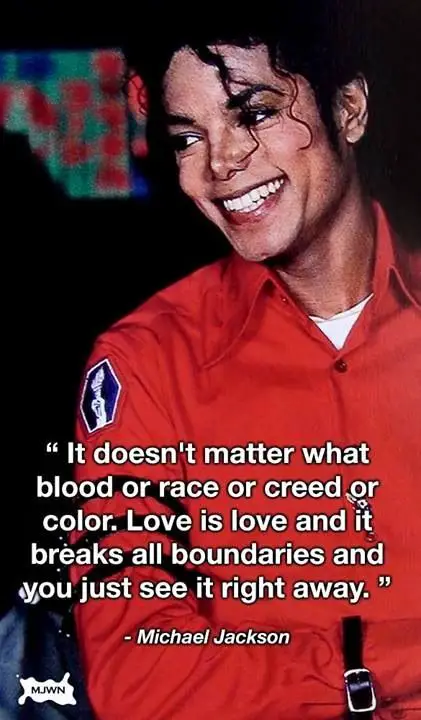 Let us dream of tomorrow where we can truly love from the soul, and know love as the ultimate truth at the heart of all creation.
I love my family very much. I wish I could see them a little more often than I do. But we understand because we're a show business family and we all work.
I love my children. I was holding my son tight. Why would I throw a baby off the balcony? That's the dumbest, stupidest story I ever heard.
I will say again that I have never, and would never, harm a child. It sickens me that people have written untrue things about me.
There were times when I had great times with my brothers, pillow fights and things, but I was used to always cry from loneliness.
I can't think of a better way to spread the message of world peace than by working with the NFL and being part of Super Bowl XXVII.
I am always writing a potpourri of music. I want to give the world escapism through the wonder of great music and to reach the masses.
I made a terrible mistake. I got caught up in the excitement of the moment. I would never intentionally endanger the lives of my children.
"Just because you read it in a magazine or see it on a TV screen doesn't make it factual. To buy it is to feed it." – about tabloid magazines.
I don't understand why the press is so interested in speculating about my appearance, anyway. What does my face have to do with my music or my dancing?
The meaning of life is contained in every single expression of life. It is present in the infinity of forms and phenomena that exist in all of creation.
When children listen to music, they don't just listen. They melt into the melody and flow with the rhythm. Something inside starts to unfold its wings – soon the child and the music are one.
Consciousness expresses itself through creation. This world we live in is the dance of the creator. Dancers come and go in the twinkling of an eye but the dance lives on. On many an occasion when I am dancing, I have felt touched by something sacred. In those moments, I felt my spirit soar and become one with everything that exists.
Elizabeth Taylor used to feed me, to hand-feed me, at times. Please, I don't want anybody to think I'm starving, I'm not. My health is perfect, actually.
Yeah, Wacko Jacko, where did that come from? Some English tabloid. I have a heart and I have feelings. I feel that when you do that to me. It's not nice.
[on being asked what he thought his funeral would be like in 2002] It's going to be the greatest show on Earth. That's what I want. Fireworks and everything.
I would like some way to disappear where people don't see me anymore at some point. I don't want to grow old. I never want to look in the mirror and see that.
Because I wanted to have a place that I could create everything that I that I never had as a child. So, you see rides. You see animals. There's a movie theater.
There is a lot of sadness in my past life. My father beat me. It was difficult to take being beaten and then going on stage. He was strict; very hard and stern.
You know, let's put it this way, if all the people in Hollywood who have had plastic surgery, if they went on vacation, there wouldn't be a person left in town.
I'm still fascinated by clouds and the sunset. I was making wishes on the rainbow yesterday. I saw the meteor shower. I made a wish every time I saw a shooting star.
I was coming out of the shower and I fell and all my body weight – I'm pretty fragile – all my body weight fell against my rib cage. And I bruised my lung very badly.
Why can't you share your bed? The most loving thing to do is to share your bed with someone. It's very charming. It's very sweet. It's what the whole world should do.
When I saw him move I was mesmerized. I've never seen a performer perform like James Brown and right then and there I knew that that was what I wanted to do for the rest of my life.
Because I think every child star suffers through this period because you're not the cute and charming child that you were. You start to grow, and they want to keep you little forever.
I never had the chance to do the fun things kids do: sleepovers, parties, trick-or-treat. There was no Christmas, no holiday celebrating. So now you try to compensate for some of that loss.
I sit in my room at home and sometimes cry. It's so hard to make friends. Sometimes I walk around the neighbourhood at night, just hoping to find someone to talk to. But I just end up coming home.
And I remember going to the record studio and there was a park across the street and I'd see all the children playing and I would cry because it would make me sad that I would have to work instead.
Elizabeth Taylor is a warm cuddly blanket that I love to snuggle up to and cover myself with. I can confide in her and trust her. She's Mother Teresa, Princess Diana, the Queen of England, and Wendy.
When I was 16, we were doing Las Vegas every night, and Elvis Presley and Sammy Davis Jr. would sit me and my brothers in a row and lecture us. 'Don't ever do drugs,' they told us. I never forgot it.
Success definitely brings on loneliness. People think you're lucky, that you have everything. They think you can go anywhere and do anything, but that's not the point. One hungers for the basic stuff.
Marlon Brando has been pushing. He's a wonderful man. He's a god. He wants a lot of money. He wants to get things done right now. – On a video about acting which he was planning to make with Brando in 2001
They did it to try and belittle me, to try and to take away my pride. But I went through the whole system with them. And at the end, I – I wanted the public to know that I was okay, even though I was hurting.
Well, you don't get to do things that other children get to do, having friends and slumber parties and buddies. There were none of that for me. I didn't have friends when I was little. My brothers were my friends.
People think they know me, but they don't. Not really. Actually, I am one of the loneliest people on this earth. I cry sometimes, because it hurts. It does. To be honest, I guess you could say that it hurts to be me.
Yes, and I had pimples so badly it used to make me so shy. I used not to look at myself. I'd hide my face in the dark, I wouldn't want to look in the mirror and my father teased me and I just hated it and I cried everyday.
I remember one time we were getting ready to go to South America and everything was packed up and in the car ready to go and I hid and I was crying because I really did not want to go, I wanted to play. I did not want to go.
I never think about themes. I let the music create itself. I like it to be a potpourri of all kinds of sounds, all kinds of colors, something for everybody, from the farmer in Ireland to the lady who scrubs toilets in Harlem.
Because parents have power over children. They feel they have to do what their parents say. But the love of money is the root of all evil. And this is a sweet child. And to see him turn like this, this isn't him. This is not him.
Everything that I love is behind those gates. We have elephants, and giraffes, and crocodiles, and every kind of tigers and lions. And – and we have bus loads of kids, who don't get to see those things. They come up sick children, and enjoy it.
We have to heal our wounded world. The chaos, despair, and senseless destruction we see today are a result of the alienation that people feel from each other and their environment.
Well, especially now I come to realize – and then – I would do my schooling which was three hours with a tutor and right after that I would go to the recording studio and record, and I'd record for hours and hours until it's time to
go to sleep.
[on his father] He is a very jealous father. He isn't gonna show you love, but anybody that gets closer to us than him he would tell them, 'Leave my boys alone!' To tell you the truth, I never have felt close to him. He has always been like a mystery man.
It's a complete lie, why do people buy these papers? It's not the truth I'm here to say. You know, don't judge a person, do not pass judgement, unless you have talked to them one on one. I don't care what the story is, do not judge them because it is a lie.
[on refuting persistent rumors of skin surgery or bleaching] If I had a chance to talk to Michelangelo, I would ask him what inspired him to become who he is, the anatomy of his craftsmanship, not about who he dated last night or why he decided to sit out in the sun so long.
My father is a much nicer person now. I think he realizes his children are everything. Without your family, you have nothing. He's a nice human being. At one time, we'd be horrified if he just showed up. We were scared to death. He turned out really well. I wish it wasn't so late.
When I'm on stage, it's like a two-hour marathon. I weigh myself before and after each show, and I lose a good 10 pounds. Sweat is all over the stage. Then you get to your hotel and your adrenaline is at its zenith and you can't fall asleep. And you've got a show the next day. It's tough.
I've had people come to me, and after meeting me, they start crying. I say, "Why are you crying?" They say, "Because I thought you would be stuck up, but you're the nicest person." I say, "Who gave you this judgment?" They tell me they read it. I tell them, "Don't you believe what you read."
You have to have that tragedy, that pain to pull from. That's what makes a clown great. You can see he's hurting behind the masquerade. He's something else externally. Charles Chaplin did that so beautifully, better than anyone. I can play off those moments, too. I've been through the fire many times.
I'm a visionary and a creative person. God blessed me with certain talents. I hate to use an analogy, but Walt Disney was creative but not good with business. His brother Roy handled the books. He loved creating family-oriented entertainment and so do I. I feel that was a gift and I have that gift also. I'm very honored to have been chosen.
I just want to say to fans in every corner of the earth, every nationality, every race, every language: I love you from the bottom of my heart. I would love your prayers and your goodwill, and please be patient and be with me and believe in me because I am completely, completely innocent. But please know a lot of conspiracy is going on as we speak.
I've been in the entertainment industry since I was six-years-old … As Charles Dickens says, 'It's been the best of times, the worst of times.' But I would not change my career … While some have made deliberate attempts to hurt me, I take it in stride because I have a loving family, a strong faith and wonderful friends and fans who have, and continue, to support me. (2007)
[on calling himself the 'King of Pop'] I never self-proclaimed myself to be anything. If I called up Elizabeth Taylor right now, she would tell you that she coined the phrase. She was introducing me, I think at the American Music Awards, and said in her own words – it wasn't in the script – "I'm a personal fan, and in my opinion he is the king of pop, rock and soul." Then the press started saying "King of Pop" and the fans started. This self-proclaimed garbage, I don't know who said that.
In their innocence, very young children know themselves to be light and love. If we will allow them, they can teach us to see ourselves the same way.
I have spent my entire life helping millions of children across the world. I would never harm a child. It is unfortunate that some individuals have seen fit to come forward and make a complaint that is completely false. Years ago, I settled with certain individuals because I was concerned about my family and the media scrutiny that would have ensued if I fought the matter in court. These people wanted to exploit my concern for children by threatening to destroy what I believe in and what I do. I have been a vulnerable target for those who want money.
I trusted Martin Bashir to come into my life and that of my family because I wanted the truth to be told. Martin Bashir persuaded me to trust him that his would be an honest and fair portrayal of my life and told me that he was the man that turned Diana's life around. I am surprised that a professional journalist would compromise his integrity by deceiving me in this way. Today I feel more betrayed than perhaps ever before; that someone, who had got to know my children, my staff and me, whom I let into my heart and told the truth, could then sacrifice the trust I placed in him and produce this terrible and unfair programme. Everyone who knows me will know the truth which is that my children come first in my life and that I would never harm any child. I also want to thank my fans around the world for the overwhelming number of messages of support that I have received, particularly from Great Britain, where people have e-mailed me and said how appalled they were by the Bashir film. Their love and support has touched me greatly.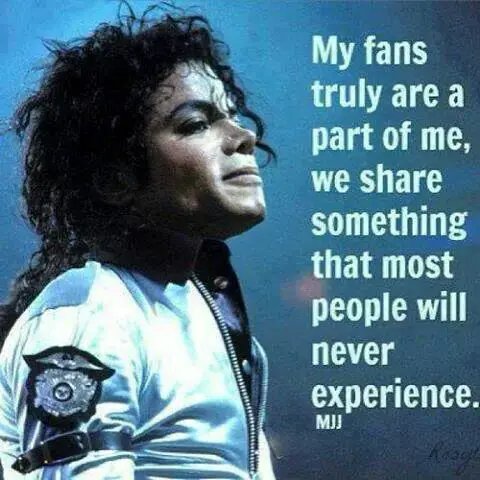 Liked these Michael Jackson Quotes? Then share them with your friends. They would thank you.