Scotland Plans To Become A Part Of Russia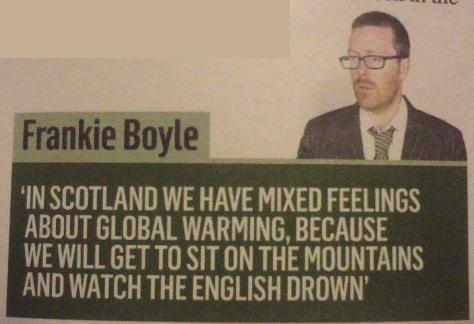 You may have heard of Scotland's Independence Referendum. But what you have not heard of, is the new plan for Scotland to become a part of Russia. This plan has been approved by both the governments of Russia and Scotland. But EU and Great Britain are in a state of rage.
Scotland's government has explained a decision to join Russia by saying that lots of Scottish dogs are of Russian origin.
Vladimir Putin, on the other hand, has explained that he owns a few dogs of Scottish breed, so he feels compelled to help his dog's family. He also cited a high number of Russian tourists as the reason to send troops to Scotland.
Great Britain and European Union have made harsh statements. They said they would ban the import of Russian-made hats. NATO have said they will conduct military exercises on the territory of Great Britain. This said, NATO have stated that in no way they will engage with Russian troops, even if Russian troops call them a bunch of pussies.
David Cameron has accused Vladimir Putin of fomenting national unrest. Putin replied: "Please stop your unkind statements. We care only about the safety of Russian tourists and Scottish dogs. Please let us protect them."
Obama said that Putin's actions cross a red line. His wife has added that he is too much of a pussy to do anything about it. After his wife's statement, Obama broke down and cried.
Ten minutes after Obama cried on live television, Putin has reportedly congratulated Obama on having a good handle on his feelings. Then added: "That's a joke. We sympathize with our American partners and willing to provide any help."
A few hours after Putin offered help, Obama said that he would seek a significant expansion of sanctions. Asked if that would mirror EU's sanctions, he replied: "Yes, indeed. We believe that banning Russia's hats and towels would have a significant impact on their economy."
Economists stated that "these sanctions may have a big impact on Russia's economy, in only two thousand years."
Fox News have characterized this development as everyday politics. They reported this development under the title of "Obama Bans Russia's Hats and Towels".
Fox News have not mentioned the fact of Russia sending its troops to Scotland. Instead, they concentrated on the high quality of Russia's hats and towels and the negative impact their ban would have on the United States' economy. They said their article has nothing to do with the ads Vladimir Putin has bought for Russian-made towels and hats.
Liberal media have reported this development as minor issue unlikely to affect American people. They are right. They are more important things to concentrate on, like the negative impact of bubble gum on women and children.
Leave us your comment. We are likely to reply. These two statements are the only two non-satirical ones in this article. This said, we will not reply to your comment if we get lazy.

Latest posts by Roman Marshanski
(see all)