Potato Salad Guy Inspires A Movie. Thanks Kickstarter.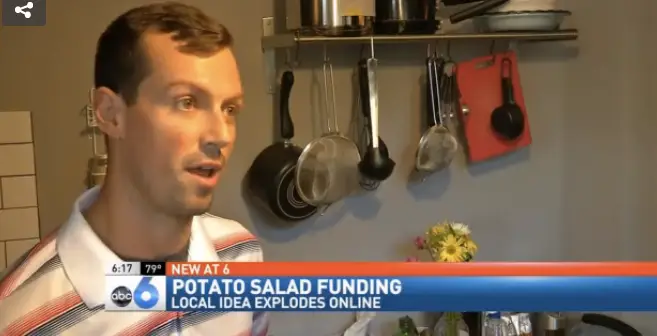 You may have heard of a guy who raised '$55,492 for his potato salad'. Now he will get even more famous. Now he will get Brad Pitt famous.
In a sense, he has already shown the world that potato salad can change the world. And boy, did he show it! Indeed, he has not simply shown it. He has taken this statement to its logical extreme.
He has been profiled by Cnet, TechCrunch, and many other serious publications. Publications that rarely report news related to potato salads. Now they do, and you better get used to it. Very soon you will be hearing of him again. Very soon you will be hearing of him as often as you hear of Brad Pitt and other Hollywood celebrities.
Certain sources close to Paramount Studios have reported that its executives have approached him to make a movie. The tentative title is "How One Potato Salad Has Changed My Life".
That movie would center around the guy's days before and after his fame. It would chronicle the events of his life to try to answer the question: "What has made him such a charismatic person?"
Indeed, charismatic person he is. Lots of people cannot fund things far more serious than a potato salad, yet he did a wonderful job promoting a potato salad. You, of course, are not interested in our comments, so we shut up and let you read more of the inside scoop our exclusive Hollywood sources have provided us.
Certain sources close to Paramount Studios have also reported that Paramount is looking to attach either Steven Spielberg or Martin Scorsese. None of these two great directors have been contacted by Paramount. However, their family members have stated they "have enormous respect for Zack Danger Brown" – the creator of Kickstarter potato salad project.
No wonder both Spielberg and Scorsese respect Zack. He was not only convincing but also humble. He stated in "Risks and challenges" part of his page that "It [potato salad] might not be that good. It's my first potato salad."
Paramount spokesperson has not returned our request for comment. However, our source close to Paramount execs told us that he loves potato salad. Perhaps it was a hint that the execs at Paramount also love it. And how can you not?
If the guy was able to raise $55,492 for his potato salad in only 30 days, it is safe to assume the movie based on his idea will make at least a couple million dollars in a day or two. It is also safe to assume the guy will make a fortune producing his own potato-themed salad. So will anyone who will come on-board of his project.
Because of such amazing potential, lots of stars are already interested. And Paramount Studios may actually hold auditions, where the likes of Brad Pitt and Tom Cruise will vie for an honor to star in a potato-themed movie.
Dreams do come true. Thank you, Zack Danger Brown, for letting everyone know that a thing as simple as a potato salad can change the whole wide world!

Latest posts by Roman Marshanski
(see all)