36 Elizabeth Taylor Quotes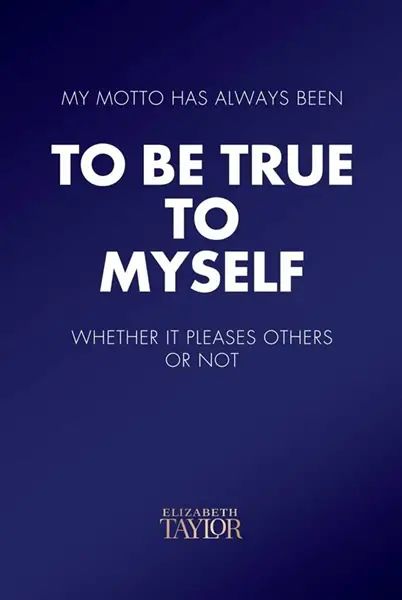 Enjoy the best Elizabeth Taylor quotes. Famous Quotes by Elizabeth Taylor, Actress.
The problem with people who have no vices is that generally you can be pretty sure they're going to have some pretty annoying virtues.
I don't entirely approve of some of the things I have done, or am, or have been. But I'm me. God knows, I'm me.
[on Marilyn Monroe] She seemed to have a kind of unconscious glow about her physical self that was innocent, like a child. When she posed nude, it was 'Gee, I am kind of, you know, sort of dishy,' like she enjoyed it without being egotistical.
Check out the best of Marilyn Monroe Quotes
[on her conversion to Judaism] had absolutely nothing to do with my past marriage to Mike [Todd] or my upcoming marriage to Eddie Fisher, both of whom were Jewish. It was something I had wanted to do for a long time.
Check out our awesome collection of Really Funny Marriage Jokes
Success is a great deodorant. It takes away all your past smells.
[Cannes, May 2001] If not to make the world better, what is money for?
You find out who your real friends are when you're involved in a scandal.
Check out Really Funny Friendship Quotes that will make you laugh
I hate being called "Liz", because it can sound like such a hiss.
I don't remember much about "Cleopatra". There were a lot of other things going on.
I've come through things that would have felled an ox. That fills me with optimism, not just for myself but for our particular species.
Read our favorite Quotes About Optimism that will inspire you
The ups and downs, the problems and stress, along with all the happiness, have given me optimism and hope because I am living proof of survival.
If someone's dumb enough to offer me a million dollars to make a picture, I'm certainly not dumb enough to turn it down.
[on Michael Jackson] He is one of the most normal people I know.
[on Michael Jackson] He is part of my heart. We would do anything for each other.
Check out the best of Michael Jackson Quotes
[on the death of Michael Jackson] I just don't believe that Michael would want me to share my grief with millions of others. How I feel is between us. Not a public event.
[on Michael Jackson] What is a genius? What is a living legend? What is a mega star? Michael Jackson – that's all. And when you think you know him, he gives you more . . . I think he is one of the finest people to hit this planet, and, in my estimation, he is the true King of Pop, Rock and Soul.
I will love Michael Jackson forever. (On Michael Jackson's death)
Share these Elizabeth Taylor Quotes with your friends
I, along with the critics, have never taken myself very seriously.
I believe in mind over matter and doing anything you set your mind on.
[on John Wayne] He is as tough as an old nut and as soft as a yellow ribbon.
[on Clark Gable] He was the epitome of the movie star — so romantic, such bearing, such friendliness.
Check out the best of Clark Gable Quotes
[About Montgomery Clift] The most gorgeous thing in the world and easily one of the best actors.
One problem with people who have no vices is that they're pretty sure to have some annoying virtues.
[on Montgomery Clift] Monty was the most emotional actor I have ever worked with. And it is contagious.
[on turning 53 years old] I think I'm finally growing up – and about time.
Check out the best Quotes About Growing Up
I had a hollow leg. I could drink everyone under the table and not get drunk. My capacity was terrifying.
[on Eddie Fisher] I'm not taking anything away from Debbie [Debbie Reynolds] because she never really had it.
My mother says I didn't open my eyes for eight days after I was born, but when I did, the first thing I saw was an engagement ring. I was hooked.
I have the emotions of a child in the body of a woman. I was rushed into womanhood for the movies. It caused me long moments of unhappiness and doubt.
[2005] There's still so much more to do. I can't sit back and be complacent, and none of us should be. I get around now in a wheelchair, but I get around.
I don't pretend to be an ordinary housewife.
Some of my best leading men have been dogs and horses.
[on John Wayne] His image had as much impact in the world as many of our presidents have had, but Duke was a great actor, a great humanitarian, but always himself. To be a friend was a lifetime thing.
[on her weight fluctuations] When you're fat, the world is divided into two groups – people who bug you and people who leave you alone. The funny thing is, supporters and saboteurs exist in either camp.
[2005] Acting is, to me now, artificial. Seeing people suffer is real. It couldn't be more real. Some people don't like to look at it in the face because it's painful. But if nobody does, then nothing gets done.
[on Michael Wilding] I'm afraid in those last few years I gave him a rather rough time. Sort of henpecked him and probably wasn't mature enough for him. It wasn't that we had anything to fight over. We just weren't happy.
Richard came on the set and sort of sidled over to me and said: "Has anybody ever told you that you're a very pretty girl?" 'I thought, Oy gevalt, the great lover, the great wit, the great Welsh intellectual, and he comes out with a corny line like that! But then I noticed his hands were shaking as if he had Saturday night palsy. He had the worst hangover I'd ever seen. And he was obviously terrified of me. I just took pity on him. I realized he really was human. That was the beginning of our affair.
Liked these Elizabeth Taylor Quotes? Then share them with everyone you know.

Latest posts by Roman Marshanski
(see all)