16 Chris Brown Jokes
These Chris Brown jokes will sure make you laugh out loud. They include all the best jokes regular people and professional comedians have made about Chris Brown and Rihanna.
1. Someone asked me who do I prefer "Chris Brown or Rihanna?" In hindsight I shouldn't have replied "Chris Brown beats Rihanna every time."
2. Chris Brown cited Michael Jackson as his role model, unfortunately his favorite song was Beat It.
3. Q: Why don't hipsters beat their girlfriends? A: Because Chris Brown made it mainstream.
4. Here's how MacFarlane introduced "Django Unchained": "This is the story of a man fighting to get back his woman, who's been subjected to unthinkable violence. Or as Chris Brown and Rihanna call it, a date movie."
5. Q: How do you know the tough economy is affecting celebrities? A1: Chris Brown and Rihanna are carpooling again! A2: Chris Brown and Rihanna are sharing herpes medication!
6. Q: Why is Chris Brown suing Charlie Sheen? A: Because Charlie is replacing him as the biggest celebrity disaster on TV!
7. Q: What song was Chris Brown singing when he was choking Rihanna? A: Jordin Sparks "No Air"!
8. A chimpanzee has brutally attacked a woman, nearly killing her while mauling her face… But enough about Chris Brown.
9. Q: Why does Chris Brown have red eyes after s**? A: Pepper spray.
10. I bet Chris Brown's snooze button has been disabled by his beating.
11. Q: Why did Chris Brown break up with Rihanna? A: He wanted to be free to hit on other women!
12. Reporter: "Why are you dating Chris Brown again?" Rihanna: "Beats Me."
13. The gossip mags are reporting Rihanna has broken up with Chris Brown after she caught him cheating with a waitress.
14. A source close to the couple says Rihanna knew something was up when Brown came home with another woman's lipstick on his knuckles.
15. Q: A Recent poll state the most women wanted George Clooney to hit on them. Who was the least wanted? A: Chris Brown
16. Rihanna's IQ is 117. Can you beat that? Chris Brown can!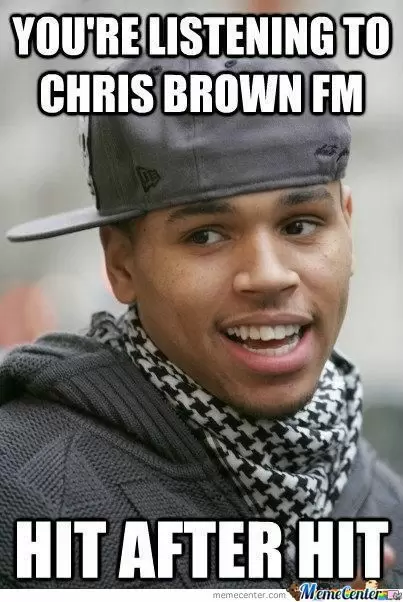 Latest posts by Roman Marshanski
(see all)