High School For Sale: Student Prank
Ever thought about buying your old high school? Well, now you can. You don't even have to be a multimillionaire.
You even don't have to have corrupt connections in the bank to get a phony loan. All you have to do, is put it on Craigslist for a reduced price, make a bid to yourself, then accept it. Finally, sue your old high school for not transferring their ownership to you.
The guy who pulled this prank in real life didn't go so far. He has only posted the picture of it with a price: "50,000$". Here is the picture by the way: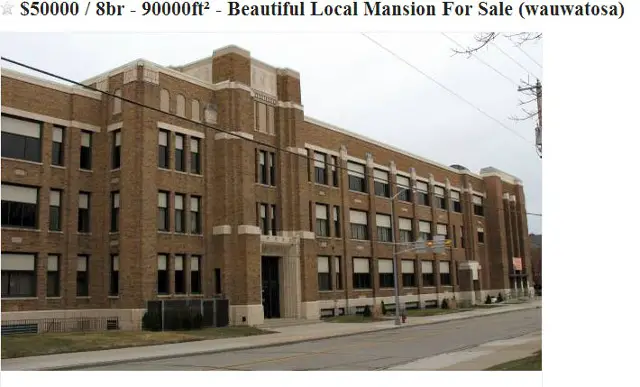 Seems like a reasonable deal. Though the location is quite far from Beverly Hills, for the price given I'd be willing to get to Beverly Hills every morning by helicopter.
Curious about other "specs" of this mansion? Well, read the description:
– "Features over 90,000 square feet over four floors, a state-of-the-art theater, weight room, cardio room, swimming pool, recreation center, fenced-in soccer field and a dining room that can seat 1,000."
– "Enough parking for one large family (80 car parking lot)"
– "Third floor needs renovations."
Damnit, I was going to buy it. But the third floor killed it for me. Fate.
Don't believe this prank really happened?
We don't believe it either, so check the original source.
What to do next?
1. Have your own article about something weird? Submit your article
2. Want more weird news? Check out our full collection of Weird and Funny News

Latest posts by Roman Marshanski
(see all)