George Bush and Barack Obama Form A Boy Band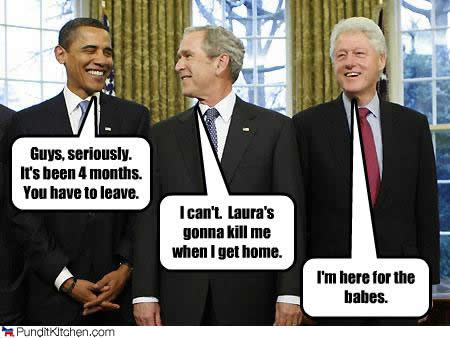 George Bush and Barack Obama have announced that they are forming a boy band 'A Bunch Of Retards'. Either Dick Cheney or Joe Biden is expected to join them.
Barack is said to have been jealous of Jay-Z's success. More than anything else, he was jealous of his hot wife Beyonce.
Sources close to Obama tell us he hopes to steal Beyonce from Jay-Z, or at least get laid with Shakira.
I don't know why getting laid with Shakira is "at least". I myself think it's equal to getting laid with Beyonce. But sources close to Obama tell us that this is Obama's viewpoint.
George Bush, on the other hand, wants to vent his frustration at no longer having anything significant to ruin. He said – to one of sources that chose to remain anonymous:
"I've spent eight years in office diligently ruining the country. Now that I no longer have that, what am I supposed to do? I've got nothing to ruin. I feel sad because of that. Even Dick's friendship is no longer enough."
Asked why he thinks singing in a boy band would help ruin anything, George Bush answered:
"Hell, my singing is even worse than my presidential skills. But I love it, just like I love painting. I'm better at painting though. So I think I better concentrate at something I'm bad at. This way I can be more successful at ruining people's lives."
Dick Cheney has not responded to journalists' requests for comment. But his attorney has threatened to sue them, citing their disturbance of Dick's peace.
Joe Biden said he is looking forward to doing Jack Nicholson impression. When told this is a boy band and not an acting role, Joe asked:
"What, they told me I can do Jack Nicholson impression. That's the only thing I'm good at."
Dick Cheney and Joe Biden will compete to be the third wheel. Joe Biden was okay with having a four-boy-band. But Dick Cheney cited his "big ego" as the reason he could not be in the same room with three equals. He said he can be in a room only if his colleagues are intellectual-inferiors he can easily manipulate. He said that George Bush and Barack Obama perfectly fit that description, so he cannot wait to sign with them.
The trio is scheduled to begin singing after Obama leaves the Oval Office. Their first concert is scheduled to take place in the White House on the first day of Obama's successor. They say it would help American people understand that the new president is unlikely to ruin the country more than they did.
The name of their first single has been chosen too. It's called 'The Day I Ruined My Country'. It would show their ill-fated patriotism.
Jay-Z and Beyonce are expected to guest star in their first music video. Obama is reportedly very happy that he will be able to hit on Beyonce. So is his partner Dick.
No singles have been released yet. Critics, however, have pointed to Bush's success with painting and Obama's success with fundraising. So in the worst case scenario they will at least raise some money and help the poor.
The proceeds of their singing careers are expected to go to victims of their failed policies.
We are hardly surprised by these political news. The lives of politician and singer are very much alike. Both are filled with words that rarely mean anything.