10 Top John Dillinger Quotes You Need To Know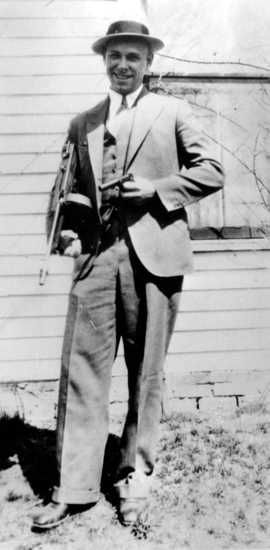 Enjoy 10 top John Dillinger quotes. Quotes by John Dillinger, American Gangster.
1. All my life I wanted to be a bank robber. Carry a gun and wear a mask. Now that it's happened I guess I'm just about the best bank robber they ever had. And I sure am happy.
Check out some awesome Optimism Quotes
2. I'm traveling a one-way road, and I'm not fooling myself as to what the end will be. If I surrender, I know it means the electric chair. If I go on, it's just a question of how much time I have left.
3. They're not going to get me.
4. OK, boys; let's go make a withdrawal.
5. I rob banks for a living. What do you do?
Check out some hilarious Banker Jokes
6. I won't cause you any trouble except to escape.
7. Now nobody get nervous, you ain't got nothing to fear. You're being robbed by the John Dillinger Gang, that's the best there is!
Share these John Dillinger quotes with your friends
8. My buddies wanted to be firemen, farmers or policemen, something like that. Not me, I just wanted to steal people's money!
Check out some awesome Money Jokes
9. We're having too good a time today. We ain't thinking about tomorrow.
10. These few dollars you lose here today are going to buy you stories to tell your children and great-grandchildren. This could be one of the big moments in your life. Don't make it your last!
John Dillinger Last Words
According to some sources, John Dillinger's last words were: 'You got me'. Some report that he said them after a gun battle with the FBI agents. However, other sources dispute this fact and say that he died in complete silence.
The gun battle that led to his death occurred on July 22nd 1934. He was 32 years old.
The informant by name of Anna Sage led to John Dillinger's apprehension by authorities. Her information about his plan to visit a movie theater with his girlfriend led to his ultimate downfall.
The interesting fact about his apprehension is that the federal agents who secretly occupied the movie theater in order to capture him were mistaken by a movie theater employee for robbers. But when he called the police, he was informed by these federal agents that they were on a hunt for an important criminal.
After the movie has finished, the federal agents surrounded John Dillinger, and he decided to shoot his way out. That is when he was killed. Though it is widely reported that John's last words were 'you got me', the agents who killed John Dillinger say that he died in silence.
Want more famous gangster quotes?
Then check out 17 Famous Al Capone Quotes or 10 Top Pablo Escobar Quotes. Alternatively, check out some amazing Heart Of Darkness Quotes.
John Dillinger Biography
Liked this page?
Then why not get our iOS app from
Apple App Store
? Then you will have the world's biggest collection of jokes and inspiring quotes right in your pocket, and the app will work faster than the site, so it will save you time and keep you entertained.

Latest posts by Roman Marshanski
(see all)