55 Best Funny Irish Blessings, Sayings, & Proverbs
LOL with these 55 funny Irish blessings, sayings, and proverbs now. Experience their witty wisdom and pick one for your next toast.
Some of these sayings are weird. Some are witty. Some are just humorous. But all of them are awesome. They're awesome because they encapsulate the unique spirit of Ireland. That spirit is present in all of these awesome Irish proverbs.
Feel free to use them for weddings, anniversaries, birthdays, and all other celebrations. Oh, and don't forget to use them for Saint Patrick's Day. You should definitely partake in the culture of Irish people for at least one day in the year. Just don't get so drunk you experience an Irish hangover.
15 Funny Irish Blessings
These funny Irish blessings contain both wisdom and wit. Plus, a few are perfect for a wedding toast. And most of these blessings are traditional and pretty short. So may you have a memory good enough to remember them at the next Saint Patrick's Day.
May the hinges of our friendship never grow rusty.
May I see you grey and combing your children's hair.
Bless your little Irish heart and every other Irish part.
May the Good Lord take a liking to you — but, not too soon.
May you live long, die happy, and rate a mansion in heaven.
May the grass grow long on the road to hell for want of use.
When I count my blessings, I count you twice. May God bless you.
May you be a half hour in heaven before the devil knows you're dead.
May you live to be a hundred years, with one extra year to repent.
I have known many, liked not a few, loved only one, I drink to you.
May the Lord keep you in His hand and never close His fist too tight.
May you live as long as you want, and never want as long as you live.
May there be a generation of children on the children of your children.
When a twig grows hard it is difficult to twist it. Every beginning is weak.
May you die in bed at ninety-five years, shot by a jealous husband or wife.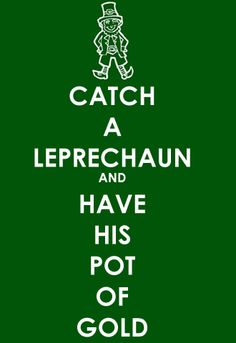 If you want more drinking sayings, please check out 35 Best Funny Drinking Toasts For Friends now.
16 Funny Irish Proverbs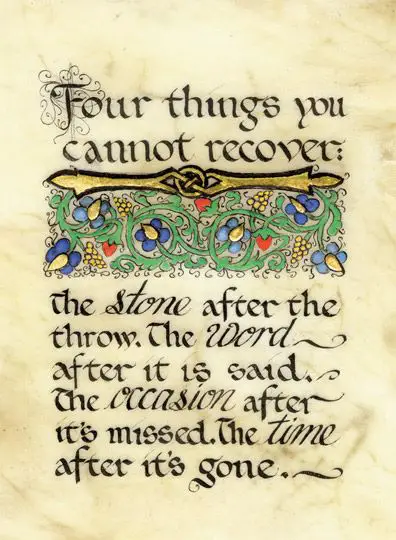 A drink precedes a story.
Time is a great story teller.
A friend's eye is a good mirror.
Even a small thorn causes festering.
Good as drink is, it ends in thirst.
It is a long road that has no turning.
As the big hound is, so will the pup be.
A trade not properly learned is an enemy.
Beautiful young people are acts of nature. But beautiful old people are works of art.
Put silk on a goat, and it's still a goat.
When the liquor was gone the fun was gone.
There is no fireside like your own fireside.
It is not a secret if it is known by three people.
It takes time to build castles. Rome was not built in a day.
The man with the boots does not mind where he places his foot.
If you do not sow in the spring you will not reap in the autumn.
11 Funny Irish Sayings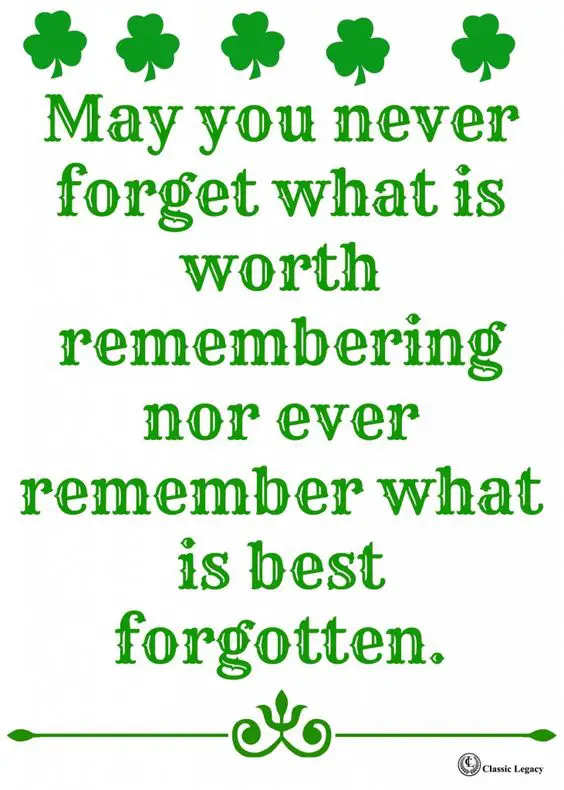 The Emerald Isle is rich with tradition and history. No wonder then that its people have come up with so many memorable sayings. Some of the funniest ones are below for your entertainment.
As you slide down the banisters of life, may the splinters never point the wrong way.
May the roof above us never fall in, and may we friends gathered below never fall out.
Here's that we may always have a clean shirt, a clean conscience, and a guinea in our pocket.
In the New Year, may your right hand always be stretched out in friendship and never in want.
May your neighbors respect you, Trouble neglect you, The angels protect you, And heaven accept you.
May your pockets be heavy and your heart be light, may good luck pursue you each morning and night.
May the sound of happy music, And the lilt of Irish laughter, fill your heart with gladness, that stays forever after.
May you have the hindsight to know where you've been, the foresight to know where you're going and the insight to know when you're going too far.
May the frost never afflict your spuds. May the outside leaves of your cabbage always be free from worms. May the crow never pick your haystack, and may your donkey always be in foal.
May you be poor in misfortune, rich in blessings, slow to make enemies, quick to make friends. But rich or poor, quick or slow, may you know nothing but happiness from this day forward.
May your doctor never earn a dollar out of you and may your heart never give out. May the ten toes of your feet steer you clear of all misfortune, and before you're much older, may you hear much better toasts than this.
9 Irish Phrases
Below are some memorable phrases from that beautiful island called Ireland.
I'm Irish and Catholic. See my picture in the dictionary next to the word
"guilt".
A good laugh and a long sleep are the two best cures for anything.
This isn't a hangover. That's the Irish flu.
You've got to do your own growing, no matter how tall your grandfather was.
He who keeps his tongue keeps his friends.
May your coffee be strong and your Monday be short.
Why should you never iron a four-leaf clover? You don't want to press your luck.
Who gossips with you will gossip of you.
In heaven, there's no beer. That's why we drink ours here.
Related Links