Best Comedy Movies Of All Time + Funniest Movies From Recent Years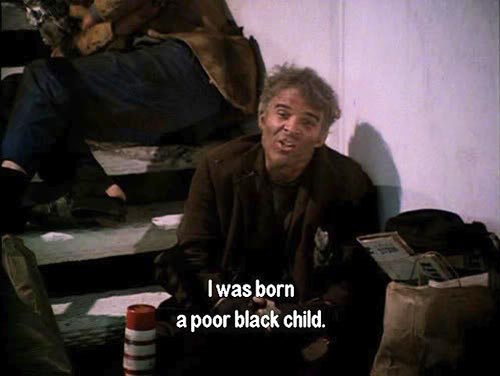 Exciting World of Comedy Movies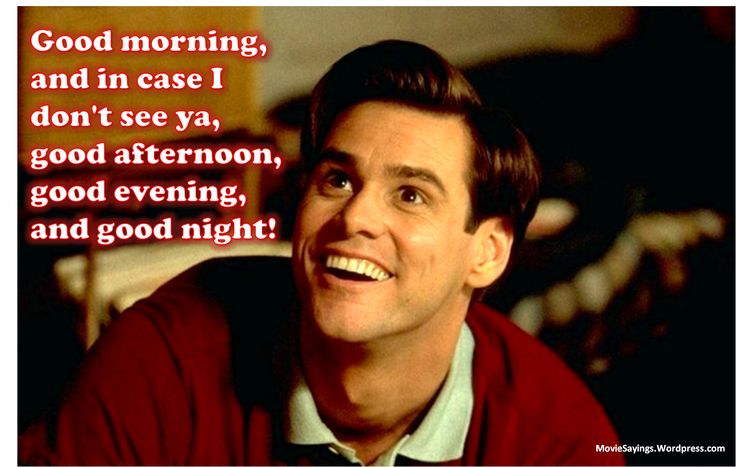 Humanity has become so used to the art of cinema that now virtually every person on the planet has their favorite genre. Comedy is definitely one of the most popular ones.
Sometimes you want to stretch on the couch surrounded by family or friends, and disconnect from all the problems of everyday life. Comedy movies can help you do just that. They make you forget that tomorrow you have go to work again, or finish repairing your house, or solve some other, even more complicated problems. And even if you have to spend the evening alone, a good comedy movie will help you all the same, and it will help again, whenever you choose to watch it.
Comedy movies were originally created with the aim to bring a smile and hopefully a laugh to the person watching it. They emerged as early as cinema came into existence. As a matter of fact, some of the first movies were comedies.
Originally, comedies lacked sound and were black-and-white. This did not make them dull though. On the contrary, many of them turned out to be funny and amusing, even exciting. Just remember Charlie Chaplin. Even to this day his films can make any person not only laugh but also cry.
It is difficult to list the best comedy movies of all time. Therefore, this list is only an opinion. However, we strongly believe that all the movies in this list deserve your full attention. In any case, do leave your opinion after reading this article: we would love to hear of any other comedy movies we may have missed.
Best Comedy Movies of All Time
DUMB AND DUMBER (1994) Jim Carrey and Jeff Daniels bring respect back to the buddy road trip genre by debasing themselves entirely. As kindred morons cut from the same whoopee cushion, Carrey and Daniels embark cross-country for love, become social elites for a weekend, accidentally thwart a kidnapping, and frustrate the bejeesus out of everyone they meet along the way. Wanna hear the most annoying sound in the world?
THE GOLD RUSH (1925) By common agreement (including Charlie's) this is Chaplin's greatest silent film. Alternating between heads-on slapstick and poetic mime, the famous Little Tramp pans for nuggets in Alaska–and winds up broke. In a classic scene, he and his customary foil, Big Jim (Mack Swain), get so hungry that Charlie cooks a boot for dinner, carving it like a steak, then delicately twirls the shoelaces around his fork pasta-style. Chaplin's comic techniques were to set the standard for the next 50 years.
RAISING ARIZONA (1987) For their third film, Joel and Ethan Coen hit their stride by effectively trapping Nicolas Cage in a live-action Looney Tunes version of Crime and Punishment. The crime: babynapping. The punishment: guilt, dirty diapers, a police investigation, marital woes (via a fiery Holly Hunter), rude houseguests (via John Goodman and William Forsythe's bungling brother jailbreakers,) madcap car/foot/dog chases, and an encounter with the Lone Biker Of The Apocalypse. It's even better than it sounds.
TOY STORY (1995) One of the most important movies ever made about friendship stars Tim Allen as a plastic space man—and no, we're not talking about Galaxy Quest. The first of many excellent Disney-Pixar feature film collaborations, Toy Story set a new standard for computer animation, and family-friendly comedy strong enough to crack the hardest polyurethane hearts.
THE BIG LEBOWSKI (1998) After he's mistaken for a millionaire of the same name, Jeffrey "The Dude" Lebowski and his bowling buddies enter a world of pain. Part Western folk legend, part Buddhism-via-bowling parable, part hard-boiled trip down the rabbit hole to L.A.'s darkest, weirdest crannies, the Coen Brothers' Big Lebowski is a brilliant, bizarre, and endlessly quotable universe unto itself.
TOOTSIE (1982) A self-centered actor (Dustin Hoffman) can't land a job–because the only parts available are for women. So he dresses as one, gets a soap opera part, learns how the other half lives, and becomes a better man/woman for it. Smart direction by Sydney Pollack (who also plays an agent) stresses credibility and gets laughs. So do Bill Murray, Teri Garr, Jessica Lange and Dabney Coleman.
THIS IS SPINAL TAP (1984) Rock 'n' roll has the courage to laugh at itself in Rob Reiner's pioneering mockumentary. It follows a British heavy metal group, short on talent and money, as they tour third-rate venues across the United States on their way to oblivion. With wonderfully straight-faced performances by Chris Guest, Michael McKean, Harry Shearer, Bruno Kirby and Tony Hendra.
THE GENERAL (1927) Celebrated as the Great Stone Face because he so rarely cracked a smile, Buster Keaton is remembered as an adroit stunt man and knockabout comedian. But he was far more than that, as demonstrated by this extraordinary silent comedy of the Civil War. As a train engineer who recaptures some hijacked rolling stock, Keaton is audacious, poetic and explosively amusing. As the film's director, he scintillates
ANALYZE THIS (1999) A mob capo (Robert De Niro) suddenly begins to suffer from panic attacks. Distressed, his bodyguard (Joe Viterelli) seeks out a shrink (Billy Crystal). and the complications begin. The doctor is a family psychiatrist, but this is definitely not the kind of family he had in mind. De Niro displays a great gift for comedy, and a very funny Crystal doesn't make the obvious choices. Even so, Viterelli practically steals this surprisingly well-made picture.
GHOSTBUSTERS (1984) House haunted? Hire Dan Aykroyd and Bill Murray, who know how to dispel ghosts and dispense jokes. So do Sigourney Weaver, Harold Ramis, Rick Moranis and director Ivan Reitman.
ACE VENTURE: PET DETECTIVE (1994) As Miami's Sherlock Holmes of animal-related crimes, Ace Venture must break up a dolphin-smuggling ring to save the Super Bowl. Don't knock the script for being unoriginal! Beyond the menagerie of quips and physical comedy set pieces, this outlandish caper transformed character actor James Carrey into the limb-flailing Jim of legend, beginning an era where Carrey could do no wrong—even while, literally, talking out
of his behind.
A FISH CALLED WANDA (1988) A shaggy fish tale, written by former Monty Python veteran John Cleese, who also stars in this caper gone mad. Fellow Pythonite Michael Palin helps enormously, as do Jamie Lee Curtis and a frantically stuttering Kevin Kline.
PRIZZI'S HONOR (1985) Jack Nicholson is a lightheaded hit man for the mob. He falls in love with Kathleen Turner, who turns out to be a hit woman for another mob, with a very uncomfortable agenda. Black comedy–or rather Black Hand comedy–at its best. Anjelica Huston is as fine as the leads, and her father, John, did a classy job of direction.
M*A*S*H (1970) Robert Altman's weirdly appealing antiwar comedy that gave birth to the tamer, long-running TV series. With overlapping dialogue, odd camera angles and provocative performances by Donald Sutherland, Elliott Gould, Sally Kellerman
GOOD MORNING, VIETNAM (1987) The story, much exaggerated, of Adrian Cronauer. This one-time disc jockey was the voice of Armed Forces Radio until he was forced out in 1965. Robin Williams takes the bio and runs with it. Uneven but inventive humor with a moral. Forest Whitaker offers strong backup; Barry Levinson directed with heart as well as funnybone.
CLERKS (1994) Through black-and-white vignettes set in a New Jersey Quick Stop, director Kevin Smith's first film captures the funny, the raunchy, the horrible, and occasionally the sublime moments of life at a terrible day job. Most of the comedy wasn't even a stretch; Smith wrote and shot the film for about $27,000 in the convenience store where he worked, making Clerks the first major cult comedy success of the '90s home movie era. Not to brag, but it's also the most stolen American VHS tape of all time.
CADDYSHACK (1980) Helming his first film, Harold Ramis swings in all directions for this cult-classic collage of comic royalty. Chevy Chase smiles through disaster, Ted Knight sneers at joy, Bill Murray hunts a ridiculous gopher puppet, and Rodney Dangerfield pretty much just plays an upbeat clone of himself.
Funniest Movies From Recent Years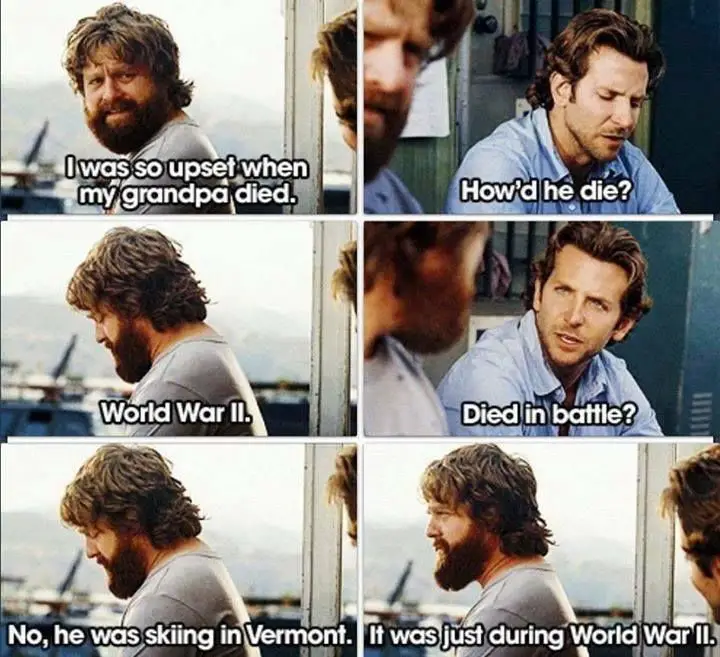 Funniest Movies From 2009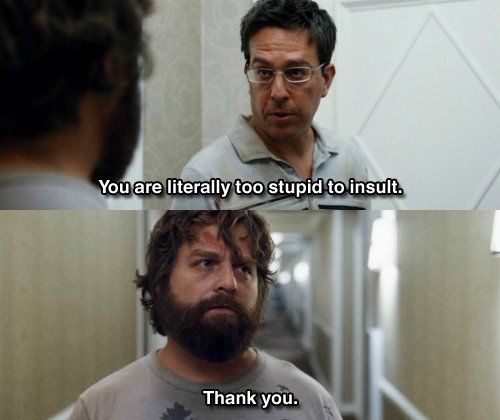 The Hangover
Three buddies wake up from a bachelor party in Las Vegas, with no memory of the previous night and the bachelor missing. They make their way around the city in order to find their friend before his wedding.
The Hangover got 79% on Rotten Tomatoes. We don't agree with this rating. We think it deserves at least 90%. It is as hilarious as it is exhilarating.
500 Days of Summer (2009)
An offbeat romantic comedy about a woman who doesn't believe true love exists, and the young man who falls for her.
500 Days of Summer got 79% on Rotten Tomatoes. We agree with this rating. So does Roger Ebert. He gave this romantic comedy 4 stars.
Funniest Movies From 2014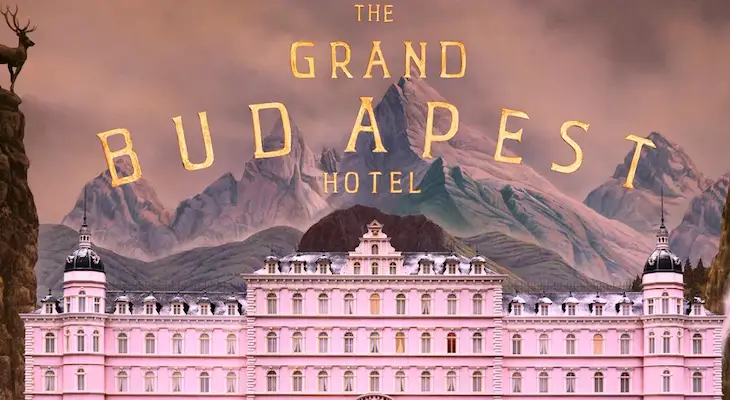 The Grand Budapest Hotel (2014)
The story of friendship, separation, love, and war. It is both comedy and drama. A masterpiece spanning both genres.
It takes place in the European hotel of early 20th century, in the fictional country Zubrovka. This oddball country features a famous hotel concierge of Grand Budapest Hotel: Gustav H (Ralph Fiennis). He bequeathed the famous painting "Boy With An Apple" from a fabulously wealthy woman Madame Dee. But her son suspects Gustav of killing her and vows to revenge her death. Did Gustav or her own family member murder her? That's the mystery that fills this movie with excitement.
No wonder this movie got 92% rating on Rotten Tomatoes. It is as exciting as it is hilarious. It is indeed an impeccable comedy gem worth seeing and sharing.
Frank (2014)
Unique and funny. Odd and amusing. This movie is a tour de force of modern cinema. It features Jon (Donal Gleeson), a young wanna-be musician, who is willing to do anything to become a member of a pop band. But when he finally gets what he wanted he finds he's bitten off more than he can chew. This eccentric pop band led by the mysterious and enigmatic Frank may be the culmination of Jon's desire to be musician. But will he be able to handle everything that comes with it? This question is the central theme of this movie that makes it exciting to watch.
This movie received 93% on Rotten Tomatoes for a reason.
Chef (2014)
Chef Carl Casper (Jon Favreau) leaves his job at the renowned restaurant in Los Angeles after accusations by his boss (Dustin Hoffman) to compromise with his creative nature. Going to Miami, he assembles a team to reclaim his creative potential: his ex-wife Inez, his best friend Martin, and his son. Together with them, he organizes a food truck that would be diffeent from all other food trucks.
Chemistry between Jon Favreau and Robert Downey Junior is really good. So is the chemistry between the main character and his his wife. Overall, the acting is really good as well.
The story is warm and uplifiting. It is human, relatable, and warm. Did we repeat the word "warm"? That's because it's double warm.
This comedy movie received 88% on Rotten Tomatoes. We agree with this rating. It has earned it through interesting story and well-acted performances. A film your family will enjoy.
Maps To The Stars (2014)
This satire chronicles the turbulent life of Hollywood family chasing the illusive dream of fame and glory. Though David Cronenberg directs it, it is far from his best work. And if you have watched some of his earlier movies, especially Eastern Promises, Maps To The Stars is likely to disappoint you on more than one level.
Though Julianne Moore is impeccable as always, she cannot lift this movie from mediocrity. But not because of her acting. Her acting is indeed impeccable. Other actors are also pretty good, except for Robert Pattinson, who sucks. However, the biggest fail is the script. It should have never been made. Cronenberg should have written another one.
No wonder this movie received 69% on Rotten Tomatoes. But we would not give it even that rating. So we do not agree with Rotten Tomatoes' critic who said that "Maps to the Stars still has enough bite to satisfy David Cronenberg fans in need of a coolly acidic fix." We think it has a weak "bite".
Upbeat movie which alternates between genius comedy and boring mediocrity. Overall, it is pretty good, but you may not like it if you are too used to Hollywood-fare.
It's story is what makes it so upbeat. After a series of offbeat coincidences, the guy realizes that after all his life is not that bad.
It did not get many critic reviews, so Rotten Tomatoes did not give it any score, either good or bad. But if we were Rotten Tomatoes, we would give it about 75%.
Stretch (2014)
Deep in gambling debt, limo driver picks up a crazy passenger to get a generous payment for "additonal services." But the closer the unlucky driver gets to fulfilling these "additonal services", the more he realizes he is unlikely to survive.
As you may see from the above paragraph, the storyline is trite. Good directing and acting do make up for the story. The humor in it is somewhat dull though. It can be funny, but it is far from the best, laugh-out-loud comedies.
This movie received 88% on Rotten Tomatoes. We don't agree with this rating. We think it is inflated.
2014 may have had more funny comedy movies. But we would not know if you don't share your favorites with us. So do leave a comment and let us know your favorite comedy for 2014. We may even review and include it in this list.

Latest posts by Roman Marshanski
(see all)