50 Top Heath Ledger Quotes You Need To Know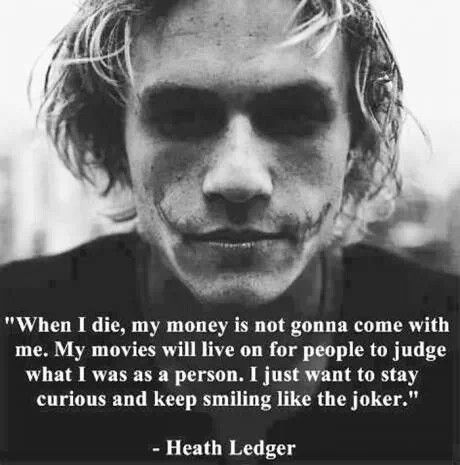 Enjoy 50 top Heath Ledger quotes. Quotes by Heath Ledger, Actor.
I never studied acting in Australia. I never had an empty stage and black pajamas to run around and express myself.
Brooklyn seems to me the closest thing in America to Europe. The neighbors and locals are beautiful people. It's like a village.
I prefer to date older women because they don't try to act older like younger girls but because they try to act younger.
Check Out 10 Top Heath Ledger Joker Quotes You Need To Know
It's a little uncomfortable doing love scenes in armor, but, you know, when the heat's on, the heat's on. ("Access Hollywood", August 2000)
Honesty always gets my attention. Not particularly someone who is honest to me, but someone who is honest with themselves. That is a quality I really enjoy, admire and love.
[about growing up with his mom and his sisters] I learned respect for women, and patience. You grow up with all those women around you…you learn to wait your turn. (Cosmopolitan, June 1998)
The Best Heath Ledger Quotes In Video
Browse a huge selection of Heath Ledger movies at Amazon.com
[on his sleeping problems] Last week I probably slept an average of two hours a night. I couldn't stop thinking. My body was exhausted, and my mind was still going. (The New York Times, November 2007)
I'm not good at future planning. I don't plan at all. I don't know what I'm doing tomorrow. I don't have a day planner and I don't have a diary. I completely live in the now, not in the past, not in the future.
I only do this because Im having fun. The day I stop having fun, I'll just walk away. I wasn't going to have fun doing a teen movie again…. I don't want to do this for the rest of my life….I don't want to spend the rest of my youth doing this in this industry. There's so much I want to discover. (Vanity Fair, August 2000)
[on playing "The Joker" in "The Dark Knight"] The Joker, so far, is definitely the most fun I've had with any character. He's just out of control — no empathy, he's a sociopath, uh, a psychotic, mass-murdering clown. And, uh, I'm just thoroughly, thoroughly enjoying it. It's just exceeded any expectations I had of what the experience would be like.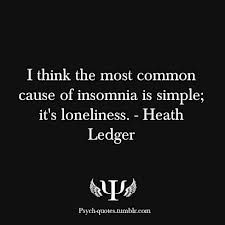 Share these Heath Ledger famous quotes with all your friends on Facebook
I'm shy. People get confused. They think as an actor you can get up and be confident on the screen. "Why aren't you like this in normal life? Why can't you act in your social life?" Because I can't! (NY Post, 2001)
[on his choice of film projects] I feel like I'm wasting time if I repeat myself. I can't say I'm proud of my work. It's the same with everything I do: the day I say 'It's good' is the day I should start doing something else.
Check Out The Best And Worst Of Marlon Brando Quotes
[on walking down the red carpet] Like diving into an Olympic pool, swimming the length underwater, then emerging gasping for breath. It's so noisy that it's quiet, you can't hear; the flashlights are so blinding that it's dark, you can't see.
[on daughter Matilda and being a father] Matilda is adorable, and beautifully observant and wise. Michelle and I love her so much. Becoming a father exceeds all my expectations. It's the most remarkable experience I've ever had – it's marvelous.
I don't have a method to my madness… For me, acting is more about self-exploration. I've learned a lot about myself in order to learn about the craft. I've always been very big on self-exploration and answering my own questions. (Vanity Fair, 2000)
Check Out 25 Top Motivational Jim Rohn Quotes You Need To Know
I start to get bored, not with the choices I was making, because I didn't really have a choice. The choices were being made for me — I was being thrown into projects. So I kind of put the brakes on that. In a sense, I destroyed my career to rebuild it again.
I love acting. Oh, God, I love it. But all this fame and all this bullshit attention. I'm not supernatural. I've done nothing extremely special to deserve the position. It happens every couple of years, and it's happened to hundreds of people before me. (Newsweek, July 2000)
[on his character "Ennis" in "Brokeback Mountain"] The challenge was to capture the stillness of him. I have kind of semi-frantic, nervous energy. Harnessing that was something I thought I'd have to work out. Shooting in the wilderness, the stillness became like this innate quality.
Check Out The Best And Worst Of Robert De Niro Quotes
A lot of people think ambition or success and they think dollars. My ambition is all in my head. I'm on a f—ing journey. I'm on a walkabout. It's about collecting wisdom of emotions and heart and self and understanding. Being absolutely comfortable with your body and life and the earth, sun, and moon being the only truths. That's what my success is, getting underneath that. (Entertainment Weekly, 2001)
[on dropping the character once the shoot ends] I kind of save the living for the time between action and cut. I'm pretty good at dropping a character once it's over for the day. Certainly once the film is over, I throw it all away. Your life is what matters. (Chicago Sun Times, November 2007)
Heath Ledger Quotes About Money
No amount of money changes what I do between 'action' and 'cut'. Before I got into the industry, I never imagined I'd have anywhere near the money I have now. I don't need any more. It's not that I don't want the money, it's just that I would have been really happy sitting on a beach or surfing every morning. I never had money, and I was very happy without it. When I die, my money's not gonna come with me. My movies will live on – for people to judge what I was as a person. I just want to stay curious.
Check Out Some Funny Money Jokes You Can Tell At Parties
I like to do something I fear. I like to set up obstacles and defeat them. I like to be afraid of the project. I always am. When I get cast in something, I always believe I shouldn't have been cast. I fooled them again. I can't do it. I don't know how to do it. There's a huge amount of anxiety that drowns out any excitement I have toward the project.
[on the directors he would have liked to work with] Look, most of them are dead. Fellini. Cassavettes. Bob Fosse. Stanley Kubrick. I would have loved to work with them. I would love to work with many people who are around, but they're not lining up just yet. Terrence Malick is one person who comes to mind. I would love to be in one of his visual poems. (Chicago Sun Times, November 2007)
Some people find their shtick. I've never figured out who Heath Ledger is on film: 'This is what you expect when you hire me, and it will be recognizable.' People always feel compelled to sum you up, to presume that they have you and can describe you. That's fine. But there are many stories inside of me and a lot I want to achieve outside of one flat note. (The New York Times, November 2007)
Check Out Really Funny Relationship Quotes That Will Make You Laugh
I have never had great expectations of my performance or of a film. I try not to think about the outcome. If you look that far ahead, it sort of taints your choices as an actor. I try as hard as I can to believe that no one is ever going to see it and that it's not even a movie. Then you can allow yourself to bare more. Then, once a project is done, I tend to forget about it until it comes out. (Daily Telegraph, November 2007)
I'm the worst auditioner, really, really bad. I mean, you're being judged and I'm just so aware of it that it consumes me. I can't relax, I'm tied in knots, so the voice is very taut and tense. You're so aware that you're acting 'cause you're sitting across from this lady with a piece of paper who's going, "I'm. Going. To. Shoot. You. If. You. Don't. Blah, blah, blah," in this emotionless voice. It's foul. I hate it. (EW.com, May 2001)
[about the paparazzi] Most of the time you don't even know they're there. Now, that's the scary thing. It's really strange and invading, but I'm still working it all out. I try to not let it bother me. I really try and find the humour in all of it. And if I want to swim naked in my pool, I'm still going to do it. I certainly don't want to feel that I have to change everything in my life that I do to cater to them. I just won't let it happen. (National Post, May 2001)
Heath Ledger Quotes About Acting
I don't have a technique. I've never been a believer in having one set technique on how to act. There are no rules and there is no rulebook. At the end of the day, it all comes down to my instincts. That's the one thing that guides me through every decision professionally. Socially, also. That's my technique. Yeah, you read through the script 100 times. I guess I have little characteristics about myself. Sometimes, most often than not, once we start shooting I won't look at the script at all until we finished shooting. It's kind of like it's been imprinted in my head during rehearsals. You just let it go. (Reel.com, May 2001)
Share these Heath Ledger quotes on social media
I think [getting the role] was tougher for other people to comprehend than it was for me. I'm looking forward to it. A part of me feels like I've been warming up to [playing the Joker] for years. In "The Brothers Grimm", [director] Terry Gilliam helped me put on a sort of clown act and adjust to that sort of pace. And I feel it's something within me I know how to do. I like putting on a mask. It'll be dark and sinister and exciting. Not being a huge comic book fan, and not one to really follow comic book movies, I'm relaxed about it. (NY Daily News, November 2006)
Heath Ledger Quotes About Los Angeles
People just love to bash LA. People say it's so pretentious, so arrogant, so this and that. But it's truly a wonderful place. You don't have to go to the places where that stuff goes on. You don't have to go to Beverly Hills, you don't have to go to the parties. You can live up in the Lower Canyon and live such a perfectly healthy, beautiful, fun life with all your friends. You can drive two hours one way and be at the Joshua Tree desert, two hours one way you're skiing at Big Bear. Sure, it can get full-on and that's why it's good to get out. But it's too easy just to say, "Nup, I hate it. I'm not living there anymore." (NW Magazine, March 2000)
[on choosing his roles] I don't have that much forward planning about what I want to do in the future. But I guess once I find something, like if I'm doing "Lords of Dogtown", I really like to flip the scale on the next job I'm doing. It's almost like you are a switchboard in a sound booth and on one job you use one side and by the end of the job you are kind of exhausted by it, but you didn't use any of the other side over here so you have to find something that will mean you using this half of your brain, energy wise, and that's how "Brokeback Mountain" and Casanova complemented each other. Brokeback was excruciating and "Casanova" was drinking wine and eating pasta, it was like a holiday. But I've got no future plans, I don't know what I'm going to do next as along as it scares me, as long as it's something new, as long as I get to scare other people. As long as it's an opportunity to evolve and grow as an actor and a person and challenge myself.
Liked these Heath Ledger quotes? Then learn more about him: check out Heath Ledger books on Amazon.com
Want more inspirational acting quotes by famous actors?
Then check out some witty Sean Connery Quotes or profound Al Pacino Quotes. Alternatively, check out some awesome, little known James Dean Quotes
Video With Heath Ledger Biography
Check out this video that explains Heath Ledger biography

Latest posts by Roman Marshanski
(see all)