15 Ford Focus Problems And Complaints You Need To Know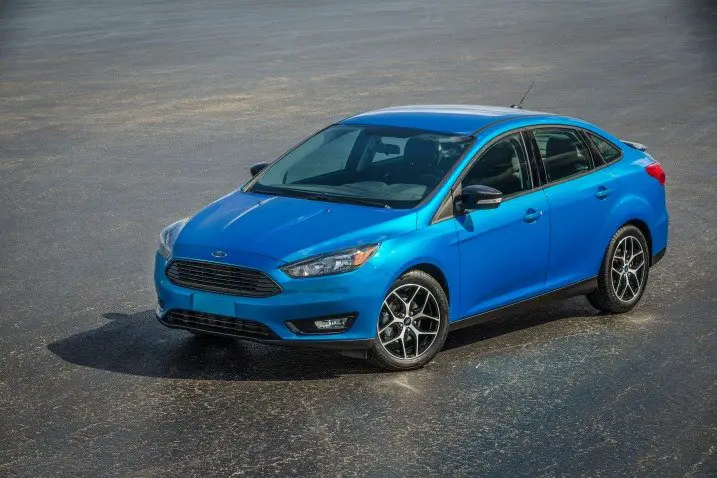 Check out 15 common Ford Focus problems and complaints so you may buy the right car.
Used Ford Focus: Bottom Line
Don't buy used Ford Focus produced in 2003. The people who bought it have often reported that the key won't turn in the ignition. Moreover, this model of Ford Focus has more complaints than any other model. So if you are looking at a particularly cheap Ford Focus produced in 2003, then the chances are that the owner is selling it because he had too many problems with it.
Common Ford Focus Problems And Complaints From Customers
1. 2013 Ford Focus Transmission Problem
My 2013 Ford Focus transmission is an unpredictable little monster. No problems that I noticed until about 10,000 miles when it because to shudder, jerk and "slip" just when I needed it to engage – accelerating into a merge, going from level ground to a street on a hill, passing and even in pulling out of the driveway. Until yesterday the dealer reps acknowledged the problems but now, today, the rep used the word, "Normal".
Well it may be normal for this transmission but when normal is dangerous then something should be done. For example, it's normal for rattlesnakes to be poisonous, however when there is a nest of them in a school yard and a kid could get bit… Something should be done to remove the danger.
2. Ford Focus Engine Problem
I read the list of complaints and thought everyone had read my mind. 155K and fine running car that I was delivering to my son in Alexandria. I had just replaced the tie rods, struts, shocks, rotors, and other parts to make it a safe car for his commute from Alexandria to Quantico. I rounded the turn from 66 to 110 S, and the car quit, dead. It had run like a top from Cleveland to Washington. I assumed it was a timing belt or something and almost dropped my teeth when the mechanic told me the engine was blown.
I am still searching for a good used engine, but I don't know. I had a 2002 Ford Escort that died the same way-instantly, with a cracked cylinder-at 140K. Now, I am 400 miles away, with a broken car in Alexandria. Thanks, Ford. By the way, my 1980 Lincoln blew an engine at 88K. Hmmm! Seems to be a pattern here.
I found the solution. I stopped buying Fords. I gave my son my wife's Hyundai, and bought her a Nissan. I drive a Chrysler van. My next one will be foreign, too.
3. 2014 Ford Focus Clutch Problem
Bought Focus late September 2014. In December 2014 had to have front wheel bearings replaced. Ford did this under warranty. Last week (2016) clutch burnt out 47,000 on the clock. Ford refuse to repair under warranty – charged me $2,500 to fix. Claim it is just wear.
I have driven manuals for years and despite having the cars for over 5 years have never had a problem with clutch. Ford care were rude and after telling us it's our problem refused to take any more calls. Would like to hear from anyone else who has had similar problem.
4. 2014 Ford Focus Alternator Problem
Well, I'll put the bulk of the rant in this post but will also report each other alternator fail in other posts as well. I've got through 4, yes FOUR alternators since I've owned this car and 3 batteries. For a 2007??? I know I put a lot of miles on a car but this is ridiculous.
I noticed the usual suspects (radio showing low battery, needs jumping and battery light on and off) in January and went straight to the shop. They tested and said that the alternator was going bad. Really?? Again??? So I reluctantly pay the repair costs and ensured that the battery that I had in the car tested good because it was less than a year old, they assured me it tested good.
However, my battery light still goes on and off leaving me to worry where I'll be broken down the next time, I finally go to Auto-zone to get my battery tested and it came back as bad as well, luckily this was under warranty so I got that replaced for no cost. Again, a day passes and the battery light is still going on and off! This has happend FOUR times with this car and the alternator and 3 with the battery.
5. 2014 Ford Focus Acceleration Problem
I purchased my 2014 Ford Focus 1/1/16. When driving at slow speeds and always if accelerating at 10mph the car jerks and sputters. I took it back to the Ford Dealer and had what they said was an adjustment due to a recall. Didn't fix anything, took it in again and the answer is its the design due to a 5 speed within an automatic transmission it has to adjust itself.
This car Will NOT accelerate when a light turns red turning left and I need to get out of the way, it jerks and sputters, same problem at any stop. My concern is that if I can't accelerate to get out of the way I'M GOING TO GET HIT at a light, a stop, on the freeway.
Ford told me that's the way all of them drive. This is a daily occurrence since I purchased the car. So very sorry that I purchased this car. Will never again purchase a Ford product.
6. Problem with Clutch
Ford keeps telling my it's normal it will workout! So after 3 transmission replacements, updates, complete clutch replacement after a little after a yr of buying, it still jerks, skips, loses power.
I contacted Ford & a rep called me told me to watch a video saying then I'll know what to expect! What? this is normal with this trans, then I had to take it back in for a mech trans control?
Now it's been about 2 months and now finally got a email on the class act lawsuit. I told Ford I felt unsafe with the things happening with the trans while on the road and that I want something done to get me out of this car
7. Another Transmission Problem You Should Know
We purchased a new 2013 Focus and from the very first 300 miles plus have had issues. As I type this I am sitting on the side of a highway waiting for this car to decide if it will get me the rest of the way home. The transmission in these cars are junk and never should have been placed in them.
It's very dangerous with it going out and leaving you stranded on the side of the highway. FORD needs to take all these cars back and give customers their money back for selling a car that wasn't worth driving off the parking lot!!!
8. Ford Focus Problems With Valve Seats
The valve seats failed, dropped into the engine and destroyed it. This is a common problem with this engine. I'm very disappointed that Ford never stepped up to the plate with this problem and recalled the car to correct this very serious engine problem.
9. Chattering Transmission
We purchased a new 2014 Focus in March 2015. We have been in the shop at least four times for the same chattering and scraping transmission problem described by others.
We are very disappointed with Ford, with our dealership, and with the condescending attitude of the service people. They say, "it's normal" and "cannot verify the problem" etc.
After owning at least three other Fords, we will never purchase another Ford! We are appalled at Ford's lack of concern for owners of this defective product. We will write to our state officials who administer the Lemon Law in Ohio, and to our Attorney General, and we urge others to do the same!
10. Transmission Jerks And Hesitates
My 2013 Ford Focus has been in for service 5 times in a year, all I get is lip service from Ford. They tell me it is normal for this transmission to jerk and hesitate.
Last week I received a message transmission overheating pull over. Ford says its no big deal, all you have to do is pull over for 5 minutes and everything will be ok.
The following is all the B.S. excuses I have received from Ford: 1. its a cheap car what do you expect. 2. They love us in Europe 3. Try not to drive slow, because it will shutter when you gain speed 4. Well its really a manual transmission 5. I would love to put a new transmission in, but corporate wont let us, because the jerking and hesitation is acceptable 6. Well don't be angry with Ford.
The last time I brought this vehicle in about the transmission, Ford called the cops and had me removed because on the scene I was making . I 've called HQ 4 times to complain and basically its all lip service, because Ford knows of the problem and won't man up and fix.
11. Jerking After Stopping The Car
Just bought a 2013 Ford Focus Hatchback. Had the car 2 weeks and it started to hesitate and jerking after being stopped at a light or stop sign.
Took it to the dealership where I bought it and they said it maybe this or maybe that but was not sure what the problem was. I am a college student and do not have extra money to fix a "maybe" They asked me if it happened when I was in reverse and it had not.
Well the very next day is started making a awful clunking noise when in reverse on top of the jerking and hesitation after stopping. I was treated so bad. I have not even made my first payment and am a afraid to drive it. With all the complaints there should be a recall.
12. Shuttering At Low Speed
I bought a Ford Focus and it has got the universal problem of shuttering at low speed. I have taken the car to service centre 10 times in 6 months time. Ford accepts that it is the model which has fault. I think I lost my money and need to spend money to dispose the car. If FORD can get the car back for free I am happy to return it to them.
13. 2014 Ford Focus Shuddering Problem
2014 Ford Focus – Shuddering when accelerating since about 20,000 miles. Dealer reset module. Everything was much better but only for a short while, then got much worse. Dealer replaced clutch at 25,000 miles. 38,000 miles and shudder is back.
14. Bad Transmission Problems
I am amazed at the number of complaints regarding the bad transmission problems of the Ford Focus.
My problems started a week after I purchased this car. Not only did it have a jerky takeoff, but there was this strange rattle.
The service Forman took the car for a drive and told me yes there is a problem and confirmed that there was exactly what I complained about, and he said that perhaps it may go after 14000klms, he also asked me how long I intended to keep the car. That question explained everything.
So far I've taken the car back six times to the dealership, I've had the clutch plates replaced, other times I've had adjustments made to the computer, this temporarily fixes the problem but it reappears a few days later.
I feel as though I'm being fobbed off, as I'm sure they have been told By Ford to make it appear that the problem has been fixed.I spent $26000 on this car and it's nothing but a Lemon.
15. 2013 Ford Focus Power Steering Problem
I bought this car brand new. It is Ford Focus 2013 and I have had nothing, but trouble with this car. First the clutch and now the power steering.
I was driving home from work the other night and the power steering went out on me while I was on the freeway. I'm lucky to be alive or hurt someone else. I'm so mad about this car.
Please if you're thinking about buying a Ford Focus don't. It's the worst car I have ever gotten.
2016 Ford Focus Reviews
Read expert reviews about 2016 Ford Focus below.
For 2016, the Ford Focus returns with a new Sync 3 technology interface, a six-speed automatic transmission for the available 1.0-liter EcoBoost engine and minor adjustments to available options packages… The Ford Focus isn't as much of a standout as it was a few years ago, but it remains a smart choice for a small sedan or hatchback. 2016 Ford Focus Review from Edmunds
The 2016 Ford Focus has improved in some key areas for 2016, but it's still not perfect. It retains the title of America's Best Small Car… for now. 2016 Ford Focus Test Drive Review from CarGurus
Bottom Line About 2016 Ford Focus According To Kelley Blue Book
You'll Like This Car If…
The 2016 Ford Focus offers great styling, impressive handling and some of the best high-tech features in Ford's electronic arsenal. The ST and RS offer a level of power and performance previously unknown in a domestic compact. The Focus electric can take you 75 miles while emitting zero emissions.
You May Not Like This Car If…
As good as it is, Ford's 2016 Focus can't match the low price and content of the Kia Forte, Nissan Sentra or Chevy Cruze. The only all-wheel-drive model starts around $36,000 and if you're seeking a coupe or wagon, you'll have to look elsewhere.