You Should Avoid Cameron Diaz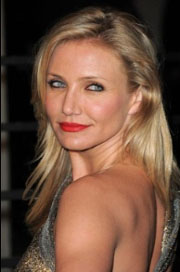 You should avoid Cameron Diaz because she's dangerous.
What's the reason Cameron Diaz dangerous? Who knows? Maybe that's because you're more likely to masturbate after you see her. Or maybe that's because she's overrated and you gonna get angry your sister actress is not making as much money as she. But neither of these reasons is the real one.
The real reason is that according to PCWorld, "The fourth annual McAfee Most Dangerous Celebrities report declares Cameron Diaz to be the biggest risk of all celebrities, athletes, musicians, politicians, comedians and Hollywood stars on the Web when it comes to your computer security. Taking the pop culture appeal out of the popular hit list, though, the McAfee report illustrates the broader issue of just how effectively malicious attacks prey on hot topics and social trends to exploit gullible users. Cameron Diaz bumped former 'most dangerous celebrity' Jessica Biel off the top of the list, and beat out Julia Roberts to claim the crown. An online search for the star of Shrek Forever After and Knight and Day has a 10 percent chance of infecting your system."
So if you want to search for her, get protection. And no, the old-fashioned condom wouldn't save you. You would need real-time anti-malware protection, unless you're itching to get a virus on your computer. But who knows? Perhaps you're trying to convince your boss to buy yourself a new computer, so perhaps you do need a brand new virus.
So will you be a pervert and create yourself a headache by searching for naked pictures of her? Leave a funny comment and Subscribe from the "envelope icon" to your right.
via Avoid Cameron Diaz, Breaking News, and Facebook, by PCWorld

Latest posts by Roman Marshanski
(see all)