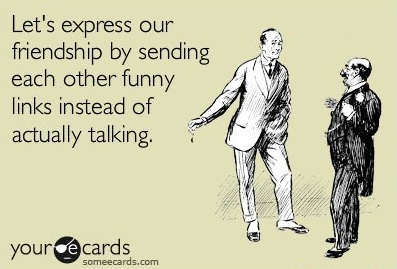 Yes, indeed, very soon the people will stop talking and we – and our funny links – will take over the world.
Seriously speaking, the links on this page point to the sites we like. They are, for the most part, funny. Some of them are not so funny, but we still think they are worth checking out. If you have any that you think we should add here, contact us.
1. The Humor Times Political satire magazine that features political cartoons, humor columns, and fake news, to help people cut through the political hype and laugh at it. The Humor Times appeals to those with a progressive viewpoint, offering them a hilarious outlet.
2. The Spoof One of the leading satire newspapers on The Internet. Provides an irreverent and satirical slant to the current big news stories throughout the world, bringing you more funny stories than you can shake sticks at.
3. BlogCatalog: Funny Blogs This page of their blogging community features funny blogs.
4.Imgur.com If you don't know what Imgur is, you should definitely visit it, it's awesome and funny.
5.Urban Dictionary It may not be the most academic dictionary, but it does have some of the funniest definitions ever written. It also helps if you are trying to read Twitter: I mean the slang that the people often use there.
6.Allthewebsites.org: Humor Websites Features a list of humor websites their editors deemed worthy.
7. Cracked.com You probably know it. It is after all 'the most visited humor site in the world'.
8. NewsMutiny Their slogan is "Satire for the Wise. News for the Dumb." They have hilarious satire that does drive home a point. I enjoyed reading their outrageous article about CNN just a minute ago, so probably you will enjoy it too.
9. Iron E-News is a member of HumorFeed, "a selective satire newsfeed". The slogan of Iron E-News is: "Liberal with Humor. Conservative with Truth." We have especially enjoyed their hilarious article about Obama and Congress.
10. Satireworld.com They have pretty good satirical news. Plus they accept satirical articles from their readers.
11. SatireAndComment.com They have an especially biting satire that will definitely amuse you.
12. Reidicule News They have excellent satire that we occasionally reblog on our WordPress blog. They themselves call their satire "fair and unbalanced". We think it is fair and pretty balanced, so we welcome you to visit their hilarious site.
13. JokeBlogger They bill themselves as "The Place Where Comedians Go To Write Jokes". So if you want to have a good laugh, we encourage you to visit them. You will sure enjoy your visit.
14. HumorVolcano They offer outrageous comedy, funny satire, and amusing gifts. Anybody with a good sense of humor will find something amusing there.
15. Duh Progressive They have an especially biting satire about Barack Obama.
16. TheVoiceofReason.com They aim "to build a genuinely funny web site not afraid of tackling the issues of the day." We think they have largely succeeded at this goal. Their site is both funny and insightful.
17. Scoop.it Collection Our founder's collection of funny, humorous content from all over the Web.
18. GlossyNews.com One of their funny mottoes is "Investigating, inventing, and reporting…" They provide masses with the world's funniest satire. We really like 'em. Moreover, our founder has an article published on their site called "Obama Blocks Republicans' Salaries – Saudis Step In".
19. StumbleUpon Collection Content our founder has found worth "stumbling". Most of it is funny. The rest is highly entertaining.
20. SatireDictionary.com As you may have guessed from their name, they publish satirical definitions of words. We especially like their definitions of 'coward' and 'fear'.
21. Blogs Directory They have a pretty awesome collection of humorous sites. They have a rigorous process for sorting out the best from trash, so you will definitely find something worthwhile and funny on their site.
22. Our listing on Viesearch If you enjoyed our site, please leave us a good comment on Viesearch. We would appreciate it.
There are some links that are not funny but are still worth including. Some of them are the following ones:
This is a list of defunct newspapers of the United States according to Wikipedia. Two of the lesser known ones are Manhattan News Weekly and New Haven Times.